Oma's German Salad Recipes & Dips

➤ by Oma Gerhild Fulson
These easy German salad recipes and quick dips such as German potato salads, cucumber salads, spinach dip and so much more will delight your family and guests. These are salads that seem to find their way onto every buffet table. We particularly like them for picnics as well. 
Some of my Favorite Salads ...
A favorite that I grew up with is the herring salad. A super simple fast supper this one is. Tasting sweet and creamy, served with boiled new potatoes. That's all that's needed. It's a real  kid pleaser, for my kids anyways.
Of course there are the traditional potato salads, wurstsalads, cucumber salads, and so many more.
There's even the "new" traditional - Corn Salad - a colorful and quick German salad. When I said "new" traditional, that's because I didn't grow up with corn. 

Corn was food for animals, not people.
That's the tradition my parents brought to Canada with them when they emigrated from Germany.
Although I enjoyed corn at my friend's house, it took quite a while before I saw it in our house. It carried the stigma of "cattle feed."
So, imagine my surprise when I visit Germany for the first time 50 years later and order a house salad in a very fine restaurant. A lovely salad arrives, sprinkled on top with corn! Canned corn! 
Grab your copy of Oma's favorite salads in her Summer Salads e-Cookbook.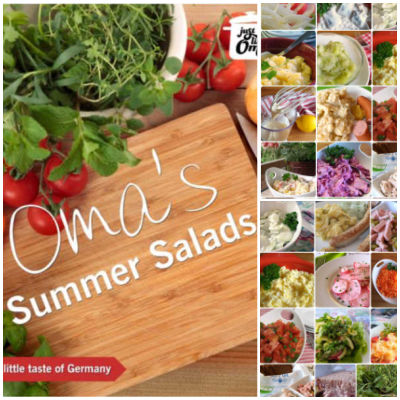 Take a peek at all Oma's eCookbooks. They make sharing your German heritage a delicious adventure!
Oma says,
Try the hints at the bottom of the recipes. They will give you ideas to alter the salads and dips depending on your tastes and ingredient availability. You'll also find the best salad dressing recipes throughout the salad recipes. My favorite is a sour cream dressing that's so easy to make.

There are so many different potato salads, all traditional, yet so different.In fact, it's said there are as many types of potato salads as there are German cooks. I've separated the potato salads into their own category!
---
Oma's German Salad Recipes
German Potato Salads
---
Try one of these Dips today ...

---
Leave a comment about this recipe or ask a question?
Pop right over to my private Facebook group, the Kaffeeklatschers. You'll find thousands of German foodies, all eager to help and to talk about all things German, especially these yummy foods. 
I pop in all the time as well, to chat and to answer questions. 
Meet with us around Oma's table, pull up a chair, grab a coffee and a piece of Apfelstrudel, and enjoy the visit.
These roasted Brussels spouts with balsamic vinegar and maple syrup are so quick and easy to prepare, yet so delicious! This may just be your new favorite go-to recipe for roasted FROZEN Brussels spro…

Love German cabbage rolls? You'll absolutely love Oma's unstuffed cabbage roll casserole. Same great taste, but a LOT less work. No rice or tomatoes here. Just real German goodness.

THE German Krapfen or jelly donut recipe you'll need if you plan to make Berliner Pfannkuchen ~ that traditional treat for New Year's and throughout the year!
*  *  *  *  *
Make every day a day of SUCCESS!
"I can do everything through Christ, who gives me strength."
Philippians 4:13