Oma's Traditional German Salad Recipes ~ Salat Rezepte

➤ by Oma Gerhild Fulson
Craving German salads? Those German potato salads, cucumber salads, and so much more? Oma's German salad recipes, salat rezepte, are quick & easy! Add them to your menu today.

Not only are these perfect accompaniments to most meals, some are a meal unto themselves. There are also salads that are naturals for every buffet table. We particularly like them for picnics as well.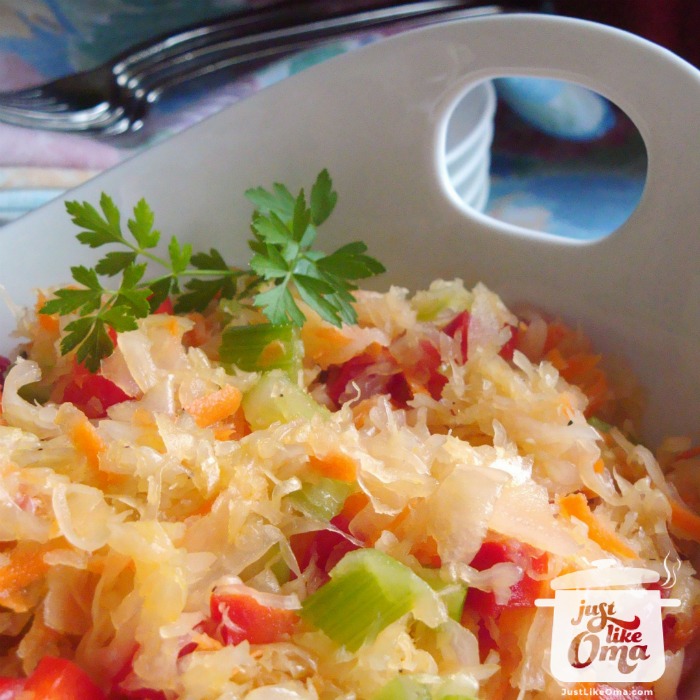 Some of my Favorite Salads ...
A favorite that I grew up with is the herring salad. A super simple fast supper this one is. Tasting sweet and creamy, served with boiled new potatoes. That's all that's needed. It's a real  kid pleaser, for my kids anyways.
Of course there are the traditional potato salads, meat salads, cucumber salads, and so many more.
Then there's the popular meat salad. In northern Germany, with its use of mayonnaise or cream, it's called fleischsalat. In the south, without that mayonnaise or cream, it's called wurstsalat. Both are so good!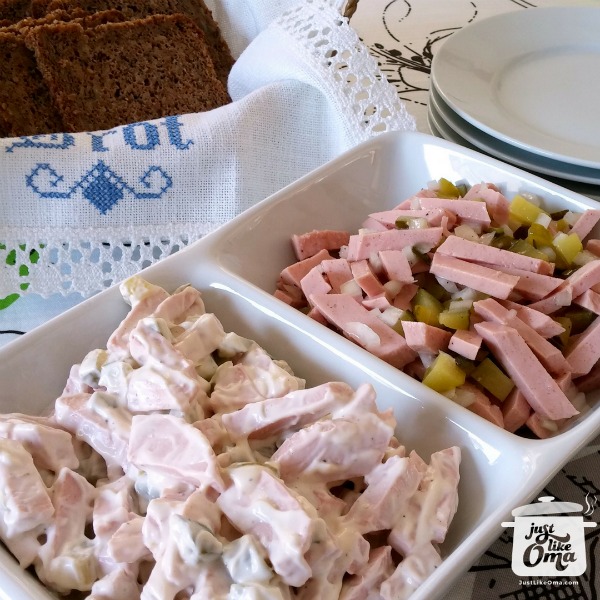 There's even the "new" traditional - Corn Salad - a colorful and quick German salad. When I said "new" traditional, that's because I didn't grow up with corn. 
In Germany, corn was food for animals, not people. That's the tradition my parents brought to Canada with them when they emigrated from Germany.
Although I enjoyed corn at my friend's house, it took quite a while before I saw it in our house. It carried the stigma of "cattle feed."

So, imagine my surprise when I visit Germany for the first time 50 years later and order a house salad in a very fine restaurant. A lovely salad arrives, sprinkled on top with corn! Canned corn! 
Grab your copy of Oma's favorite salads in her Summer Salads e-Cookbook.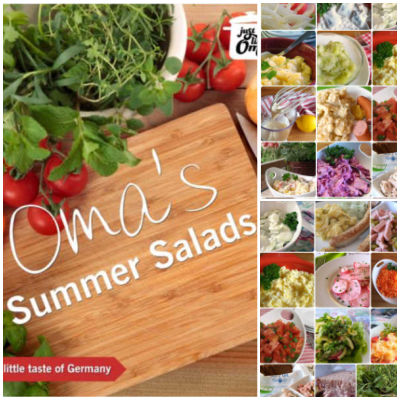 Take a peek at all Oma's eCookbooks. They make sharing your German heritage a delicious adventure!
But one of my very favorites is the cucumber salad. The one I grew up with has mayonnaise. In southern Germany, it's made without. Both are delicious. Both are traditional. Both are the best!
Oma says,
Try the hints at the bottom of the recipes. They will give you ideas to alter the salads and dips depending on your tastes and ingredient availability. You'll also find the best salad dressing recipes throughout the salad recipes. My favorite is a sour cream dressing that's so easy to make.

There are so many different potato salads, all traditional, yet so different.In fact, it's said there are as many types of potato salads as there are German cooks. I've separated the potato salads into their own category!
---
Oma's German Salad Recipes
German Potato Salads
---
Try one of these Dips today ...

---
Leave a comment about this recipe or ask a question?

Pop right over to my private Facebook group, the Kaffeeklatschers. You'll find thousands of German foodies, all eager to help and to talk about all things German, especially these yummy foods. 
Meet with us around Oma's table, pull up a chair, grab a coffee and a piece of Apfelstrudel, and enjoy the visit.

Vanillekipferl are melt-in-your-mouth vanilla crescent cookies, similar to shortbread cookies made with ground almonds. Austrian & German traditional Christmas cookies!

Oma's Christmas Stollen is the BEST. Why? Because it's always moist, has a wonderful flavor using Greek yogurt (instead of Quark) and is super quick to make. And it's got Marzipan in it!!!

Oma's Lebkuchen recipe is SO easy. Made in one bowl, baked, decorated, & cut. It's authentic German gingerbread that smells like Christmas. The bars taste wunderBAR!
*  *  *  *  *
Make every day a day of SUCCESS!
"I can do everything through Christ, who gives me strength."
Philippians 4:13