My Easy Homemade Vegetable Soup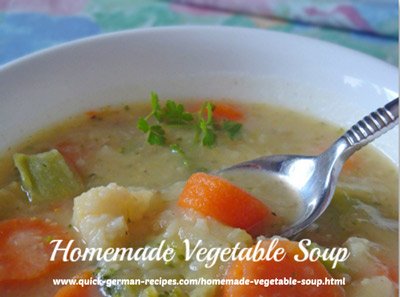 Yum
This homemade vegetable soup is so quickly made using frozen vegetables and any leftovers you might have. It's a nourishing way to clean out your freezer and fridge. It's one of my very easy vegetable soup recipes, one I came up with one day as I was needing to make room in my freezer. I had a big bag (5 lb) of California-style veggies that had been sitting there a long time.
Out it came and into the pot. Then creativity set in! Result? Yumminess!

My Super-Easy Homemade Vegetable Soup
Ingredients:
5 lb frozen California style veggies (carrots, broccoli, cauliflower mix)
about 12 cups water
6 bouillon cubes (enough to make 6 cups broth)
Instant mashed potato flakes (enough for 3 cups milk)
salt and pepper
Montreal Steak Spice (optional)
Maggi* and Vegeta* to season 
Instructions:
Into a large soup pot, place the frozen veggies. Add about 11 cups of hot or boiling water.
Dissolve bouillon cubes in one cup boiling water and add to pot.
Bring to boil, reduce heat to simmer, cover and simmer for about 6 - 10 minutes or until veggies are tender.
Using a potato masher, crush some of the veggies to make a creamier soup.
Stir in sufficient instant mashed potato flakes to make the soup as creamy and thick as you wish. (I used one package that normally is mixed with 3 cups liquid)
Season with salt and pepper. 
Want some German flavor? Season with Maggi and Vegeta.
If you like a bit of spice, add Montreal Steak Spice or other spices as desired.
Makes about 10 - 12 servings.
* Looking for these German ingredients?
---
---
---
Like the soup above? You'll love looking at and making more of Oma's soups. All so quick and easy!
You can cook just like Oma using Quick Fix Soups, 84 full-color pages filled with step-by-step instructions and hints. 

Recipe cards are included. All the help you need to make traditional German soups quickly and easily.

Download immediately and you can start to cook right away!
A bit of this and a bit of that ...
These quantities are all optional. Use this method with what you have on hand. If you have any cooked veggies sitting in the fridge, add them.
I added cubed cooked leftover roasted sweet potato.
You can also season with Vegeta.
You can make this VEGAN if you watch your ingredient list on the package of bouillon cubes and the instant mashed potato flakes. 
If you don't have or want to use instant mashed potato flakes, you can cut up some raw potatoes or grate them into the soup. 

Cleaning out your freezer? Need some frozen vegetable recipes? That's how this soup came about. German? Perhaps ... because my taste buds are attuned to German cooking and I'll flavor it to suit my palate.
That's when I use Maggi and Vegeta to season my soups. Makes them "German" ... Wunderbar!
Put kettle of water on to boil when you start to make this soup. That way you can add boiling water which will speed up the process.
I always have instant mashed potatoes in the cupboard. They are the easiest way to thicken soups and gravies. And of course, they are great to have for emergency dinners needing mashed potatoes or when using other recipes for leftovers.
---
---
*  *  *  *  *

Want nutritional information for a recipe? Copy and paste the ingredient list and the number of servings into Calorie Count. It will give you an approximate calculation.
---
---
Get your FREE poster ... Herbs & Spices in the German Kitchen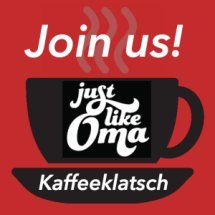 by Subscribing to my FREE Newsletter ...

Just like Oma ~  Kaffeeklatsch*
*Kaffeeklatsch: /ˈkafeːˌklatsh / (noun) an informal gathering for coffee and chatting
Experience Germany: food, people, country, & RECIPES!

---
---
Top of Homemade Vegetable Soup
German Recipes

›
Soups
› Homemade Vegetable Soup
Words to the Wise
"A cheerful look brings joy to the heart; good news makes for good health."
Proverbs 15:30