Kendra's Key Lime Pie Recipe
➤ by Oma Gerhild Fulson
FTC Disclosure: Making a purchase via a link on the page? I may earn a small commission on the transaction - at no added cost to you. Thanks!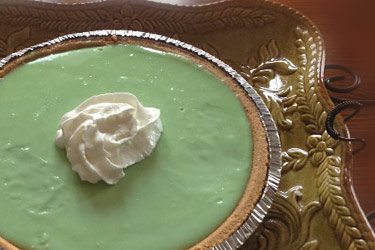 This Key Lime Pie recipe is tops! It's an easy pie recipe. Really! If you're looking for party dessert recipes or easy cake ideas for guests and family, give Kendra's pie a try. You can cheat with a store-bought graham cracker crust pie shell, which is fast and convenient. Or, for a little bit more work. you can get the much superior homemade taste with a mixture of graham cracker crumbs, sugar, and melted butter.
Kendra Thornton (Travel advocate, TV spokesperson, PR businesswoman, proud wife, and mama of 3) sent in this special Hawaiian recipe. I'll let her fill you in on why this dessert is so special to her, right below the recipe.
Kendra's Key Lime Pie Recipe
Ingredients for Crust:
1½ cups graham cracker crumbs
approx. ⅓ cup sugar
approx. ⅓ cup melted butter
Ingredients for Key Lime Filling:
3 egg yolks (without the whites)
3 cups sweetened condensed milk
¾ - 1 cup (or more) fresh key lime juice
Instructions:
Preheat oven to 350°F.
Put 1½ cup  of graham cracker crumbs in a bowl, adding a little bit at a time of sugar and melted butter, no more than ⅓ cup of each until it is sweet enough and just sticky enough to form the pie shell. 
Press it into an 8 or 9-inch pie pan so it covers the bottom and sides. Bake for about 10 minutes and remove it so it can cool to room temperature.
Mix the egg yolks in a bowl until smooth, then add in the condensed milk and stir until well blended. 
Add key lime juice until it's tart enough to your taste. Some people like it sweeter, I like it just this side of sour. 
Pour the mixture into your pie shell and bake in a preheated oven at 325ºF for 20 - 25 minutes, be sure to check it periodically until small bubbles burst on the top. Never let a key lime pie brown!
Cool the pie on a rack for 10 -15 minutes, and then chill it until your guests are ready for a delicious and easy Hawaiian dessert! I hope you enjoy this little treat just as much my family does; my kids absolutely love it!

---
Taking the Taste of Hawaii Back Home: Key Lime Pie

It's these winter months that draw my memory back to a time when I stayed at the Kapalua Resort, one of the top hotels in Maui. The resort consists of 22,000 luscious acres and is put right in the middle of one of Hawaii's largest nature preserves. 
There were several white sandy beaches, two marine wildlife sanctuaries and two world famous golf courses, so it covers all the bases for singles, couples, or families looking for things to do.
While my family and I were there, we went to the Plantation House Restaurant, recommended by a friend that had already been.
She had told us to save it for late in our trip, bragging that none of the other places would compare afterward.
I shouldn't have doubted her as it was amazing, and of all the delicious meals, the Key Lime Pie left the most lasting impression.
Kendra Thornton: Travel advocate, TV spokesperson, PR businesswoman, proud wife, and mama of 3.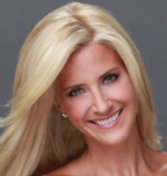 I am a long time travel expert who has been packing my bags and traveling the world since I was 3 months old! 
I've found my utmost desire in life is right here in my own home.
I have mixed my excitement for travel by bringing the taste of authentic cuisine to my own home with some of my unique recipes.
Enjoy!
Make some German Desserts
---

Leave a comment about this recipe or ask a question?
Pop right over to my private Facebook group, the Kaffeeklatschers. You'll find thousands of German foodies, all eager to help and to talk about all things German, especially these yummy foods. 
I pop in all the time as well, to chat and to answer questions. 
Meet with us around Oma's table, pull up a chair, grab a coffee and a piece of Apfelstrudel, and enjoy the visit.
*  *  *  *  *
Thinking of starting your own Handmade Business?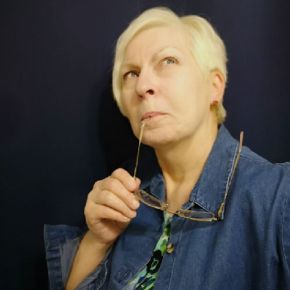 This Oma KNOWS you CAN do it.
How do I know?
Well, if I can do it, anyone can.
I've even figured out how I can help you.
I've teamed up with my own business coach, Renae Christine (yes, do google her!), to bring you this free masterclass. After you watch it, ask me any questions and I'll gladly answer them.
Don't hesitate. I'm not sure how long Renae will keep this free masterclass available.
PS:  Yes, Renae really is as amazing as all the reviews say.
PPS: Yes, the course is for handmade items, but I've used it successfully for my cookbooks. I know others are using her methods for services, direct sales, and even a local ice cream bar & grill that's constantly selling out. You've nothing to lose by taking a look ... and a whole bunch to gain.
*  *  *  *  *
Oma's Cookbooks (downloadable & print)
*  *  *  *  *
Want nutritional information for a recipe?
Copy and paste the ingredient list and the number of servings into Calorie Count. 
It will give you an approximate calculation.

Need help doing conversions
between cups and grams or any such thing?
Use this site to give you all the different conversions for the different types of ingredients. 
---
---
Try this slow cooker roast beef and you'll be amazed at how much this tastes like rouladen WITHOUT the work.

Learn how to cook pork hocks, anytime you want something traditionally German and wonderfully delicious! A hearty meal for any time of the year!
---
Words to the Wise
"When there is moral rot within a nation, its government topples easily. But wise and knowledgeable leaders bring stability."
Proverbs 28:2 (NLT)