Oma's Pflaumenstreusel vom Blech
by Isabelle Tonti
(Itasca, Texas)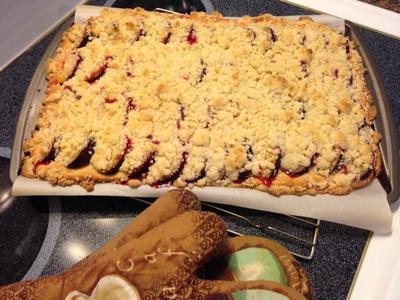 I miss my Oma's cooking and baking! She had a way of making it look like magic, the way she threw a pinch of this and a handful of that into a pot and voila, everybody loved it and had a full belly, all fat'n'happy, like we say here in Texas.


I have a hand for cooking too, if I may toot my own horn. I have this urge to take recipes and twist them until they fit my pantry and palate.
Recently I found a recipe for a simple Butterstreusel, which is a yeast dough with crumbs on top, not my thing, not enough pizzazz for me :-).
However, there I went twisting it around until this came out. And it was no kidding the best I've ever had! Seriously, do it! Go get your ingredients, your family will worship you!
Oma's Pflaumenstreusel vom Blech
Oma's Plum Cake
Ingredients:
1 cup lukewarm milk (best is around 110 F, to dissolve the yeast in)
1 egg (make sure it's not fridge cold, set it out now)
1/4 cup unsalted butter, softened
2 cups flour
1 pinch of salt
1/3 cup sugar
1 packet of active dry yeast
____________
Topping:
1 ½ cup flour
2/3 or 1 cup sugar (depending on how sweet you like it)
2 Packets Vanilla sugar (if you cannot find any, just add a drop or two of vanilla extract to the dough, instead of the topping)
2 sticks of unsalted butter, softened
_____________
About 5 plums (the round ones). If you were lucky enough to find Zwetschgen (Italian prune plums), take a lot more!
_____________
Medium sized cookie sheet, lined with parchment paper
I used my KitchenAid with the dough hook attachment, but it should work the same with a handheld mixer, using the dough hooks.
Instructions:
Dissolve the yeast and the sugar in the warm milk, set aside for a few minutes. The temperature of the milk does play a big role in how well your cake will turn out, make sure it is around 110 F.
In a large bowl or the bowl of your KitchenAid, mix together the flour and the pinch of salt, then add the butter and the egg, mix together for a few seconds, then add the warm yeast milk.
Mix until you
have a nice dough, that will be a bit sticky. Leave it in the bowl, cover with a clean cloth, like a kitchen towel and let rise in a warm spot for about one hour or until about doubled in size.
I had a yeast dough rise at the lowest possible temperature in the oven one time, I think 175 F, but that didn't turn out well. If your house is pretty cool in temperature, my brother-in-law did the following: He set the bowl on the stove top with the oven on, so the heat rose up to engulf the bowl. Ta-dah! I simply set the bowl in the room under the roof, it's probably around 110 F up there. 
While the dough works its magic, cut up about 5 plums (the round ones. If you were lucky enough to find Zwetschgen, take a lot more!) into 10 slices each.
Then the topping: In a bowl, add all the ingredients listed for the topping and mash up with a pastry cutter. You can use the KitchenAid too with the paddle attachment, but don't overmix, so you get nice chunky crumbles. No need for perfection here though.
Pre-heat your oven to 440 F.
Either mix the dough with your KitchenAid or handmixer or knead the dough on a floured surface for a few more minutes until smooth. I didn't want to mix too much flour in it, so KitchenAid it was.
Roll and pat the dough onto the cookie sheet, corner to corner, but be gentle. I sprinkled a mixture of sugar and cinnamon on the dough, because I love cinnamon. Arrange the plums on the dough and top with the crumbs, which I then topped with yet more sugar and cinnamon, sue me. ;-) Get all the way to the edges, because otherwise those will bake dry and you'll end up cutting them off. Bake for approx. 15 minutes. Check often, because every oven is different.
Keep the cake on the cookie sheet covered with a clean kitchen towel at room temperature. It should be fine for a couple of days, if it even lasts this long...
My mother only ever eats Pflaumenkuchen with whipping cream, so if your clan is anything like mine, break out the Whip. Our hips need some TLC.