German Cucumber Salad Recipe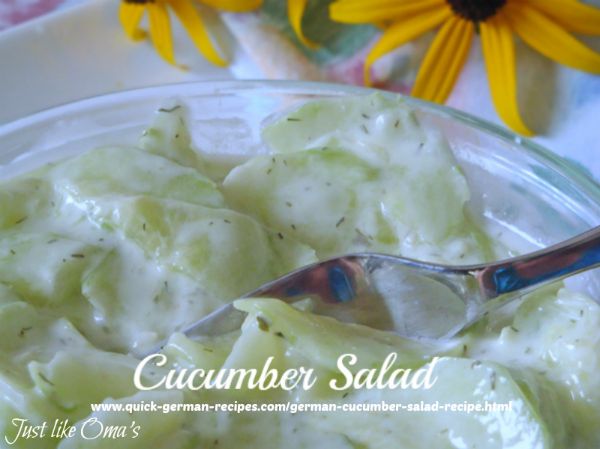 Yum
German cucumber salad recipe, aka Gurkensalad,  is one of our favorite summer salad recipes. In fact, it's one that I just can't alter. I've tried, BUT, nothing beats this original recipe that I grew up with. It seems, that whenever I make it, I never make enough. I start out, always adding an extra cucumber to make sure there's enough.
Somehow, it always disappears quickly. My plan is always to make more the next time, after all, it's a quick German recipe ... so easy to make.

---
My German Cucumber Salad Recipe
Ingredients:
2 cucumbers, peeled and thinly sliced 

1/2 cup sour cream 

1/2 tsp dill, preferably fresh (or more to taste)

1 1/2 tsp lemon juice

1 1/2 tsp granulated sugar

salt and pepper

Instructions:
Put thinly sliced cucumbers into serving bowl.

In separate bowl, mix sour cream, dill, lemon juice, and sugar. Season with salt and pepper to taste.

Just before serving, pour dressing over cucumbers and mix.

Serves 4.
Hints:
If you have time, you can pre-slice the cucumbers and sprinkle them with a little salt and let them stand. Pour off the accumulated cucumber "water" BEFORE adding the dressing.

Use vinegar instead of lemon juice.

Use low fat sour cream or plain yogurt instead of the regular sour cream.
Here's Karen's recipe (from Lethbridge, AB Canada) that she sent into our 2012 Quick Christmas Recipe Contest. It's a great traditional cucumber salad from her Oma.
Karen's Oma's Gurkensalat
Ingredients:
1 cucumber
3 green onions or sweet white onion sliced
4-6 radishes sliced
1/2 tsp chopped fresh parsley
1/2 tsp chopped dill
1/2 cup sour cream
2 tbsp milk
1/2 tsp granulated sugar
salt & pepper to taste
Instructions:
Slice cucumber with or without skin
Add sliced onion, radishes, and herbs.
Make dressing and pour over veggies.
Let sit in the fridge for at least an hour, stir before serving.
Serves about 4 people
---
Tips and Tricks for Cucumber Salad :)
You'll find that when you serve this, everyone wants this "German Cucumber Salad recipe", so be prepared to give it out. Adults and kids alike just love the taste and the creaminess. 
English Cucumbers? If the skin is nice and thin, don't bother peeling them.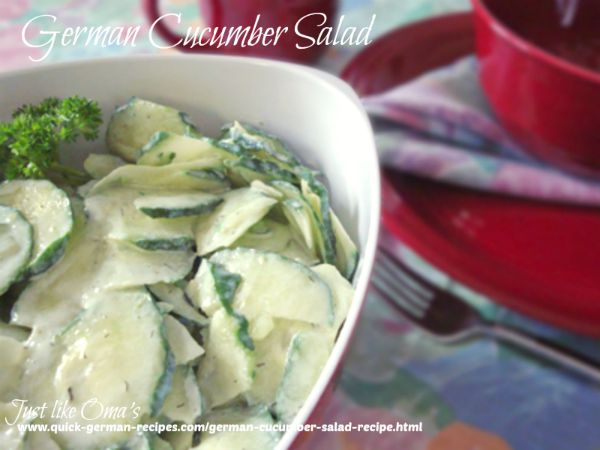 Some people remove the seeded center part of the cucumber to help remove some of the water. I don't. I love using the whole cucumber. It's healthy. Why throw some of it away?
However, if you wish, you can make it hours ahead -- you just need to make it a bit differently then. The "problem" is that cucumbers are quite watery and if the dressing is added early, the water is "pulled" out of the cucumbers and the dressing is diluted.
To do this, you slice the cucumbers thinly. Put into a bowl and sprinkle them with salt. Stir. Let sit for about one hour. The salt will draw out some of the cucumbers' water. Drain well just before using and add the dressing to which you have NOT added salt. Rather taste the final salad before adding extra salt if needed.
If you want to pre-make the salad, you can pre-slice the cucumbers very thinly. Then, leave them covered in a bowl in the fridge. Make the dressing and refrigerate it as well. Combine just before serving.
When making this creamy cucumber salad recipe, you can use low-fat sour cream or yogurt. Personally, I love to use Greek yogurt.
Fresh dill is awesome, but frozen or dried is good. Not only is the resulting salad so tasty, but the remaining dressing is devoured as well.
More Salads to Try
---
More German recipes ...
---
*  *  *  *  *

Want nutritional information for a recipe? Copy and paste the ingredient list and the number of servings into Calorie Count. It will give you an approximate calculation.
---
---
---
Get your FREE poster ... Herbs & Spices in the German Kitchen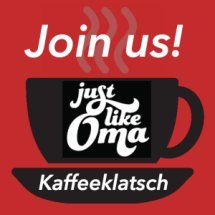 by Subscribing to my FREE Newsletter ...

Just like Oma ~  Kaffeeklatsch*
*Kaffeeklatsch: /ˈkafeːˌklatsh / (noun) an informal gathering for coffee and chatting
Experience Germany: food, people, country, & RECIPES!

---
---
---
Top of German Cucumber Salad Recipe

German Recipes

›
Salads
› Cucumber Salad
Words to the Wise
"Lazy people are soon poor; hard workers get rich."
Proverbs 10:4 (NLT)