Margaret's Rhubarb Dump Cake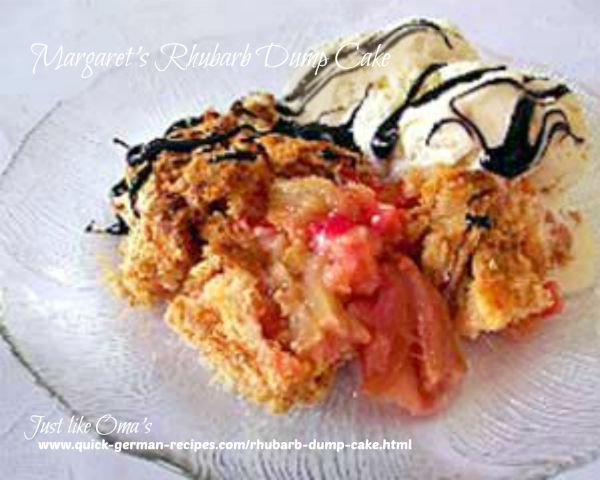 Yum
This rhubarb dump cake is a favorite every time spring comes, thanks to my friend, Margaret. At times, our rhubarb patch is almost decimated, with all the picking that goes on. And, this recipe is the culprit! Just like the expression, "Are we there yet?" is so common, "Is it Spring yet?" is the comment at our house as we're waiting for the first rhubarb to come up in the garden.
Is this recipe German? Absolutely not. Is this recipe wunderbar? Absolutely YES! That's why I've included it here. So that I never misplace it. I NEED it every Spring!
Margaret's Rhubarb Dump Cake
Ingredients:
5 cup fresh rhubarb, cut in 1 to 2 inch pieces

¼ cup granulated sugar

1 box (3 oz) strawberry flavored gelatin powder

1 box (18 oz) yellow dry cake mix

¼ cup butter, melted

1 cup water

Instructions:
Preheat oven to 350°F.

Spread chopped rhubarb into ungreased 9 x 13 inch baking dish.

Sprinkle sugar over rhubarb. Sprinkle flavored gelatin powder over.

Sprinkle dry cake mix over all. DO NOT MIX.

Drizzle melted butter over. Gently pour water over all. DO NOT MIX)

Bake for 45 - 60 minutes, until top is nicely browned.

Serve either hot, warm, or cold. Nice with ice cream or whipped cream.

Hints:
Use any red colored gelatin powder. Raspberry is especially nice.

Try a white or lemon cake mix for a different flavor.

If you use frozen rhubarb, reduce the water in half.

Sprinkle with nuts - pecans are nice - before baking.

If you like it a bit sweeter, add extra sugar next time.

Instead of butter, use ¼ cup olive oil.

Replace with gelatin with sugar-free gelatin and use Splenda instead of sugar to make a diet version.

We only have a small patch, but we've had it since we moved here 40 years ago. It's still producing lots of stalks ... meaning lots of rhubarb desserts!
There are several variations on this basic recipe in the hints section. This allows you to have many rhubarb desserts - each different - each a real treat! But by far the favorite is this Rhubarb Dump Cake!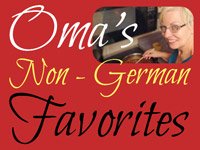 BUT, what is sure is that everyone loves this and they want to include it in their list of rhubarb recipes!
Use the brightly colored stalks of rhubarb and make sure you throw the leaves away which are poisonous.
Not really sure if this qualifies among the German dessert recipes. What I do know is that it superbly tops off a traditional German meal of cold German potato salad and homemade German sausage patties.
A great spring or summer picnic idea, for sure. All my German family and friends love it!
*
I kept planning to plant the newer, sweeter varieties of rhubarb once this little patch died.
Never got around to it.
This patch just keeps on producing. Even though it is quite sour to eat fresh, for rhubarb desserts that have sugar, it's no problem.
---
Looking for German ingredients and more? Take a look ...
---
---
*  *  *  *  *
Want nutritional information for a recipe? Copy and paste the ingredient list and the number of servings into Calorie Count. It will give you an approximate calculation.

---
---
Get your FREE poster ... Herbs & Spices in the German Kitchen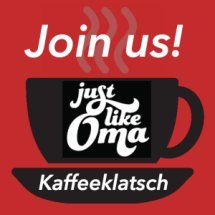 by Subscribing to my FREE Newsletter ...

Just like Oma ~  Kaffeeklatsch*
*Kaffeeklatsch: /ˈkafeːˌklatsh / (noun) an informal gathering for coffee and chatting
Experience Germany: food, people, country, & RECIPES!

---
---
Words to the Wise
"People who wink at wrong cause trouble, but a bold reproof promotes peace."
Proverbs 10:10 (NLT)