What is Grow.me?
Why and How to Use Grow
➤ by Gerhild Fulson
You may be asking, what is Grow.me, and why are some recipes locked? There are actually a couple of reasons, but first, let's address the elephant in the room. 
Ads. Yes, ads.
Not many of us like them on our own sites and on others. But they are needful if we want to provide our readers FREE material.
The cost of running a website/blog with the hosting, email services, plugins, etc., etc., etc., is in the thousands of dollars. Either I charge by having a membership site and have no ads, or I keep my content free but show ads to pay the expenses.
It's really that simple. 

Those who know my story know that ALL the profits from my website, including the sale of my cookbooks, go directly to our ministry sites, Gottes Wort and A Palavra de Deus. Those sites are totally free and don't run ads. They provide free resource materials, counselling, newsletters, and more. All free.
Google is just in the stages of removing third party cookies, which will make it more difficult to earn ad revenue. Advertisers use those cookies for machine learning for programmatic ads to figure out which ads might be most relevant to you.
Without those cookies, ads are less valuable to those advertisers, meaning much less revenue for content creators and bloggers, such as myself. Many sites are already implementing pay-as-you-use, membership, or other paid platforms.
Enter Grow.me.
I am partnering with Grow.me to enable me to continue to provide FREE content for you with exciting new features, functionality, and access to exclusive content. 
What is Grow.me?

Grow.me is a privacy-compliant platform created by Mediavine, my advertising partner, as a means to provide the best experiences for users, by helping to preserve consumer privacy (see my privacy policy re: personal information) while at the same time providing programmatic ads without third-party cookies.
Grow.me's Features

Since Mediavine is one of the largest ad management companies, thousands of blogs and websites already have that tell-tale icon in the bottom-right corner of their sites, just like I do.
That's Grow.me and its social share buttons are a means of sharing, liking, bookmarking, and saving posts. That means all your favorite content from all your favorite sites are in one place. It also provides social sharing buttons to the most popular social media networks.
When you click that little heart, you'll save that post into your Grow.me bookmarks. You'll even see the social share counts if it's been enabled for that article.
As well as providing a means to share and like the recipes, there is also a place to sign up for that free Grow.me account. With that one login, you'll have easy navigation to all your favorites, without needing to sign in again.
Grow.me is already live on thousands of blogs and websites. Depending on the other website's design, you may find the buttons a different color or in the bottom-left corner, but you'll recognize its similarity in shape.
It is still a new platform and its features are constantly evolving. As more functionality is added, such as the new search feature, it will be an even more customer-friendly platform. 

By signing up for that free Grow.me account, you are directly helping support my website. For example, you may have come across recipes that are locked, such as this: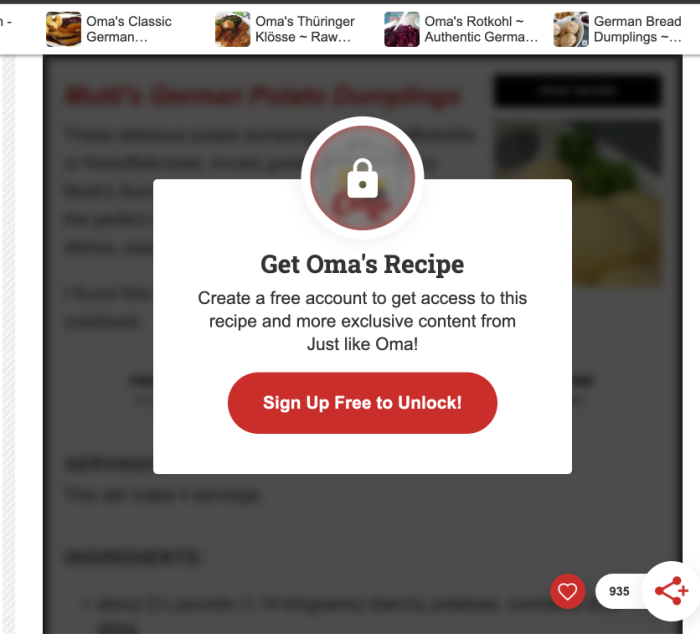 Unlocking my recipe by signing up with Grow.me is FREE. It is free forever and you'll have access to all the exclusive recipes on my site.
On the Grow.me sign up page, you can also sign up for my newsletter, or you can add yourself to my mailing list here if you aren't already a Kaffeeklatscher. That would be double awesome!!!!
Are you a blogger interested in using Grow.me?

For more complete information on what Grow.me is, take a look at this blog post from Mediavine. Currently, Grow.me is available for all publishers partnered with Mediavine. However, it is currently rolling out in beta for non-Mediavine users. Contact them for an application to join this roll-out.

---
Thank you for your support of this website by signing up to Grow.me. If you have any questions or concerns, please contact me.

Leave a comment about this recipe or ask a question?

Pop right over to my private Facebook group, the Kaffeeklatschers. You'll find thousands of German foodies, all eager to help and to talk about all things German, especially these yummy foods. 
Meet with us around Oma's table, pull up a chair, grab a coffee and a piece of Apfelstrudel, and enjoy the visit.

Oma's German schnitzel recipe (Schweineschnitzel) is great if you need something delicious that's quick to make as well. So traditionally German and so WUNDERBAR!

Need ideas for what to serve with burgers? Everyone loves a lecker hamburger done on the summer BBQ. But what to serve alongside? Check out these great options!

Oma's baked pork chops with sauerkraut is an easy German dinner that's quick to make. Adding both browned onion rings and apples are scrumptious additions to this traditional meal.
*  *  *  *  *