Oma's Carrot Soup Recipe
Yum
My carrot soup recipe, aka Mohrrübensuppe, will probably become one of your favorites. Why? Because it's so wunderbar! It's not the regular creamy style, but it's chunky. It gives you the feeling you're actually eating something. Filling and nutritious, with chunks of meat, it's a great traditional German meal.
I make it really quickly by using frozen carrot slices. If you prefer, you can use fresh carrots. Peel, chop, and add. You'll need to cook it just a bit longer, though. Super supper! 

---
Oma's German Carrot Soup Recipe
Ingredients:
1 lb meat, such as beef brisket (cut into spoon-sized chunks)

1 medium onion, chopped

2 lb bag frozen carrots 

1-2 tbsp Vegeta*

5 cups raw potatoes, (cut into spoon-sized chunks)
Salt, pepper, Maggi*
Instructions:
In large pot, put meat (or soup bones), onion, and frozen carrots.

Add potatoes and sufficient water to cover.

Add Vegeta.

Bring to boil. Reduce heat to simmer. Cover and cook for about 30 - 60 minutes, until meat is cooked. Cooking longer will improve the flavor.
Season with salt, pepper, and Maggi
* Looking for these German ingredients?
---
---
---
Like the soup above? You'll love looking at and making more of Oma's soups. All so quick and easy!
You can cook just like Oma using Quick Fix Soups, 84 full-color pages filled with step-by-step instructions and hints. 

Recipe cards are included. All the help you need to make traditional German soups quickly and easily.

Download immediately and you can start to cook right away!
---
A bit of this and a bit of that ...
Add celery seeds and parsley to taste.

Add freshly ground pepper.

The Vegeta Food Seasoning I use has salt and dried vegetables in it. If you don't have this, just add about 1 tsp. salt and some pepper to start. Adjust seasonings to taste.

Instead of using raw meat, add some sausage, kielbasa, or wieners. You will only need to cook the soup until the carrots are tender, about 10 - 15 minutes. 
If you like soup "brothy", just leave the way it is. However, if you like it thicker and (creamier), the easy way is to slowly add just enough Instant Mashed Potato flakes, stirring constantly, until the soup is as thick as you like.

Adding a grated raw potato in the beginning is another way to thicken the soup.

Slowly adding 1 - 2 tbsp cornstarch dissolved in a little cold water until the soup has thickened is another to make this Carrot Soup Recipe creamier.
You can turn the above Carrot Soup  into different vegetable soup recipes by using different vegetables - half carrot, half potato, or half carrot, half green bean, etc. Each one different, yet each delicious. When someone asks you for the recipe because it's so-o-o good, just say, "I take a bit of this, and a bit of that!" 

A vegan carrot soup can be made by:
make the carrot soup the same way, but just omit the meat.
to amp up the flavor, brown the onions in a bit of oil first.
---
I like to make this different than the traditional green bean soup, which is similar to this recipe. I do that by using raw meat such as beef brisket, meaty soup bones, or a small roast.
The size of the meat and/or using bones will affect the cooking time.
If you want extra flavor, and don't mind a bit of extra work, brown meat first in a bit of oil. Sauté the onions, too.
More Veggie Soups
---
More German recipes ...
---
---
*  *  *  *  *

Want nutritional information for a recipe? Copy and paste the ingredient list and the number of servings into Calorie Count. It will give you an approximate calculation.
---
---
Get your FREE poster ... Herbs & Spices in the German Kitchen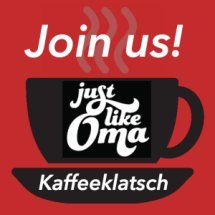 by Subscribing to my FREE Newsletter ...

Just like Oma ~  Kaffeeklatsch*
*Kaffeeklatsch: /ˈkafeːˌklatsh / (noun) an informal gathering for coffee and chatting
Experience Germany: food, people, country, & RECIPES!

---
---
German Recipes

›
Soups
› Carrot Soup
Words to the Wise
"Those who control their tongue will have a long life; opening your mouth can ruin everything."
Proverbs 13:3 (NLT)