Recipe for Red Cabbage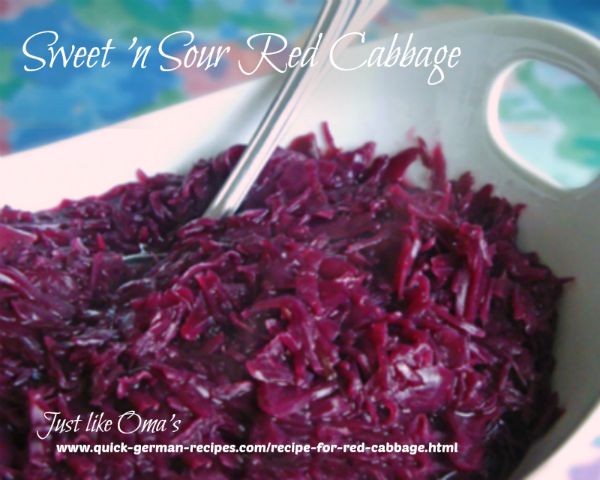 Yum
Here's another recipe for red cabbage, aka Rotkohl, that uses apples to enhance the flavor. Easy to make, yet tastes best reheated, so make it ahead of time if you can. Red cabbage recipes are really a staple for German cooking. They go particularly well with hearty meats such as beef, pork, game, turkey -- well, just about everything!
This sweet 'n sour red cabbage is the usual way we Germans love to make this side dish. In fact, it's the only way I grew up with it!
---
Sweet 'n Sour Recipe for Red Cabbage with Apples
Ingredients:
1 medium head red cabbage, shredded
2 - 3 tbsp butter, oil, or lard
1 large onion, diced
3 apples, peeled, cored, shredded or diced
1/2 cup red wine (optional)
3 tbsp cider vinegar
1 tsp salt
2 tsp sugar
1/2 tsp nutmeg, ground
1/4 tsp pepper, freshly ground
2 tbsp lemon juice
2 tbsp corn starch
Instructions:
In large pot, heat butter, oil, lard, or combination. Lightly saute onion.
Add red cabbage and apples. Continue to saute for several minutes.
Add 1 cup water, optional red wine, cider vinegar, sugar, salt, nutmeg, and pepper. Stir.
Bring to simmer, cover. Simmer about 30 - 60 minutes or until cabbage is tender.
Add lemon juice. Taste and season with more salt, cloves, pepper, sugar, and vinegar as needed.
Mix about 2 tbsp cornstarch with cold water and slowly stir in just enough to thicken red cabbage liquid. Serve.
Hints:
For an extra quick red cabbage recipe, use canned or jarred red cabbage. Add shredded or grated apples. Simmer until apples are cooked, about 10 minutes. Season and thicken with corn starch as above.
The traditional "recipe for red cabbage" is cooked till almost the "mush" stage. If you prefer, you can slice the cabbage instead of shredding and cook it only about 1/2 hour instead if you prefer a more "textured" cabbage dish. Delicious as well.
---
You'll need a nice big knife to cut through the cabbage as well as some disposable gloves.

Why the gloves?
If you don't use gloves, your hands will have a lovely pink/purple color from cutting the red cabbage!
Want another version for red cabbage without the apples? Then check out German Red Cabbage. There are easy instructions there how to cook cabbage as well as prepare it.

To make a vegan red cabbage recipe:
Make sure you use oil and not the butter or lard

---
Our kids repeatedly ask for this.
Because of that, I always make a huge stock pot full by getting the largest red cabbage I can find.

More German Cabbage Recipes ...
---
More German recipes ...
---
*  *  *  *  *

Want nutritional information for a recipe? Copy and paste the ingredient list and the number of servings into Calorie Count. It will give you an approximate calculation.
---
---
---
Get your FREE poster ... Herbs & Spices in the German Kitchen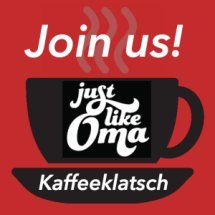 by Subscribing to my FREE Newsletter ...

Just like Oma ~  Kaffeeklatsch*
*Kaffeeklatsch: /ˈkafeːˌklatsh / (noun) an informal gathering for coffee and chatting
Experience Germany: food, people, country, & RECIPES!

---
---
---
German Recipes

›
Vegetables
› Red Cabbage
Words for the Wise
"The mouths of fools are their ruin; they trap themselves with their lips."
Proverbs 18:7 (NLT)