Easy Brownie Recipe: Oma's or Vegan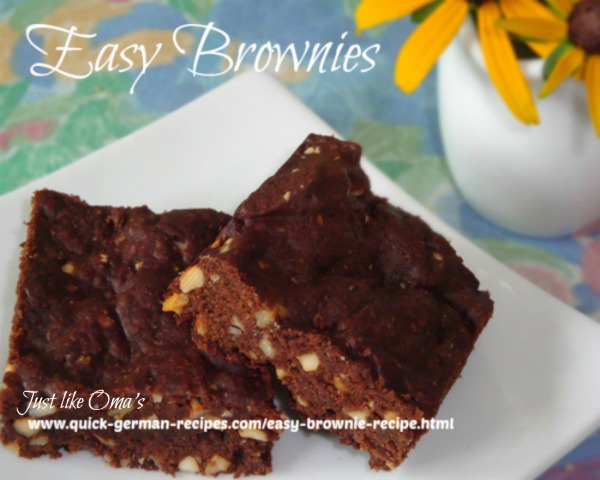 Yum
This easy brownie recipe may just become one of your favorites. It's quick and has an easy frosting recipe. OR are you looking for a vegan brownie recipe?  You'll find a delicious one here as well. Even non-vegans like it! The German twist in both? Almond flavoring! And that turns them into Schokoladenschnitten. 
Why do I add that? Well, I just LOVE marzipan and adding almond flavoring to these brownies is heavenly! 
---
#1.  Oma's Easy Brownie Recipe

Ingredients:
1/2 cup butter
1/4 cup cocoa
2 eggs
1 cup granulated sugar
3/4 cup flour, all purpose
1/2 cup chopped walnuts
1 tsp almond flavoring (optional)
1/8 tsp salt
1 1/3 cup icing sugar
1/3 cup cocoa
3 tbsp butter
1 1/2 tbsp hot coffee
Instructions:
Preheat oven to 350° F. Grease 8 X 8 inch pan.
In a small pot, heat butter and cocoa over low heat, stirring constantly, until smooth.
In mixing bowl, beat eggs until frothy. Add sugar, flour, walnuts, almond flavoring (optional), salt, and cocoa mixture. Stir together well.
Spread in prepared pan, smoothing top.
Bake for 25 to 30 minutes, until wooden pick inserted in center comes out moist, not wet, with batter. Do not over-bake.
Cool slightly in pan on rack before icing.
For icing, beat icing sugar, cocoa, butter, and coffee until smooth, adding more icing sugar or coffee as needed until proper consistency is reached.
Spread over warm brownies. Cut into squares.
Hints:
Sift cocoa and/or icing sugar if lumpy
Sprinkle chopped walnuts over top of icing if desired.
Using vanilla instead of almond flavoring will give you a delicious variation on this easy Brownie recipe.
#2.  Delicious Vegan Brownies
Ingredients:
1/2 cup olive oil
1 cup granulated sugar
1 tsp almond flavoring
1/ 2 cup unsweetened cocoa
1/2 cup unsweetened applesauce
1 tsp salt
1 1/2 cup flour
2 oz unsweetened chocolate (melted)
1 cut chopped nuts
Instructions:
Preheat oven to 350 F.
Spray or oil a 9 x 9 inch pan.
Mix everything together in a bowl EXCEPT for the melted chocolate and nuts. Once everything is well mixed, add the chocolate and nuts and mix in well.
Pour batter into pan and smooth top.
Bake about 25 - 30 minutes or until center is firm and not sticky. 
Cool completely before cutting.
---
Which will you like best? Why not try both and choose. What's the best chocolate brownie recipe? These are both if you want to learn how to make brownies, because they are so easy. Wunderbar!
Tips on Brownies ...
There's only one difficult part in making brownies (and not that difficult) and that's the baking.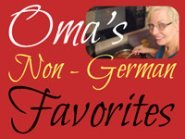 They need to be removed from the oven when a wooden pick inserted in the center comes out still moist, but not wet with batter.

If you over-bake them, they'll still taste good.
They just won't have that lovely moist texture. They would make great "dunkers" though if you keep them un-iced. (Dunk into a lovely cup of hot coffee.)
You may wonder why these recipes are included on my German recipe site because they are not traditional German recipes. Check out Oma's Quickies to find out why.
You may just find either of these is the best chocolate recipe there is!
More German Dessert Recipes
---
More German Recipes ...
---
---
*  *  *  *  *

Want nutritional information for a recipe? Copy and paste the ingredient list and the number of servings into Calorie Count. It will give you an approximate calculation.
---
---
Get your FREE poster ... Herbs & Spices in the German Kitchen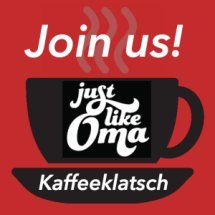 by Subscribing to my FREE Newsletter ...

Just like Oma ~  Kaffeeklatsch*
*Kaffeeklatsch: /ˈkafeːˌklatsh / (noun) an informal gathering for coffee and chatting
Experience Germany: food, people, country, & RECIPES!

---
---
German Recipes

›
Quickies
› Easy Brownie Recipe
Words to the Wise
"Keep the commandments and keep your life; despising them leads to death."
Proverbs 19:16 (NLT)