Oma's Best Squares Recipes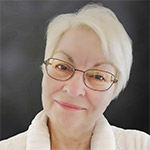 by: Gerhild Fulson  /  Cookbook Author, Blogger, German Oma!
Here are my BEST squares recipes and holiday baking recipes to use when you're in a hurry. These are Kleingebäck that are easy to make lots and freeze the extras. Perfect for the holidays or a quiet evening with hubby!
Most of these are from traditional German recipes, but some will be adaptations that I've made of what we like!
Want Perfect Squares?
Then here are some pointers ...
Line the baking pan with foil that overhangs the edges.

Grease and flour foil according to the recipe.

Once the baked squares are cooled, it's easy to lift out by holding the edges of the foil and putting the baked square onto a cutting board.

Now cut into whatever size you want.
Why make Squares or Bars?
Sometimes it's as easy as taking a cookie recipe and converting into bars. It sure is faster than making individual cookies!
Use bars and squares as a quick and easy cookie recipe. Especially, when the kids need to bring cookies to school.
Most of these recipes are also ones they can help make. Sometimes it's just the decorating part. Drizzle on some icing. Sprinkle on some sprinkles. Decorate with dried fruits and nuts. Let them be creative!
When chocolate is drizzled on top, or when covered with a creamy frosting, these treats look and taste delicious!
---
My favorite squares ...
There are so many recipes to choose from, that including these for my holidays, is a natural.
In fact, I created my own binder where I file recipes, such as these, in. That way I can quickly just grab the sheets I need when it's time to bake.
Whenever Christmas comes, which somehow just sneaks up so quickly after Thanksgiving, I'm ready to start baking. My favorite is a Lebkuchen recipe that mimics the traditional German gingerbread, only a lot easier. Easier, because it's baked, decorated, and then cut into squares. 
Grab your copy of Oma's favorites in her Special Occasion German Cakes & Tortes e-Cookbook.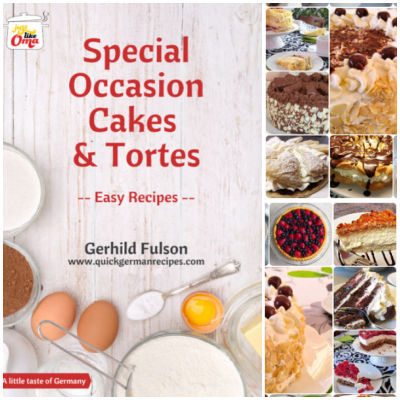 Take a peek at all Oma's eCookbooks. They make sharing your German heritage a delicious adventure!
---
Another one of my favorites are Coconut Pecan Bars. Almonds or hazelnuts can be substituted for the pecans. Delicious! Delicious! Delicious! And, so quick as well!
Best Squares Recipes and Bars, too!
Leave a comment about this recipe or ask a question?

Pop right over to my private Facebook group, the Kaffeeklatschers. You'll find thousands of German foodies, all eager to help and to talk about all things German, especially these yummy foods. 
Meet with us around Oma's table, pull up a chair, grab a coffee and a piece of Apfelstrudel, and enjoy the visit.

Oma's Favorite Finds offer a range of Oma's favorite German-inspired must-have items that make cooking and entertaining more enjoyable, yummy, and efficient.

Indulge in Elegance: Small porcelain dessert bowls by Dowan for a pop of colour on your table and perfect for little desserts.

Discover the Easter traditions in Germany that will engage your senses and uplift your spirit. Ostern is a cultural celebration filled with delight, wonder, and yummy food.
*  *  *  *  *
PIN this ...
Make every day a THRILLING day!
"You thrill me, LORD, with all you have done for me!"
Psalm 92:4 (NLT)