Oma's German Fruit Torte Recipe

Yum
Yes, my fruit torte recipe, aka Obsttorte,  is so delicious. With fresh berries, it's one of those great fruit dessert recipes to enjoy in the summer. I've used mixes of berries, such as raspberries, strawberries, blackberries, or blueberries. You could just use strawberries, for example, and make Strawberry Fruit Torte.
Since there's no wheat flour used, this is a gluten-free recipe (check that the cornstarch is pure!) It's a great "diet" German dessert, very light and with little sugar. Actually no sugar is used. Honey is added for sweetness.
---
Oma's German Fruit Torte Recipe
Ingredients:
2 eggs, separated
pinch salt
3 tbsp honey
1 1/2 cups ground almonds
2 tbsp cornstarch
1 lb fresh strawberries (or mixed berries)
1/4 tsp gelatin (or 1 leaf)
3 oz unsweetened apple juice
Instructions:
Preheat oven to 350°F.
Beat egg whites with pinch of salt until stiff.
Stir in honey.
Fold in stirred egg yolks.
Mix ground almonds and cornstarch together. Add to egg white mixture and mix gently.
Put batter into greased 8-inch springform pan*. Bake 20 minutes or till done.
Let cake cool. Remove from pan. Place on cake plate. Replace outer ring of spring-form pan around cake.
Place berries on cake (if large, cut in half).
Prepare gelatin according to package. Dissolve in heated apple juice.
Spoon gelatin over berries. Let set. Remove spring-form ring.
Serves 10
Hints:
* Looking for a GOOD Springform Pan?
---
Norpro 8-Inch Nonstick Springform
---
---
Using gelatin (granulated, package, or leaf)
The original recipe calls for one leaf of gelatin dissolved in 100 ml of juice.
This is commonly used in traditional German recipes, but does not dissolve as easily as the granulated gelatin. If you have leaf gelatin, you can use it here. 
The conversion for gelatin is 4 leaves = 1 package gelatin = 1 tsp granulated gelatin.

For the Obsttorte pictured above, I used lots and lots of huge strawberries, blackberries, and halved grapes. Because of the quantity of fruit, I dissolved 1 package of gelatin in 2 cups of unsweetened apple juice (following package instructions). I let the gelatin thicken slightly in the fridge for about 1 hour before spooning it over the fruit.
Serve this with frozen vanilla yogurt for a scrumptious finish to a traditional German meal.
For a more decadent dessert, serve with a dollop of whipped cream!
More German Desserts
---
More German Recipes ...
---
---
*  *  *  *  *

Want nutritional information for a recipe? Copy and paste the ingredient list and the number of servings into Calorie Count. It will give you an approximate calculation.
---
---
Get your FREE poster ... Herbs & Spices in the German Kitchen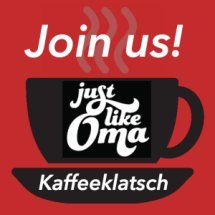 by Subscribing to my FREE Newsletter ...

Just like Oma ~  Kaffeeklatsch*
*Kaffeeklatsch: /ˈkafeːˌklatsh / (noun) an informal gathering for coffee and chatting
Experience Germany: food, people, country, & RECIPES!

---
---
German Recipes

›
Cakes
› Fruit Torte
Words to the Wise
"Rumors are dainty morsels that sink deep into one's heart."
Proverbs 18:8 (NLT)