Celebrating Holidays in Germany
Celebrating Holidays in Germany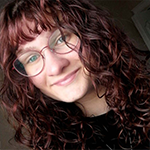 by: Lydia Fulson  /  Writer, Artist, Traveler, Granddaughter & Ever-Learning German Cook
Holidays in Germany are all full of beauty and delightful food and traditions that have been around for generations. Let's learn a bit about them together, and what it looks like to celebrate in Germany! 
It's always a joy to bring special memories back to others. Maybe you will recognize a few of the traditional foods from your days in Germany with your families, that brings back some of those memories!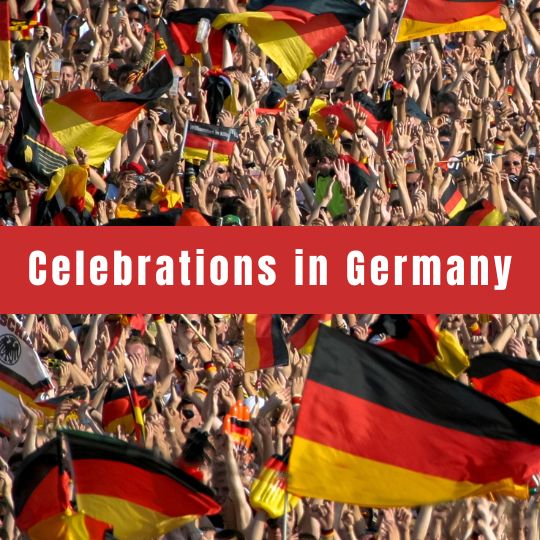 Below you can find holidays that we all know and love, like Christmas, Easter, Thanksgiving, and of course Oktoberfest! Find delectable treats and dinner ideas for your very favorite time of year, whichever that may be! 
If you're looking to learn a little bit of holiday history too, then you've come to the right place. I'm quite a history lover myself, and I must say that learning about these German celebrations was so fun! 
I learned lots of these traditions through my Oma as well, who grew up in Northern Germany.
First, let's take a sneak peek at some of the staple German foods you'll find during these holidays:
Christmas was one of my favorite holidays to research. Not only is the food served during the time so lecker, but the events and markets were so beautiful to discover ... online that is, but I hope to see them in person one day!
You can imagine all of the authentic treats that are laid out on the dinner table! But most traditional of all, it wouldn't be a Christmas in Germany without ...
Mutti's Christmas Stollen Recipe ~ Quarkstollen!
How about Valentine's Day? Well, there are actually a few great ideas for special surprise treats for your sweetheart! This one never fails.
Oma's German Torn Pancakes ~ Kaiserschmarrn!
Now for Oktoberfest! This is probably one of the biggest and well-known celebrations in Europe! Markets, games, tents, flags, and crowds of people so enthusiastic to celebrate their heritage together. How does one celebrate Oktoberfest with food? 
Pretzels of course! Check out this German Pretzel Recipe (without lye) ~ Oma's Soft Bavarian Laugenbrezel!
Pretzels are just the tip of the iceberg when it comes to Oktoberfest treats. BUT, no more spoilers! You'll have to keep scrolling and choose your holiday to see more of these delicious foods.
When it's time for dinner, get traditional with Oma's favorite combinations. Get her collection in Oma's German Dinners, which include salads, soups, entrees, and desserts!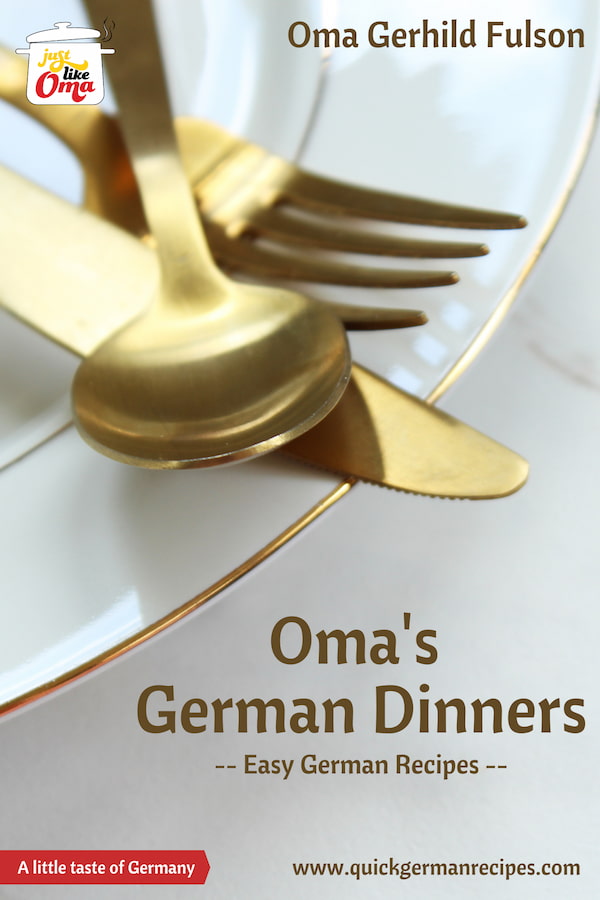 Take a peek at all Oma's eCookbooks. They make sharing your German heritage a delicious adventure!

To me, they are all worth trying. But since it would be a bit of a stretch to try them all at once ... make one or two, then next time, try something different from the list.
I hope you can find something you know that you and your guests will surely love. Even if you're just looking for some German holiday history, you'll find it.
Alright! Get scrolling, jotting down, learning, cooking, and maybe even planning a holiday celebration with your loved ones. :)
Check out these holiday pages:
Leave a comment about this recipe or ask a question?

Pop right over to my private Facebook group, the Kaffeeklatschers. You'll find thousands of German foodies, all eager to help and to talk about all things German, especially these yummy foods. 
Meet with us around Oma's table, pull up a chair, grab a coffee and a piece of Apfelstrudel, and enjoy the visit.

Choose from Oma's cookbooks that are immediately downloadable & start cooking easy classic German foods tonight. Or get her newest paperback cookbook. LECKER!

Kaiserschmarrn are among those homemade pancake recipes that will remind you of Oma's kitchen. A traditional Austrian & German light and fluffy shredded pancake.

Discover the ultimate German schnitzel recipe with Oma's quick, easy, and delicious pork version - perfect for any occasion! Taste the authentic flavors of Germany today.
*  *  *  *  *
PIN to SAVE this recipe to your Pinterest board!
Make every day a THANKFUL day!
"And this same God who takes care of me will supply all your needs from His glorious riches, which have been given to us in Christ Jesus."
Philippians 4:19