German Father's Day
➤ by Oma Gerhild Fulson
FTC Disclosure: Making a purchase via a link on the page? I may earn a small commission on the transaction - at no added cost to you. Thanks!
The German Father's Day, aka Vatertag, observance is so different from the Canadian and American celebration which is celebrated on the 3rd Sunday of June.
Originally, during the Middle Ages, Father's Day was a religious celebration to honor God the Father. It was celebrated on Ascension Day, aka Christi Himmelfahrt, usually in May. For example, in 2010, this fell on May 13 (40 days after Easter). In 2013, on May 9. In 2015, on May 14, and in 2017 on May 25!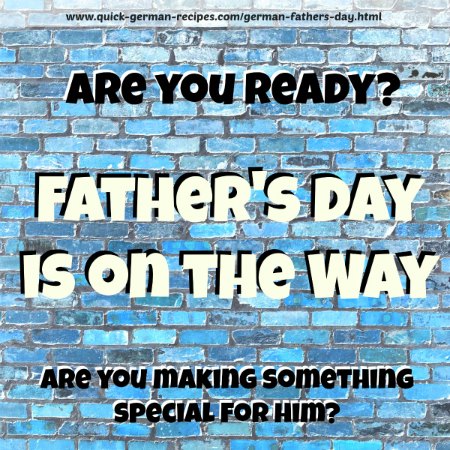 Later, it did become a day to honor Dad, but soon became a day when men had a 'drinking day' where they toured the bars and pubs getting drunk. (Not a pretty picture!)
In some places it still is a day where men gather, either in parks or outings, and beer is consumed in large quantities. After having talked with some friends in Germany, it seems their recollections of Vatertag were not good. They recall a lot of drinking and drunkenness.
Now-a-day, in some areas, it is celebrated as a family recognition of Dad. Since Ascension Day is a public holiday in Germany, this provides a day to enjoy a short day-trip.
Raised in Canada after immigrating from Germany, we would celebrate Father's Day the Canadian way. Mutti  would make the foods my Papa loved the most. What was that? Rouladen and potato dumplings, of course!

Mutti would bake Papa's favorite torte for dessert - usually a Blitz Torte. I'm sure she liked that fact that this easy cake was his favourite.
We would make cards and give little gifts. It was always difficult to think of something Papa would like. For us, though, it was actually a double celebration. Papa's birthday was June 19 and often on the same day -- a real Father's Day for him!

So why not celebrate Dad on his special day. We'd do it on the Canadian Father's Day, the third Sunday in June. So, either in May or June, make this a day to recognize Dad for the great guy he is!
Tell Dad, "Glücklicher Vatertag." (Happy Father's Day!)
---
Make Dad some Beef!
Leave a comment about this recipe or ask a question?
Pop right over to my private Facebook group, the Kaffeeklatschers. You'll find thousands of German foodies, all eager to help and to talk about all things German, especially these yummy foods. 
I pop in all the time as well, to chat and to answer questions. 
Meet with us around Oma's table, pull up a chair, grab a coffee and a piece of Apfelstrudel, and enjoy the visit.
*  *  *  *  *
Thinking of starting your own Handmade Business?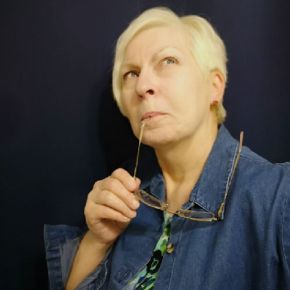 This Oma KNOWS you CAN do it.
How do I know?
Well, if I can do it, anyone can.
I've even figured out how I can help you.
I've teamed up with my own business coach, Renae Christine (yes, do google her!), to bring you this free masterclass. After you watch it, ask me any questions and I'll gladly answer them.
Don't hesitate. I'm not sure how long Renae will keep this free masterclass available.
PS:  Yes, Renae really is as amazing as all the reviews say.
PPS: Yes, the course is for handmade items, but I've used it successfully for my cookbooks. I know others are using her methods for services, direct sales, and even a local ice cream bar & grill that's constantly selling out. You've nothing to lose by taking a look ... and a whole bunch to gain.
*  *  *  *  *
Oma's Cookbooks (downloadable & print)
*  *  *  *  *
Want nutritional information for a recipe?
Copy and paste the ingredient list and the number of servings into Calorie Count. 
It will give you an approximate calculation.

Need help doing conversions
between cups and grams or any such thing?
Use this site to give you all the different conversions for the different types of ingredients. 
---
---
Try this slow cooker roast beef and you'll be amazed at how much this tastes like rouladen WITHOUT the work.

Learn how to cook pork hocks, anytime you want something traditionally German and wonderfully delicious! A hearty meal for any time of the year!
---
Make every day a LOVE-filled day!
"Dear friends, let us continue to tome one another, for love comes from God. Anyone who loves is a child of God and knows God. But anyone who does not love does not know God, for God is love." 1 John 4:7-8 (NLT)