Valentine's Day in Germany ❤️
➤ by Oma Gerhild Fulson
FTC Disclosure: Making a purchase via a link on the page? I may earn a small commission on the transaction - at no added cost to you. Thanks!
Valentine's Day in Germany is a very special day.
A day for lovers to celebrate.
A day for flowers.
A day for heart cookies.
A day for chocolate.
A day for something extra special. 
It's one of those non-German German holidays -- something that really wasn't celebrated until after the Second World War.
Since LIEBE (love) is something that is infectious, this special celebration for lovers just couldn't stay away from Germany!

Not as commercial as it is in other countries, Germans still do like to celebrate this day to show their love to one another. Since there are no traditional German recipes for this imported holiday, you are free to decide how and what you will do to make this a special day.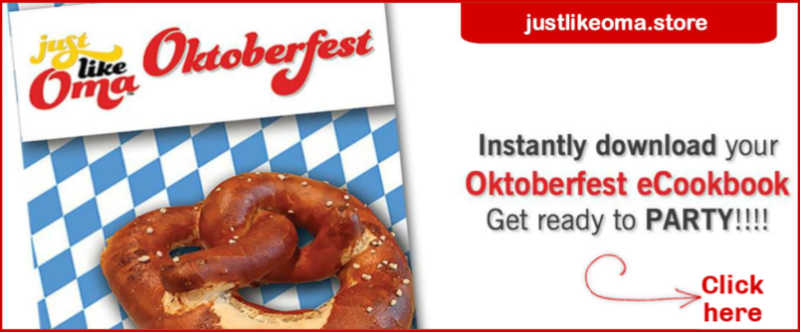 For example,
Does your Süße (Sweetie) love Rouladen. Then, that's what you'd make.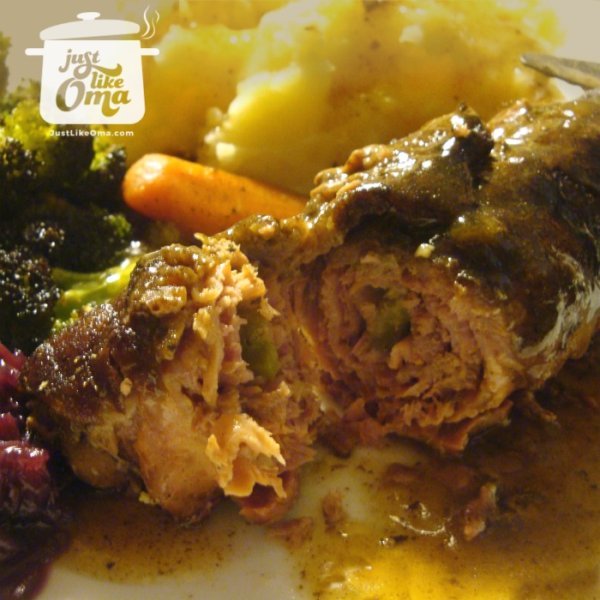 Make this Beef Rouladen dinner for your Sweetie!
Does your Schätzchen (Treasure) love Kaiserschmarrn? Then that's what you'll be making.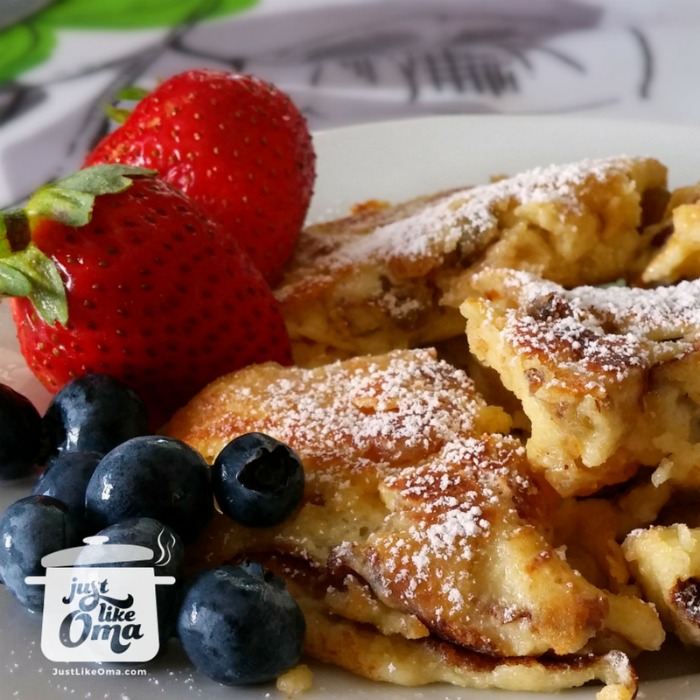 Make this Kaiserschmarrn for your Honey!
And remember, Schokolade (chocolates) and Blumen (flowers) are always welcomed by your Liebchen (Love). Dinner out and an intimate gift are wonderful, too.
Don't forget to tell your Valentine, "Ich liebe Dich!" ("I love you!")and seal it with a Kuss (kiss).
Below, is an example of what I'd make for a special meal for my wonderful hubby in this, our 47th anniversary year!
My Valentine's Day Dinner
I find it interesting that the most traditional of all German meals is also our favorite. A very basic meat and potatoes, German-style.
That means, rouladen and gravy, potato dumplings, and red cabbage. For dessert, it's Black Forest Cake made in the traditional way.
---
---
Oma says,
There are so many versions of where Valentine's Day originates from. Just googling will bring up many sites that seem to repeat what the others are saying. Basically, no one really knows!
One thing that is common though, is that now-a-days, this celebration is one of LOVE! 
Some wonderful German Cakes ...
Leave a comment about this recipe or ask a question?
Pop right over to my private Facebook group, the Kaffeeklatschers. You'll find thousands of German foodies, all eager to help and to talk about all things German, especially these yummy foods. 
I pop in all the time as well, to chat and to answer questions. 
Meet with us around Oma's table, pull up a chair, grab a coffee and a piece of Apfelstrudel, and enjoy the visit.
*  *  *  *  *
Want nutritional information for a recipe?
Copy and paste the ingredient list and the number of servings into Calorie Count. 
It will give you an approximate calculation.

Need help doing conversions
between cups and grams or any such thing?
Use this site to give you all the different conversions for the different types of ingredients. 
---
---
Schwenkbraten recipe that has been a delish hit an alle familien & freunde... Total Approx. Time: Prep: 15 min. + Marinating 8 hrs min. + Grill: 15 min.

My Oma made this cake every Christmas. She iced it with a white frosting that ran down the sides. She decorated it with little silver balls (candy). It
---
Words to the Wise
"Timely advice is lovely, like golden apples in a silver basket."
Proverbs 25:11 (NLT)