Germany: Mother's Day – Muttertag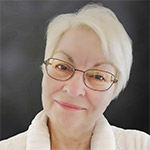 by: Gerhild Fulson  /  Cookbook Author, Blogger, German Oma!
In Germany, Mother's Day is observed with much celebration. Traditionally, Muttertag as it is known in German, is celebrated on the second Sunday in May unless it falls on Pfingsten (Pentecost). Then it is celebrated on the first Sunday.
Originally a celebration of mothers who produced children for the Vaterland, (Father's land), it was first observed in 1922. Medals, das Mutterkreuz, were awarded to these Moms.

In 1933, it became an official German holiday and became a celebration of gratitude to mothers by their children instead.
A tradition that is still seen today is the wearing of a white carnation in remembrance of a mother that has died or the wearing of a red carnation in honor of a mother that is still living.
In Germany, Mother's Day gift-giving is traditional with flowers, chocolates, and perfume being the norm.
My favorite flowers are daisies! Love these!
Taking Mom out to brunch or dinner is part of the way of honoring her. However, much more special is when the kids prepare the brunch or dinner for Mom.
Therefore Mother's Day brunch ideas and Mother's Day dinner ideas are hot topics to research. Easy and delicious are the requirements because Mom is special and is deserving of something very special.
We loved to make our Mutti a special breakfast when we were little. Not sure anymore what we made, but we always tried to include some fresh cut tulips from the garden.
It's interesting because "what we sow, we reap." My children also did the same for me, cutting tulips and flowering almond branches to decorate my breakfast table.
And, of course, there was always some special cake or dessert to follow in the afternoon for Kaffeeklatsch.
Grab your copy of Oma's favorites in her Special Occasion German Cakes & Tortes e-Cookbook.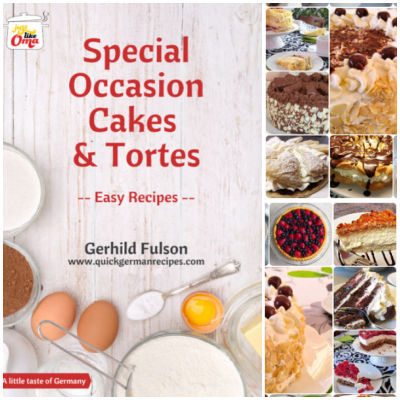 Take a peek at all Oma's eCookbooks. They make sharing your German heritage a delicious adventure!
Below are some ideas of how to make Mom's day very special.
---
Mothers Day Brunch Ideas
Serve a Brunch buffet with a variety of buns, breads, and rolls. Making your own Sweet Rolls would be a treat.
Serve plates with "German cold cuts" (variety of deli meats) and different types of German cheeses. Include a veggie tray and a fruit tray.
Apple Oven Pancake, a souffle-like pancake served hot from the oven, would be a real treat to include.
For a more substantial brunch, traditional Hoppel Poppel and a Lettuce Salad would be ideal additions.
For dessert, Rote Grütze would be a traditional finish to the meal. Serve this with cream and fresh strawberries to decorate.
Use your best china, crystal, and linens and decorate the table with fresh flowers.
---
Mothers Day Dinner Ideas
Serve a dinner that includes Mom's favorite dishes but that's easy to make.
If Rouladen are Mom's favorite, either make them or my easier version called Flatladen, just as delicious but quicker to make.
Serve these with Potato Dumplings and Red Cabbage.
Dessert could be either Eis und Heiss or a traditional Rote Grütze.
Use your best china, crystal, and linens and decorate the table with fresh flowers.
---
Leave a comment about this recipe or ask a question?

Pop right over to my private Facebook group, the Kaffeeklatschers. You'll find thousands of German foodies, all eager to help and to talk about all things German, especially these yummy foods. 
Meet with us around Oma's table, pull up a chair, grab a coffee and a piece of Apfelstrudel, and enjoy the visit.

Cooking just like Oma, making those German meals, is actually quite easy. Let me, Oma Gerhild, help you with my step-by-step methods to re-create those yummy meals you remember from your Oma.

If you're looking for tasty, traditional, and easy German cake recipes (in English) to try, then you've come to the right place! Check out these lecker treats!

Discover the ultimate German schnitzel recipe with Oma's quick and easy method - perfect for any occasion! Taste the authentic flavors of Germany today.
*  *  *  *  *
Words to the Wise
"Ears to hear and eyes to see -- both are gifts from the Lord."
Proverbs 20:12 (NLT)