Celebrating Thanksgiving, German-style ❤️
➤ by Oma Gerhild Fulson
FTC Disclosure: Making a purchase via a link on the page? I may earn a small commission on the transaction - at no added cost to you. Thanks!
Celebrating Thanksgiving and all you can think of are turkey,  stuffing, the cream-based sauces, the buttered mashed potatoes, and the pumpkin and pecan pies?
For me, Thanksgiving has a totally German feel as we celebrate Erntedankfest with traditional German foods.

Traditional as far a German foods go. There's really no one meal for this holiday that's served throughout Germany. For us, and for most Germans, it was what we all liked the best. And, that's rouladen, red cabbage, and potato dumplings with lots and lots of wonderful rouladen gravy.
Our Traditional Thanksgiving Dinner
Our traditional feast usually includes
Although potato dumplings are a favorite at our house, making Spätzle is a wonderful side dish for this. Especially with the gravy!
You do realize I included more than one dessert ... must have dessert ... so good!
---
German Erntedankfest
Our German Thanksgiving Day celebrated in Canada starts as a day of thanksgiving for all the blessings we've received.
This is pretty much the same for everyone - based on the original story of the first Thanksgiving celebrated by the English settlers in America after the harsh winter in Plymouth, Massachusetts.
Celebrated in the United States on the fourth Thursday in November, it is celebrated in Canada on the second Sunday of October. In Germany, it is often celebrated on the first Sunday in October and is called Erntedankfest (meaning "harvest festival of thanks").
So, if you really like celebrating holidays, you could do Thanksgiving three times, just doing what these three countries do!
Thanksgiving Traditions ...
While turkey and all the trimmings are considered by many to be a traditional Thanksgiving dinner, some people use ham because they like it better.
Using that same thinking, we adopted our own customs. We chose to celebrate with our healthy Thanksgiving recipes cutting down on the fats and creams in the rouladen, red cabbage, and potato dumplings. Dessert was usually whichever cake was the family favorite at the time with a healthy alternative of a fruit tray.
Yes, it really was rouladen - not the easy and cheaper version of flatladen. It was extra work, but this was for a very special day.
Why our Thanksgiving is SUPER special:
For our family, Thanksgiving is an extra special day. Our middle son's birthday is October 12. We often celebrate both at the same time. Our tradition is that the "birthday child" could choose his dinner.
And what does Michael usually choose? You guessed it, "Rouladen, red cabbage, and potato dumplings." And that's how traditions start!
Leave a comment about this recipe or ask a question?
Pop right over to my private Facebook group, the Kaffeeklatschers. You'll find thousands of German foodies, all eager to help and to talk about all things German, especially these yummy foods. 
I pop in all the time as well, to chat and to answer questions. 
Meet with us around Oma's table, pull up a chair, grab a coffee and a piece of Apfelstrudel, and enjoy the visit.
*  *  *  *  *
Thinking of starting your own Handmade Business?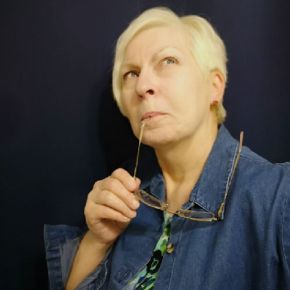 This Oma KNOWS you CAN do it.
How do I know?
Well, if I can do it, anyone can.
I've even figured out how I can help you.
I've teamed up with my own business coach, Renae Christine (yes, do google her!), to bring you this free masterclass. After you watch it, ask me any questions and I'll gladly answer them.
Don't hesitate. I'm not sure how long Renae will keep this free masterclass available.
PS:  Yes, Renae really is as amazing as all the reviews say.
PPS: Yes, the course is for handmade items, but I've used it successfully for my cookbooks. I know others are using her methods for services, direct sales, and even a local ice cream bar & grill that's constantly selling out. You've nothing to lose by taking a look ... and a whole bunch to gain.
*  *  *  *  *
Oma's Cookbooks (downloadable & print)
*  *  *  *  *
Want nutritional information for a recipe?
Copy and paste the ingredient list and the number of servings into Calorie Count. 
It will give you an approximate calculation.

Need help doing conversions
between cups and grams or any such thing?
Use this site to give you all the different conversions for the different types of ingredients. 
---
---
Try this slow cooker roast beef and you'll be amazed at how much this tastes like rouladen WITHOUT the work.

Learn how to cook pork hocks, anytime you want something traditionally German and wonderfully delicious! A hearty meal for any time of the year!
---
Words to the Wise
"Stolen bread tastes sweet, but it turns to gravel in the mouth."
Proverbs 20:17 (NLT)