Celebrate Easter in Germany ❤️
➤ by Oma Gerhild Fulson
FTC Disclosure: Making a purchase via a link on the page? I may earn a small commission on the transaction - at no added cost to you. Thanks!
Celebrating Easter in Germany, aka Ostern,  is a journey through time that arouses the senses, both spiritually and physically.
Although the preparation starts many weeks before the actual Easter Day, the main event starts on the Thursday before Easter and continues through the weekend. German food is a main part of this!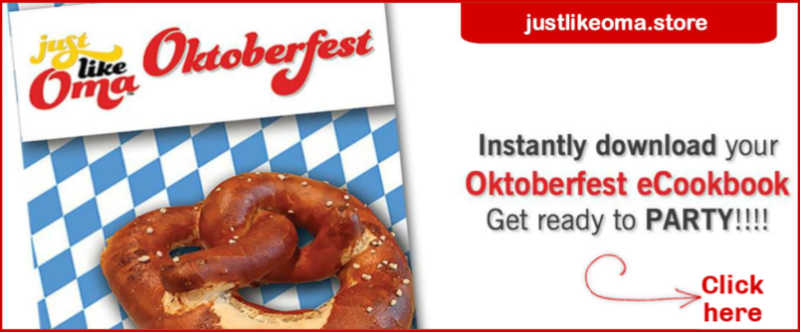 ---
The Thursday before Easter is known as "Gründonnerstag" or "Green Thursday." Here, the custom is to eat green foods such as soups made with spinach, leeks, and parsley.
On the following day, Good Friday, known as "Karfreitag", the main meal is usually some kind of fish dish.

Then, it's Easter, "Osten." Traditionally, the meat is roasted lamb, served with asparagus and potatoes. Of course, other meats can be served. As a treat, rouladen and potato dumplings are offered, served along with spring peas and carrots.
Easter desserts often feature eggs and bunnies - in decorations. A lamb-shaped cake is common, but it's always right to serve traditional German tortes. A Hazelnut Torte is a treat, as is the famous Black Forest Cake.
Celebrating Easter in Germany
Since the Easter Egg and Easter Bunny seem to have originated in Germany, much is seen of this in decorations throughout the country.

Ostermarkt (Easter Market) are in many towns, selling decorated eggs, chocolates, bunnies, flowers, spring ornaments, and Easter crafts. 
These are greatly wanted because the houses and gardens are widely decorated, especially with eggs.

A beautiful German Easter tradition is the Osterstrauch. This is a branch or small tree decorated with hollowed-out eggs. 
The raw eggs are prepared by poking pinholes at each end of the shell and blowing the contents out (saving the egg yolk and egg white mixture for Easter baking).
Allowed to dry out, the egg shells are then dyed and hand painted. 
These eggs are hung with ribbons on the branches of trees either hung from the ceiling or put into vases. 
Outside, eggs are hung on the trees too. These eggs are usually made from plastic or wood.
Spiritual Celebrations
On Good Friday, the beginning of the religious activities start, with church services remembering the crucifixion of Jesus.
Sometimes there are prayer services in the churches starting on Saturday evening and continuing until dawn on Easter Sunday.
At church, Easter Sunday, the resurrection of Jesus is celebrated. This, after all, is the reason for Easter. Now, once home, it's time to enjoy the Easter dinner recipes that have been prepared.
Whether you are celebrating Easter in Germany or you have decided to have a traditional German Easter elsewhere in the world, start with the decorations, plan your menu from the recipes, bake and cook, and then enjoy the day with your family and friends.
*  *  *  *  *
Take a look here if you're looking for some unusual ways to celebrate Easter in Germany like a local.
*  *  *  *  *
Some Traditional German Easter Recipes
---
Leave a comment about this recipe or ask a question?
Pop right over to my private Facebook group, the Kaffeeklatschers. You'll find thousands of German foodies, all eager to help and to talk about all things German, especially these yummy foods. 
I pop in all the time as well, to chat and to answer questions. 
Meet with us around Oma's table, pull up a chair, grab a coffee and a piece of Apfelstrudel, and enjoy the visit.
*  *  *  *  *
Thinking of starting your own Handmade Business?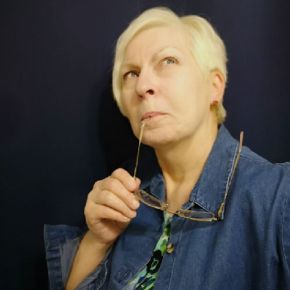 This Oma KNOWS you CAN do it.
How do I know?
Well, if I can do it, anyone can.
I've even figured out how I can help you.
I've teamed up with my own business coach, Renae Christine (yes, do google her!), to bring you this free workshop. After you watch it, ask me any questions and I'll gladly answer them.
Don't hesitate. I'm not sure how long Renae will keep this free workshop available.
PS:  Yes, Renae really is as amazing as all the reviews say.
PPS: Yes, the course is for handmade items, but I've used it successfully for my cookbooks. I know others are using her methods for services, direct sales, and even a local ice cream bar & grill that's constantly selling out. You've nothing to lose by taking a look ... and a whole bunch to gain.
*  *  *  *  *
Want nutritional information for a recipe?
Copy and paste the ingredient list and the number of servings into Calorie Count. 
It will give you an approximate calculation.

Need help doing conversions
between cups and grams or any such thing?
Use this site to give you all the different conversions for the different types of ingredients. 
---
PIN this when you're wanting to find out what the German Easter traditions and foods are.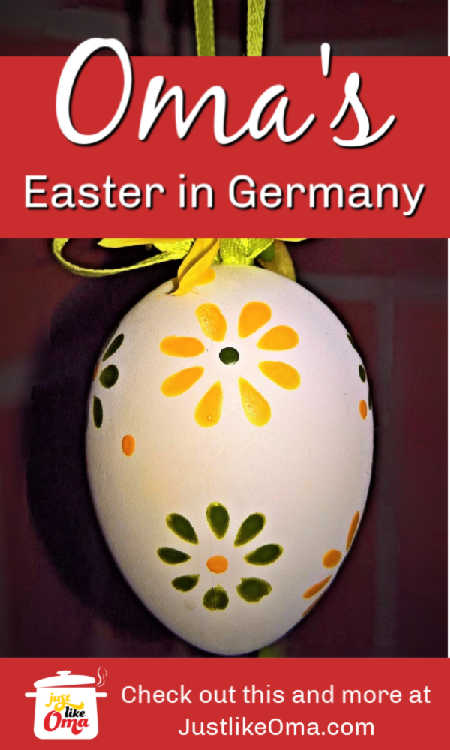 ---
These German cookie recipes in English are quick and simple recipes to delight your family and friends.

My homemade chicken rice soup recipe is one you're sure to make often. Why? 'Cause it's so easy and so good. Make a huge batch that'll feed a crowd. Or, just so you can enjoy leftovers.
---
The GOOD NEWS
Jesus told her, "I am the resurrection and the life. Anyone who believes in me will live, even after dying. Everyone who lives in me and believes in me will never ever die. Do you believe this ...?"
John 11:25-26 (NLT)
---