Celebrate Easter in Germany 
➤ by Gerhild Fulson
Celebrating Easter in Germany, aka Ostern,  is a journey through time that arouses the senses, both spiritually and physically.
Although the preparation starts many weeks before the actual Easter Day, the main event starts on the Thursday before Easter and continues through the weekend. German food is a major part of this!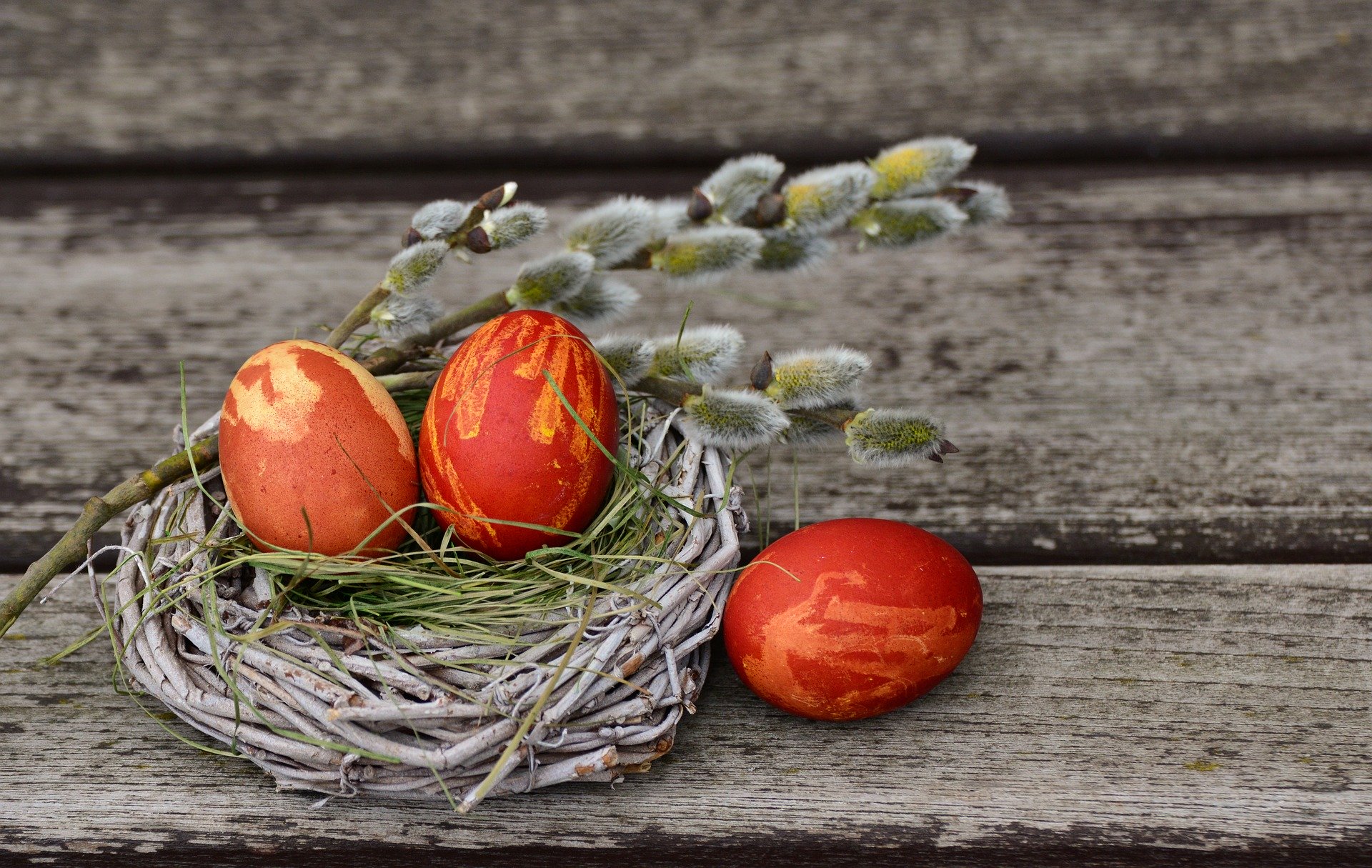 German Easter Decorations
Since the Easter Egg and Easter Bunny seem to have originated in Germany, much is seen of this in decorations throughout the country.
A beautiful German Easter tradition is the Osterstrauch. This is a branch or small tree decorated with hollowed-out eggs.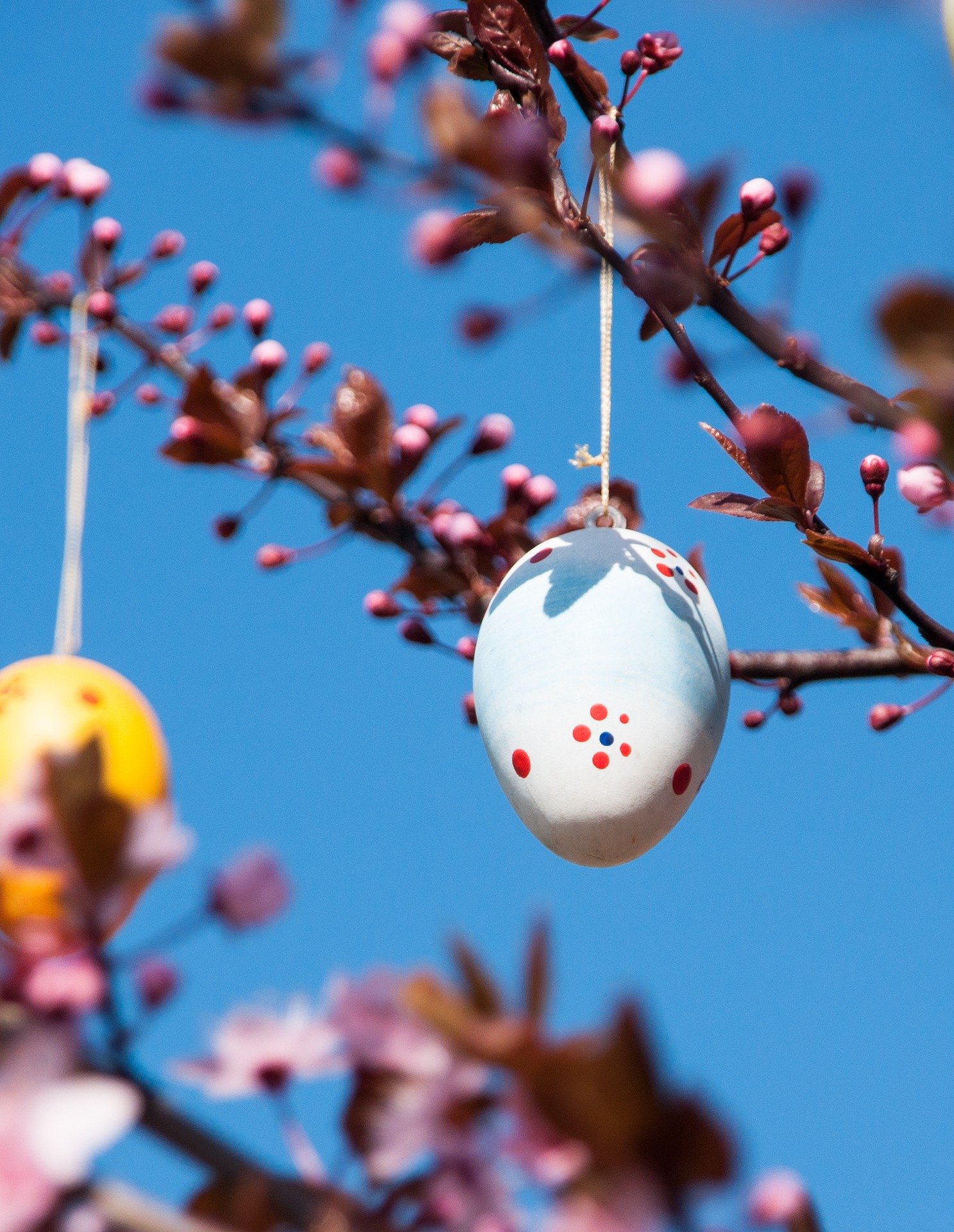 Osterstrauch
The raw eggs are prepared by poking pinholes at each end of the shell and blowing the contents out (saving the egg yolk and egg white mixture for Easter baking). Allowed to dry out, the egg shells are then dyed and hand painted. 
Here's Oma's collection of German favorites in Easter Feast e-Cookbook. Grab your copy today!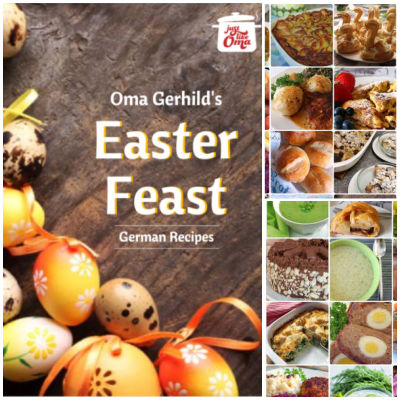 Take a peek at all Oma's eCookbooks. They make sharing your German heritage a delicious adventure!

These eggs are hung with ribbons on the branches of trees either hung from the ceiling or put into vases. Outside, eggs are hung on the trees too. These eggs are usually made from plastic or wood.

Dyeing your Easter Eggs Naturally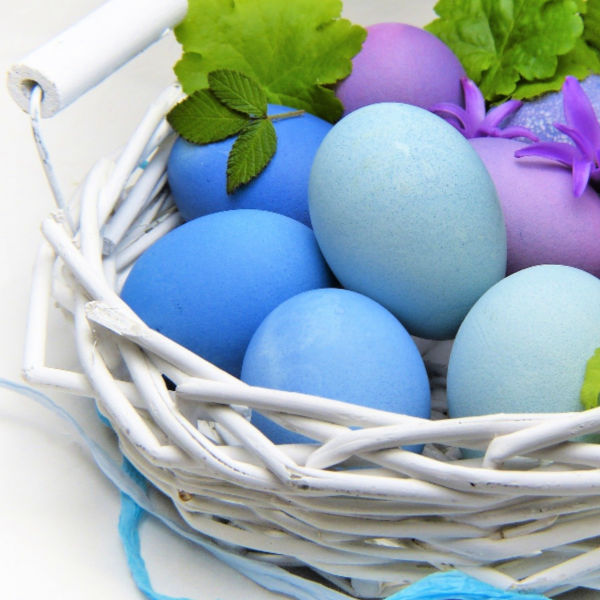 You can easily dye your Easter eggs using natural ingredients. A quick trip through your kitchen will allow you to be creative in dyeing your eggs in a multitude of pastel shades.
You can get the kids involved in decorating using markers, stampers, and even crayons after the eggs have been dyed.
Use these eggs for the traditional Easter Egg Hunt and also for decorating in your home. 
Frankfurter Green Sauce
Maudy Thursday, called Gründonnerstag in Germany, naturally needs something Grün (green) to eat. Making a cold sauce that includes the wonderful fresh herbs that can be found in the markets is a natural. Frankfurter Grüne Soße is the result.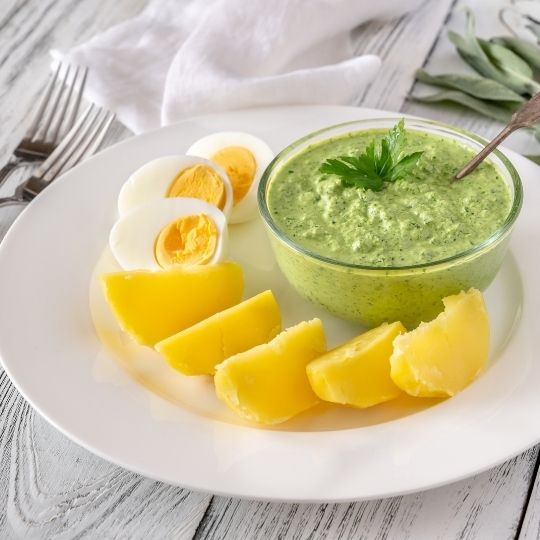 Serving Frankfurter Green Sauce (Frankfurter Grüne Soße) with boiled new potatoes and hard-boiled eggs is traditional for Maudy Thursday.
German Easter Markets
Ostermarkt (Easter Markets) are in many towns. This tradition has been going on for generations, where families come together to have a fun day of trying different Easter treats and participate in loads of shopping.
You can find hundreds of different ornamental pieces at these lovely little markets. With vendors selling decorated eggs, chocolates, bunnies, flowers, spring ornaments, and Easter crafts. 
These are greatly wanted because the houses and gardens are widely decorated, especially with eggs. Easter is seen as a huge day of celebration in Germany. Almost like Christmas, folks decorate their yards, and inside their homes.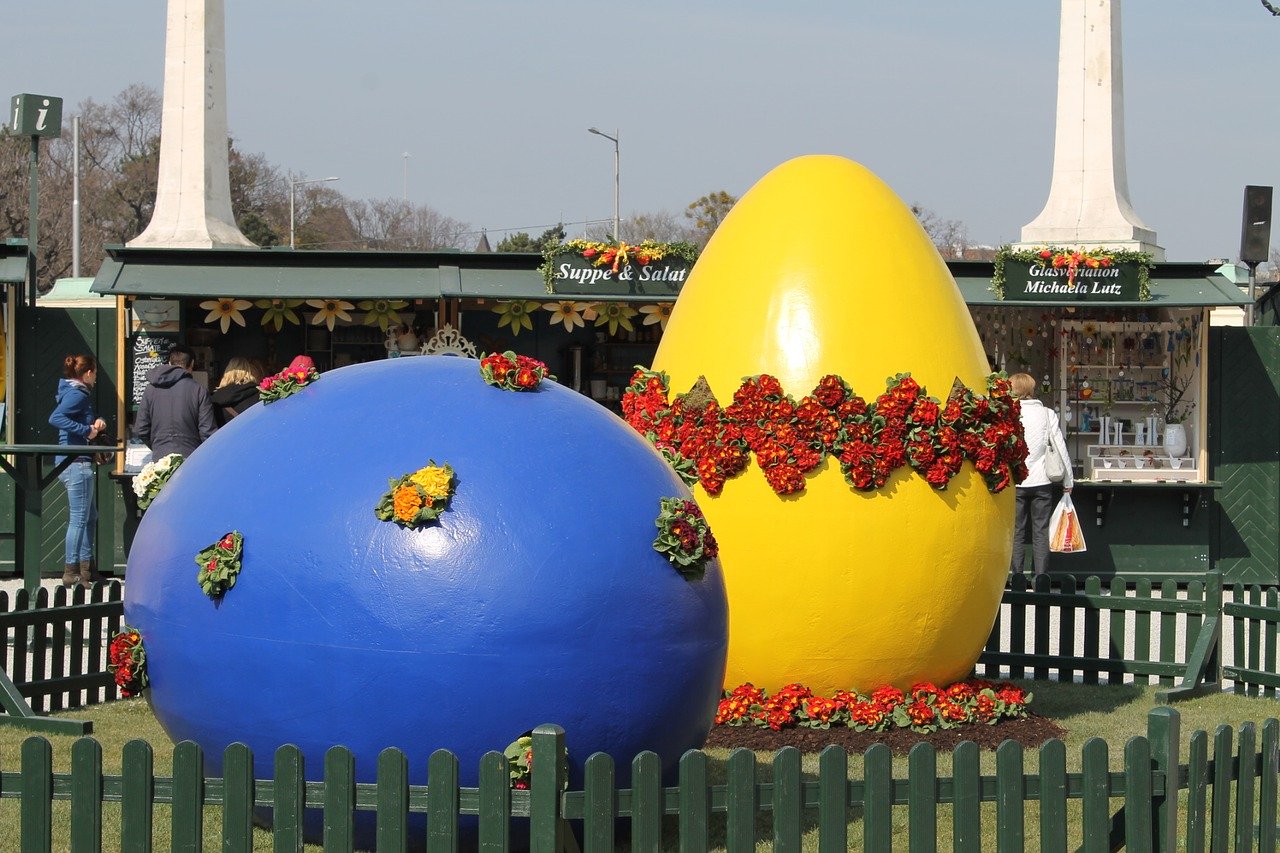 Spiritual Celebrations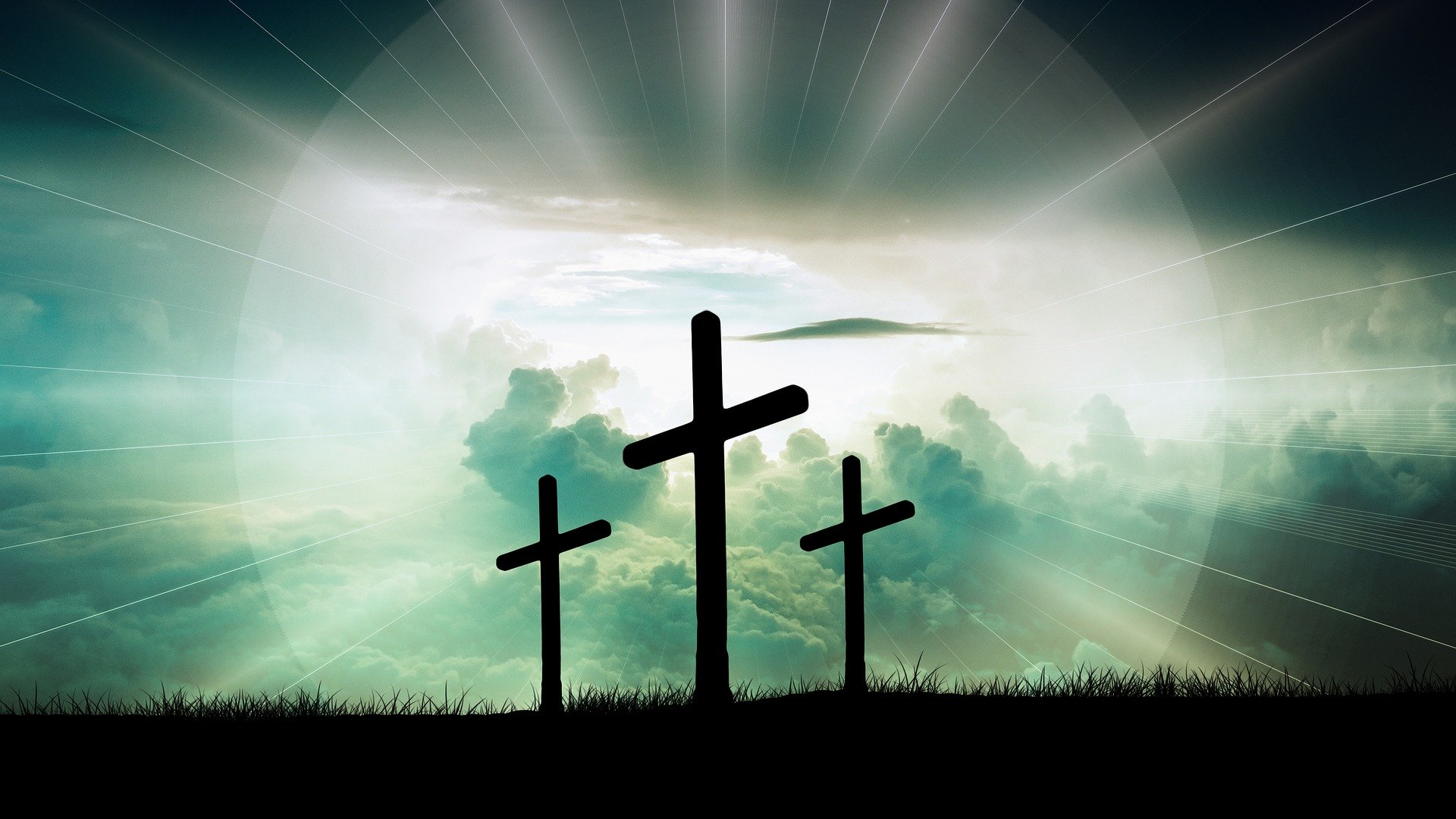 On Good Friday, the beginning of the religious activities start, with church services remembering the crucifixion of Jesus.
Sometimes there are prayer services in the churches starting on Saturday evening and continuing until dawn on Easter Sunday.
At church, Easter Sunday, the resurrection of Jesus is celebrated. This, after all, is the reason for Easter. Now, once home, it's time to enjoy the Easter dinner recipes that have been prepared.
Whether you are celebrating Easter in Germany or you have decided to have a traditional German Easter elsewhere in the world, start with the decorations, plan your menu from the recipes, bake and cook, and then enjoy the day with your family and friends.
*  *  *  *  *
Take a look here if you're looking for some unusual ways to celebrate Easter in Germany like a local.
*  *  *  *  *
Yummy Traditions Leading to Easter
The Thursday before Easter is known as "Gründonnerstag" or "Green Thursday." On this special day, it is part of tradition that only green foods are eaten. Such as soups with celery, parsley, and leeks. 
On the following day, Good Friday, known as "Karfreitag", the main meal is usually some kind of fish dish.
Then, it's Easter, "Ostern." Traditionally, the meat is roasted lamb, served with asparagus and potatoes. Of course, other meats can be served. As a treat, rouladen and potato dumplings are offered, served along with spring peas and carrots.
Some Traditional German Easter Recipes
Popular Easter Desserts 
Easter desserts often feature eggs and bunnies - in decorations. A lamb-shaped cake is common, but it's always right to serve traditional German tortes. A Hazelnut Torte is a treat, as is the famous Black Forest Cake.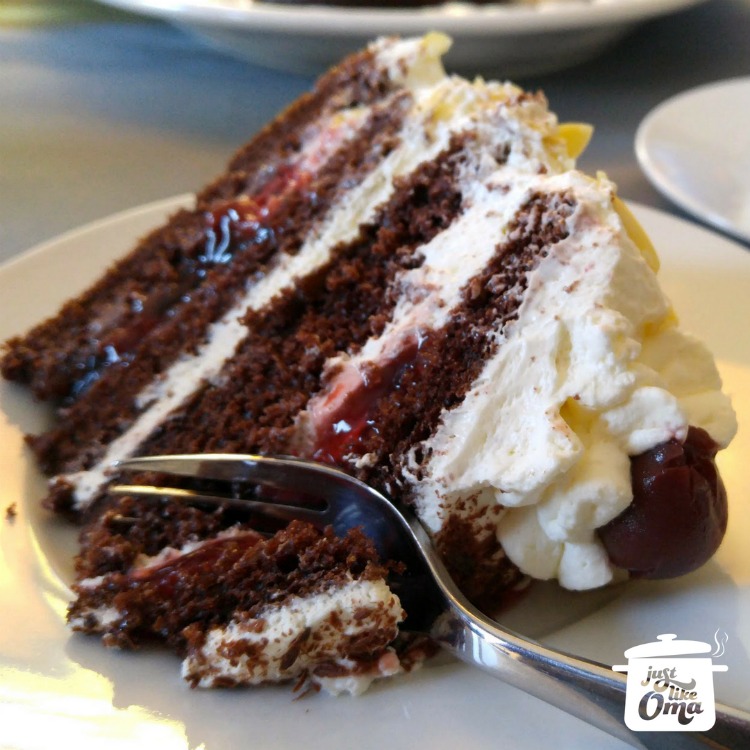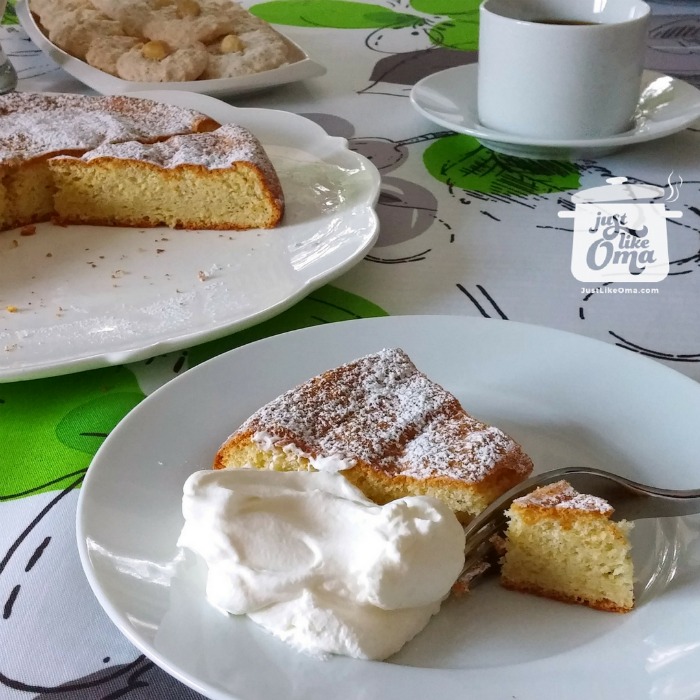 Leave a comment about this recipe or ask a question?

Pop right over to my private Facebook group, the Kaffeeklatschers. You'll find thousands of German foodies, all eager to help and to talk about all things German, especially these yummy foods. 
Meet with us around Oma's table, pull up a chair, grab a coffee and a piece of Apfelstrudel, and enjoy the visit.

Discover the history behind the German Apple Pancake recipe, aka Apfelpfannkuchen. Quick, very easy, and wunderbar! Get Oma's delicious recipe here.

I loved to wander thru Trier in the winter evenings when all was quiet. Usually, on Friday nights around Christmas, there would be a small band playing
*  *  *  *  *
PIN this ...
The GOOD NEWS
Jesus told her, "I am the resurrection and the life. Anyone who believes in me will live, even after dying. Everyone who lives in me and believes in me will never ever die. Do you believe this ...?"
John 11:25-26 (NLT)