Dyeing Easter Eggs Naturally
Dyeing Easter Eggs Naturally ❤️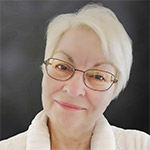 by: Gerhild Fulson  /  Cookbook Author, Blogger, German Oma!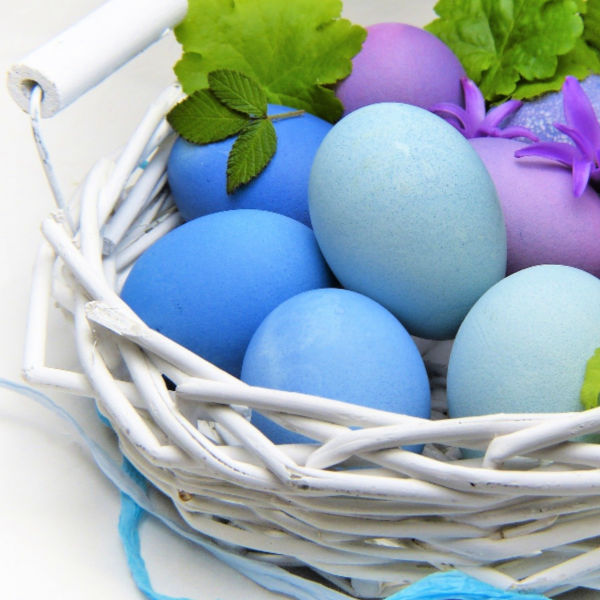 Dyeing Easter eggs naturally using common foods such as coffee, cabbage, onions, and tea will transform your white and/or brown eggs into a rainbow of subdued colors.
Whether you're stuck at home and don't have any food color available, or want to do things the "old-fashioned way", it's really quite easy and fun to do Easter egg coloring naturally.
I'm including some fun activities for the kids to do with the dyed Easter Eggs below.
How to Prepare Eggs for Dyeing
There are actually 3 ways to prepare eggs for dyeing and decorating. 
Use raw eggs
Hard-boil eggs
Blow out the eggs and just use the shells
1. Using Raw Eggs for Dyeing
Yes, you can dye raw eggs and use them as your Easter decorations. These will be eggs that are NEVER eaten. As long as the shell isn't broken, the egg contents will start to dry out over a period of months. 
The fancy Ukrainian Pysanky eggs are usually done this way. There is the possibility that the egg may explode instead of drying out, but this doesn't happen often. It does stinks. The alternative is to create a hollow egg by blowing out the insides, but they are a bit more delicate to work with. 
Either way, by using raw eggs or blowing them, your creations will last many years of they are handled with care.
2. Using Hard-Boiled Eggs for Dyeing
Using hard-boiled eggs are the most common way for decorating eggs, especially when children are involved. Not only is it fun to have children help in dyeing and decorating the eggs, but what would an Easter Egg Hunt be without eggs?
Follow either method here for hard-boiling your eggs. 
Cool the eggs quickly under running water or place them in an ice bath. Once cool, refrigerate until you are ready to use them.
3. Blow out eggs
The third way for dyeing Easter eggs is to create a hollow egg by blowing out the egg. 
How to blow out eggs:
Wash eggs with soap and water.
Using an awl or a needle, poke a hole at each end of the egg. Make the hole at the bottom a bit larger.
Holding the egg over a bowl, blow forcefully into the larger end, forcing the yolk and egg whites into the bowl. It may be easier to first use the awl and stick it through the hole a few times to break up the yolk so that it will come out easier.
Rinse the egg shell well and let it dry. The yolk/egg white mixture can then be used to make scrambled eggs.
How to make Natural Easter Egg Dyes
Ready to make some colors? If you want deeper colors, you can put the eggs into the dyeing liquid more than once. As well, you can do some color mixing and get some unusual shades.
Here is the basic method for making most of the colors:
Add to a small saucepan 2 cups water and 1 tablespoon white vinegar.
Bring to a boil and add your specific dye ingredient (listed below).
Cover and simmer gently for about 30 minutes. Let cool.
Strain if necessary and add the eggs.
Soak the eggs in the dye for about 30 minutes.
Remove with a slotted spoon and dry with paper towels. 
Ingredients for Natural Dyes
For dyeing one dozen eggs, you will need about four cups of dyeing solution.
Pink Egg Dye:
Use 2 cups of grated beets to the water/vinegar mixture above.
Alternatively, just let the eggs soak in pickled beet juice. A quick and easy dye.
Yellow Egg Dye:
Add 3 tablespoons of turmeric to the water/vinegar mixture above.
Orange Egg Dye: 
Add 2 cups of yellow onions skins to the water/vinegar mixture above.
Lavender Egg Dye:
Add 2 cups red onions skins or 2 bags Red Zinger tea to the water/vinegar mixture above.
Light Blue Egg Dye: 
Add 2 cups of shredded red cabbage to the water/vinegar mixture above.
Dark Blue Egg Dye:
Add 2 cups blueberries to the water/vinegar mixture above.
Dark Brown Egg Dye:
Let the eggs sit in hot strong black coffee for about 30 minutes.
Salmon Egg Dye:
Soak the eggs for 30 minutes in the yellow (tumeric) dye and the 30 minutes into the orange (onion skin) dye.
Chartreuse Egg Dye:
Soak the eggs for 30 minutes in the yellow (tumeric) dye and then into the light blue (cabbage) for about 5 seconds.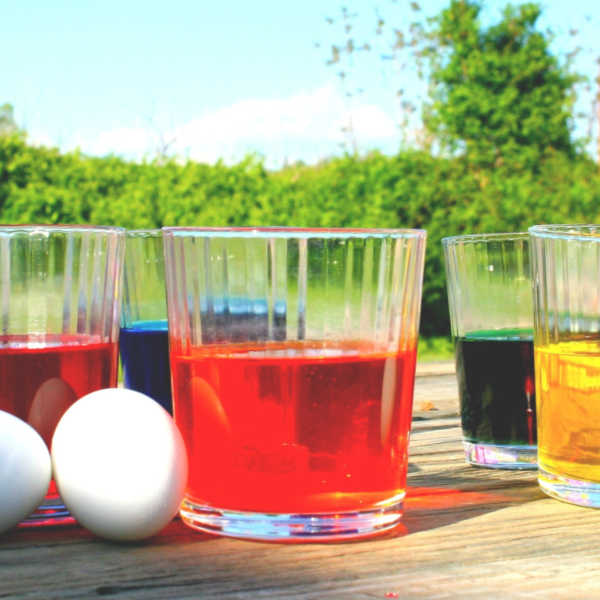 Decorating Easter Eggs with Kids
You can most definitely prepare the dyes and color the eggs together with the kids. But, there are also some extra fun things to do to make these eggs eggstra special.
1.  Get out the markers and have fun!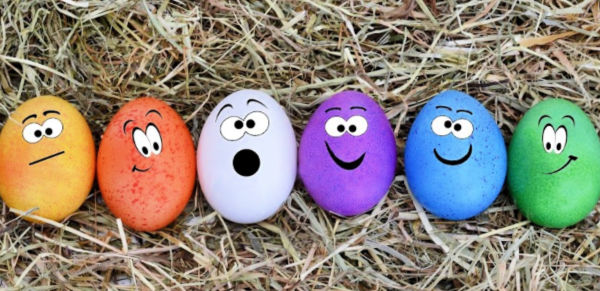 If you have "eyeball" stickers, this would be awesome!
If not, just use your markers and go to it. Be creative!
2.  Get out your Stamping Kit!
If you have a stamping kit, then you're all set to create unique designs. Use multiple colors on one egg or go monochromatic.
3.  Make Pysanky Eggs
Before you dip those eggs into the natural dyes, get out your crayons. Draw on the design on the room-temperature eggs and then soak the eggs in the cool dye solution. 
Once the eggs has soaked long enough to obtain the color shade you want, remove them. 
If you wish to remove the wax after the dyed egg has dried, you can use a hair dryer to blow hot air over the egg which will melt the wax. Use a paper towel to wipe the wax off.
How long will these Hard-Boiled Eggs Keep?
Hard-boiled eggs will keep about one week in your fridge. When you do take them out of the fridge for either dyeing, hiding, or serving, use them within 2 hours. 
Need a recipe for those hard-boiled eggs? Try German Egg Salad or my Potato Salad. Or, how about serving them with Mustard Sauce -- so very, very German!

You can also use your hard-boiled eggs in a variety of recipes. Above, they are placed inside a meatloaf, before the meatloaf is placed in the oven. 
Egg salad! Yummy German recipe for this ... check how it's different than what you're used to.
Happy Easter ~ Frohe Ostern
---
Leave a comment about this recipe or ask a question?

Pop right over to my private Facebook group, the Kaffeeklatschers. You'll find thousands of German foodies, all eager to help and to talk about all things German, especially these yummy foods. 
Meet with us around Oma's table, pull up a chair, grab a coffee and a piece of Apfelstrudel, and enjoy the visit.

Make these Fächerkartoffeln aka Hasselback Potatoes with either regular or sweet potatoes. Make them extra crispy with cheese and breadcrumbs and you have a treat that's amazing!

Discover Oma's secret recipe for making crispy-skinned Bavarian Schweinshaxe (roasted pork knuckles). Authentic taste of Germany's traditional dish. Perfectly wunderbar.

German potato dumplings, aka Kartoffelklöße and Kartoffelknödel, invoke great memories of my Mutti's Sunday dinners. Using cooked potatoes, she created these scrumptious traditional dumplings!
*  *  *  *  *
PIN this ...
The Good News!
"For this is how God loved the world: He gave his one and only Son, so that everyone who believes in him will not perish but have eternal life."
John 3:16 (NLT)