German Potato Recipes

➤ by Gerhild Fulson
Potato Recipes! Wow, these root vegetables can be used in so many different ways in so many traditional German foods. Below is a collection of my favorite recipes. You'll find so many of your favorites here as well. Easy recipes. Quick recipes.

Just like this, my easy German potato salad shown above. Quicker. Easier. Wunderbar!
Traditional Potato Recipes
German Potato Salad Recipes
---
Included are recipes to use as side dishes, such as the traditional fried potatoes, Bratkartoffeln. These make a delicious lunch, especially when served in the Berliner-style as Hoppel Poppel.
For me, this was just the delicious way my Mutti made our lunch using leftovers. It wasn't until just a few years ago that I found out that this yummy potato dish actually had a name and a recipe. An unusual name at that! 
Chunky Potato Soup is a great quick soup to make for lunch. So hearty and so easy to alter according to your own tastes. Potato Pancakes are a treat that can be served anytime of day. Using the blender makes it quick and easy
Grab your copy of Oma's favorite soups collection in Quick Fix German Soups e-Cookbook. You'll LOVE it!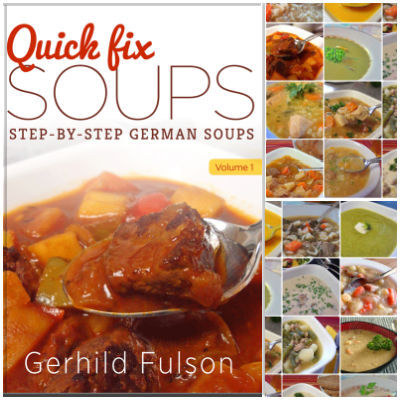 Take a peek at all Oma's eCookbooks. They make sharing your German heritage a delicious adventure!
You can have either hot, warm, or cold potato salad - all especially great with new potatoes. There's also one recipe that includes sweet potatoes!
My all-time favorite potato dish is Potato Dumplings. They are always a treat and are usually served when company comes!
Don't forget to have instant potato flakes on hand in your cupboard as well. They're great to use as a thickener in soups as well as for emergency mashed potatoes.
Leave a comment about this recipe or ask a question?

Pop right over to my private Facebook group, the Kaffeeklatschers. You'll find thousands of German foodies, all eager to help and to talk about all things German, especially these yummy foods. 
Meet with us around Oma's table, pull up a chair, grab a coffee and a piece of Apfelstrudel, and enjoy the visit.

This German potato and cabbage soup, or eintopf, is so delicious on a cool autumn evening. It's traditional for the Oktoberfest celebrations. Actually, it's perfect any time!

Oma's German bread dumplings are great when there's gravy to soak up. These Semmelknödel are from Bavaria and are an easy way traditional side dish for your German meal.

Breaded pork chops are among the tastiest and quickest meals you can make. My favorite is a simple one, one that always turns out juicy and delicious! Perfect for tonight!
*  *  *  *  *
Words to the Wise
"It is painful to be the parent of a fool; there is no joy for the father of a rebel."
Proverbs 17:21 (NLT)