Berlin ~ Regional Food
➤ by Oma Gerhild Fulson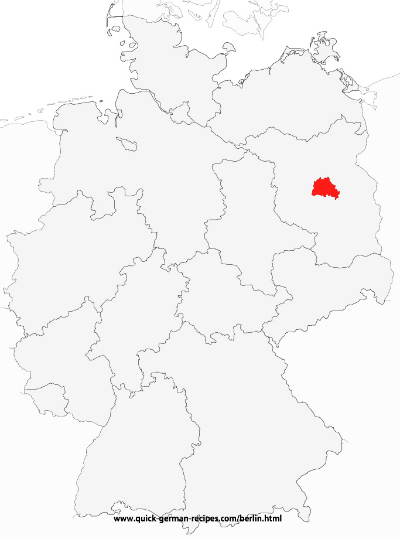 Home of Currywurst and Doner Kebabs!
Berlin, Germany's capital and largest city, is one of the country's smallest states.
Filled with beautiful parks and boulevards such as the Kurfürstendamm, historic buildings, museums, opera houses, zoological gardens, and much more, this city is a tourist's delight.
History has certainly affected the culinary tastes of Germany.
Immigrants and international visitors have influenced the foods, but traditional Berliner recipes abound, among them are Buletten or Frikadellen (beef patties), Schnitzel, Kasseler, soups, and stews.
Fast foods rival the traditional menus. Berlin is the birthplace of the popular Currywurst  which has recently been overtaken by the popularity of the Döner Kebab.
With thousands of snack bars (Imbiss), sidewalk cafes, restaurants, and inns (Kneipen) to choose from, Berlin offers visitors and citizens a multicultural feast.
Need that "all's good with the world" feeling? Comfort food will do that. Get your copy of Oma's German favorites in her Comfort Foods e-Cookbook.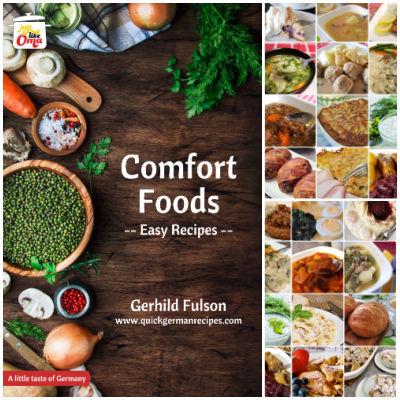 Take a peek at all Oma's eCookbooks. They make sharing your German heritage a delicious adventure!
Berlin's Favorite Foods
Beef as patties (Buletten) or meatballs (Königsberger Klopse)
Schnitzel usually served as Schnitzel Holstein with mushrooms, smoked salmon, capers, and fried egg.
Pickled eggs (Soleier)

Calves Liver (Kalbsleber)

Sauerkraut with either pork hocks (Eisbein) or Kasseler

Potato dishes such as Hoppel Poppel and Potato Soup
Armer Ritter ("poor knight") a type of French toast.
The "new" foods: Currywurst and Döner Kebab!
My Favorite Recipe from Berlin
Hoppel Poppel
This is the recipe I grew up with. My Mutti made this frequently for lunch and I carry on that tradition! You'll find the recipe for this dish as well as several variations by checking out Hoppel Poppel. A great way to use up leftovers.

---
More Recipes from Berlin ...
---
Visit more of Germany's Regions  and States ...
---
Leave a comment about this recipe or ask a question?
Pop right over to my private Facebook group, the Kaffeeklatschers. You'll find thousands of German foodies, all eager to help and to talk about all things German, especially these yummy foods. 
I pop in all the time as well, to chat and to answer questions. 
Meet with us around Oma's table, pull up a chair, grab a coffee and a piece of Apfelstrudel, and enjoy the visit.
These roasted Brussels spouts with balsamic vinegar and maple syrup are so quick and easy to prepare, yet so delicious! This may just be your new favorite go-to recipe for roasted FROZEN Brussels spro…

Love German cabbage rolls? You'll absolutely love Oma's unstuffed cabbage roll casserole. Same great taste, but a LOT less work. No rice or tomatoes here. Just real German goodness.

THE German Krapfen or jelly donut recipe you'll need if you plan to make Berliner Pfannkuchen ~ that traditional treat for New Year's and throughout the year!
*  *  *  *  *
Words to the Wise
"Discipline your children, and they will give your peace of mind and will make your heart glad."
Proverbs 29:17  NLT