Bremen ~ Regional Food
➤ by Oma Gerhild Fulson
FTC Disclosure: Making a purchase via a link on the page? I may earn a small commission on the transaction - at no added cost to you. Thanks!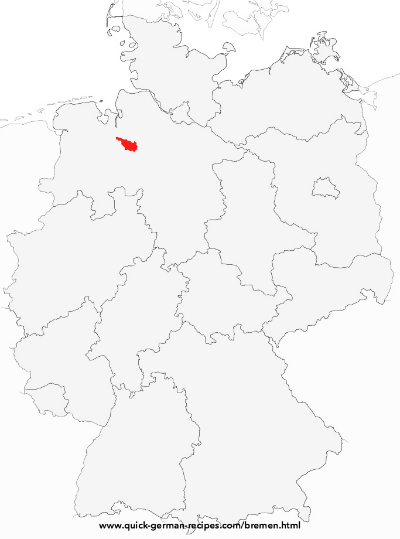 Town Musicians and the Drop Tower
Founded in 1947 as a federal state, the two-city state of Bremen is the smallest among the 16 German states. It lies within Lower Saxony and consists of Bremen and Bremerhaven.
1,200 years ago, this was the center of Christian missions in northern Europe and had a major role among the Hanseatic cities.
These cities were a group of guilds (Hanse) established to promote and control trade.
Now three cities are part of the Hanseatic Free Cities: Bremen, Hamburg, and Lübeck.
The ports of Bremen and Bremerhaven have the largest enclosed container handling facilities in the world and are an important hub to the Far East.
The Drop Tower at the Centre of Applied Space Technology and Microgravity at the University of Bremen is a 146-meter high drop tube that provides 9.3 seconds of weightlessness in an earthbound laboratory. Along with other high-tech industries in aviation, space, electronics, and shipbuilding, these industries are the major contributors to the economy of the region.
A tour of Bremen includes stopping at the monument of the Bremen Town Musicians to rub the nose of the donkey. The large bronze sculpture of a donkey, dog, cat, and rooster standing on top of each other is taken from the fairy tale by the brothers Grimm and makes an interesting photo opportunity. Tour the "old city" and the harbor facilities, and then stop by one of the many restaurants to sample the local wares.
The proximity to water (the North Sea and the Weser River) and access to foreign markets has greatly influenced the cooking for this region. Sweet, spicy, and exotic. Curry, coffee, and chocolate. Tempting fish specialties and traditional Kale and Pinkel (smoked sausage). Bremen has is all.

Bremen's Favorite Foods
Curry dishes, such as Curryhuhn (Curried Chicken) 
Matje Herring and Rollmops (Fish Rollups)
 Flounder, eel, halibut, herring, cod, shrimp 
Cabbage, rutabaga, and potatoes
Beef and pork
Coffee - the major coffee companies are in Bremen: Jacobs, Eduscho, and Melitta
Labskaus - Seaman's Hash, a mixture of potatoes, corned beef and beets served with a fried egg, herring, pickles, and beets.
Rote Grütze Germany's national dessert!
My Favorite Recipe from Bremen
Herring Salad
This is the recipe I grew up with. My Mutti made this frequently for an easy supper and I carry on that tradition! You'll find the recipe for this dish  by checking out Herring Salad. 

---
---
More Recipes from Bremen ...
---
Visit more of Germany's Regions  and States ...
Try some regional German food for your next dinner party! Spread your culture and enjoy learning about some other areas of German cooking.
Germany is divided into 16 federal states in Germany, each one unique in its history and cuisine.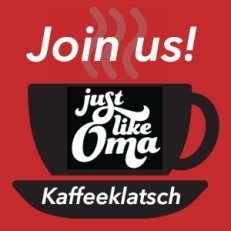 Let's travel to each one and see what's different.

Ready?
You'll need to join my Kaffeeklatsch to see more info, extra recipes, and special tips from me, Oma Gerhild!
---
Leave a comment about this recipe or ask a question?
Pop right over to my private Facebook group, the Kaffeeklatschers. You'll find thousands of German foodies, all eager to help and to talk about all things German, especially these yummy foods. 
I pop in all the time as well, to chat and to answer questions. 
Meet with us around Oma's table, pull up a chair, grab a coffee and a piece of Apfelstrudel, and enjoy the visit.
*  *  *  *  *
Thinking of starting your own Handmade Business?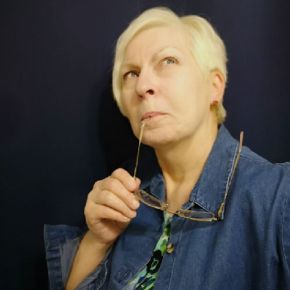 This Oma KNOWS you CAN do it.
How do I know?
Well, if I can do it, anyone can.
I've even figured out how I can help you.
I've teamed up with my own business coach, Renae Christine (yes, do google her!), to bring you this free masterclass. After you watch it, ask me any questions and I'll gladly answer them.
Don't hesitate. I'm not sure how long Renae will keep this free masterclass available.
PS:  Yes, Renae really is as amazing as all the reviews say.
PPS: Yes, the course is for handmade items, but I've used it successfully for my cookbooks. I know others are using her methods for services, direct sales, and even a local ice cream bar & grill that's constantly selling out. You've nothing to lose by taking a look ... and a whole bunch to gain.
*  *  *  *  *
Oma's Cookbooks (downloadable & print)
*  *  *  *  *
Want nutritional information for a recipe?
Copy and paste the ingredient list and the number of servings into Calorie Count. 
It will give you an approximate calculation.

Need help doing conversions
between cups and grams or any such thing?
Use this site to give you all the different conversions for the different types of ingredients. 
---
---
Try this slow cooker roast beef and you'll be amazed at how much this tastes like rouladen WITHOUT the work.

Learn how to cook pork hocks, anytime you want something traditionally German and wonderfully delicious! A hearty meal for any time of the year!
---
Words to the Wise
"Discipline your children, and they will give your peace of mind and will make your heart glad."
Proverbs 29:17  NLT