Oma's Regional Traditional German Food: Brandenburg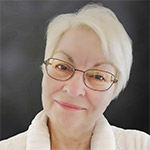 by: Gerhild Fulson  /  Cookbook Author, Blogger, German Oma!
"Berlin's Beautiful Backdrop"
The German state of Brandenburg surrounds the city state of Berlin. The fifth largest state in Germany, Brandenburg is among the least populated.
This makes traveling as a tourist so enjoyable. Go by bike, foot, skates, or horseback through the peaceful meadows and woods, such as the Spreewald Forest.
With more than 30,000 km. of waterways (of which 1,600 are navigable), tour through this paradise by motor boat, steamship, or houseboat. By canoe you can follow about 6,500 km. of tranquil, clear waters.
As in other parts of Germany, castles and monuments abound. The most famous is Sanssouci Castle, a UNESCO World Heritage Site.

Potsdam, the capital of Brandenburg, alone has 77 castles and palaces to explore. Brandenburg's tourism is promoting this area as "Berlin's Beautiful Backdrop" to encourage visitors to come and explore.
Brandenburg's history dates back to the 7th century with the Slavic peoples. Later it was one of the Holy Roman Empire states, became part of Prussia, and much later, in 1952, was dissolved to become part of East Germany. In 1990, the present Brandenburg state was reestablished and is now part of the unified Germany.
Among the "famous" people from this area are Otto Lilienthal, who by means of a wingbeating flying machine, was the first to attempt flight and in 1894, flew 250 meters. Albert Einstein lived here for a time as well. Many authors and playwrights have congregated here the Babelsberger Film Studios, located here, are world-renown.
The foods enjoyed by the Brandenburgers have as much to do with its recent history as part of East Germany as well as its landscape. Potato dishes abound. Fish and game dishes and self-harvested vegetables and fruit are part of the traditional foods.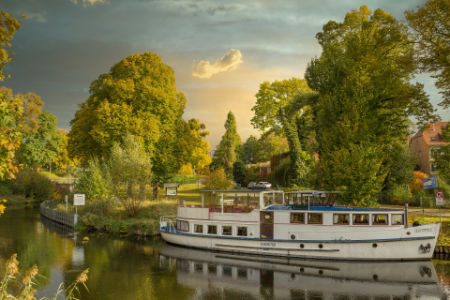 ---
Lydia's Facts... 
Learn a little bit about this wonderful region with me! I've done my research and would love to share it with you.
If you've done your homework on me then you know how much I LOVE to travel! It will always be on my bucket list to go to Germany with my dear Oma and visit these places I've researched about. To venture through its landscapes, to be mesmerized by the castles and architecture, and of course... to try all of the yummy regional foods. 
Wanting to brush up on your homework? Check out my page here, to learn more about me, Lydia, and how Germany and its outstanding regions, and foods have made their way into my life!
Now let's check out some of this region's most popular places and a little bit of history behind them...
Sanssouci Castle

 
The most famous UNESCO World Heritage Site in Potsdam, Brandenburg's capital, is this breathtaking Sanssouci Castle.
This great palace was built by the King of Prussia, Frederick the Great, in 1795 as his place of solitude and relaxation to get away from the business of the Berlin Court. A place of relaxation indeed, it's all in the name! Sans Souci, a french phrase meaning "without concern", "without worries"!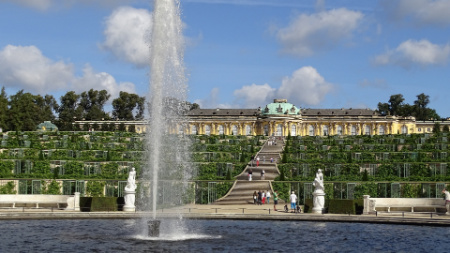 Sanssouci is an enormous palace, built on a terrace of a large park alongside a pond. With many temples and a great garden filled with follies, this palace became a major attraction to the public. The design and Rococo style gave it a wonderful sense of opulence and beauty. Fredericks's vision for relaxation and calm serenity came to life with this beautiful getaway place and earned him a loving reputation among many.

Once King Frederick had passed away, his body was brought back to his great palace and buried in a newly built temple just for him, overlooking the spectacular gardens he had made. 
I'll bet you he never thought that one day his palace would become a protected UNESCO World Heritage Site. To this day you can visit Sanssouci and explore its well-groomed grounds, and see its astonishing design for yourself! Do not miss out on this one when visiting Brandenburg!
Beelitz-Heilstätten hospital
Did you know that you can visit an old abandoned war hospital in Brandenburg? The Beelitz-Heilstätten was a massive hospital that served as a healing place for many German imperial soldiers during the First World War.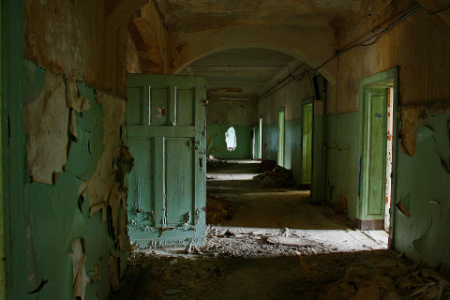 In 1945, it became an occupied place for the Red Army Forces and would then remain a Soviet military hospital until the mid-1990s. After the Soviet withdrawal, many attempts were made to privatize the hospital, but no one succeeded. By 1994, almost every single ward was abandoned and lots of equipment was left behind. 

To this day Beelitz-Heilstätten is still abandoned, and while it had been closed for a long time due to vandalism, you can now book tours to explore the facility and learn a little bit of its history and the famous and infamous people who were treated there.
Brandenburg's Favorite Foods
Potatoes boiled, fried, deep-fried, soups, stews, creamed, dumplings, salads, and mashed. Varieties such as Agria, Anni, Cilena, Dobra, Bettina, Hansa, and Forelle.
Mushrooms (wild and cultivated), beans, beets, kale, cucumbers, and cabbage
Crayfish, eel, carp, zander

Horseradish

Boiled potatoes and quark with linseed oil

Spreewald gherkins, Beelitz asparagus, and Teltow turnips

Game, such as wild boar and deer
My Favorite Recipe from Brandenburg
Mutti's German Potato Salad
There really is no one traditional German potato salad recipe.
Basically, in southern Germany the salads are without mayo and in northern Germany (where my Mutti is from), mayo is often included. Below, is my Mutti's German Cold Potato Salad.

The only common ingredient in German potato salads are boiled potatoes. After that, almost anything goes.
Ingredients can include mayonnaise, meat stock, vinegar, or lemon juice. Gherkins, garlic, apples, onions, cabbage, bacon, leek, egg, fish, beets, sausage, dill, caraway seeds, chives, parsley are some of the additional possibilities.
You choose what you like. Add it. And, you've got your own version of German potato salad!
There's something absolutely mouth-watering about having a German meat-and-potato dinner. Get Oma's revised collection of her favorites in German Meat Dishes.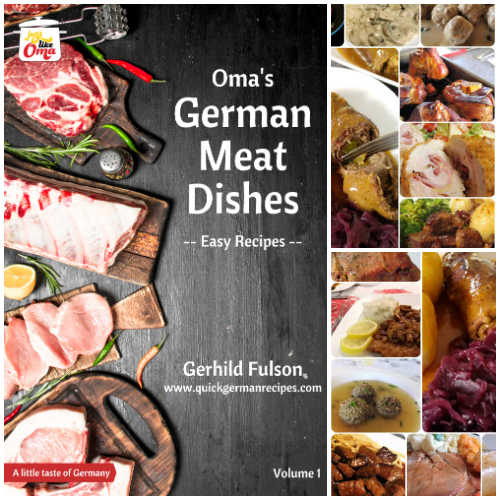 Take a peek at all Oma's eCookbooks. They make sharing your German heritage a delicious adventure!
---
More Recipes from Brandenburg ...
---
Visit more of Germany's Regions  and States ...
---
Leave a comment about this recipe or ask a question?

Pop right over to my private Facebook group, the Kaffeeklatschers. You'll find thousands of German foodies, all eager to help and to talk about all things German, especially these yummy foods. 
Meet with us around Oma's table, pull up a chair, grab a coffee and a piece of Apfelstrudel, and enjoy the visit.

This easy German Apple Strudel recipe is one of those German desserts that brings the traditional strudel taste to your table without all the work. Wunderbar!!

Make the perfect German Spaetzle with Oma's easy recipe! This traditional German egg noodle pairs perfectly with caramelized onions for a delicious meal.

Choose from Oma's cookbooks that are immediately downloadable & start cooking easy classic German foods tonight. Or get her newest paperback cookbook. LECKER!
*  *  *  *  *
Words to the Wise
"Discipline your children, and they will give you peace of mind and will make your heart glad."
Proverbs 29:17  NLT