Lower Saxony ~ Regional Food
➤ by Oma Gerhild Fulson
FTC Disclosure: Making a purchase via a link on the page? I may earn a small commission on the transaction - at no added cost to you. Thanks!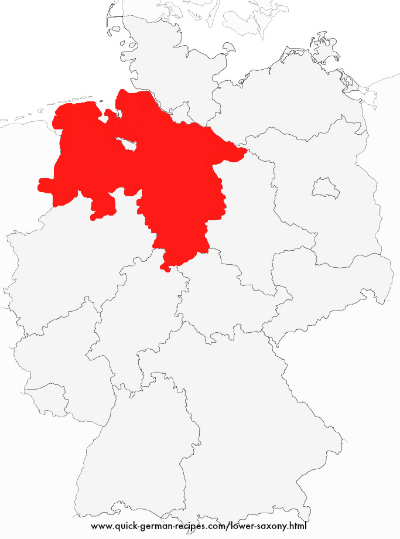 Pied Piper, Rat Tails, and Apples
Lower Saxony, also known as Niedersachsen, is the second largest state in Germany. Bordering eight German states, the North Sea, and the Netherlands, this state also includes the seven East Frisian Islands.
Geographically, this state has it all: mountains with dark forests (Harz), wetlands (Wattenmeer), the Lüneburg Heath (Lüneburger Heide), and Germany's largest orchard. Colonized by settlers from Holland and Saxony, this area has been producing fruit since the 14th century. Apples account for the largest crop. Cherries, pears, and plums are also grown. These fruits are widely used in local specialties, such as apple streusel cake, deep-fried plum strudels, and cherry pancakes.
Agriculture and farming are an important part of the economy for Lower Saxony. Wheat, buckwheat, kale, white asparagus, carrots, berries, beef, pork, sheep raised on the Heath (Heidschnucke), Harzer cheese, and honey also from the Heath are some of its products. From the North Sea and rivers come trout, crab, mussels, and eel.
Southwest of Hanover, the capital, is Hamelin (Hameln), the home of the Pied Piper. His tale of removing the rats from the town and then its children takes place in 1284. Whether he was fact or fiction and neither has yet been proven he has become a local magnet for tourists. His addition to the culinary treats of this area? Rat tails!

Lower Saxony's Favorite Foods
Apples, especially varieties such as Estar, Boskoop, and Jonagold
Recipes using fruit, such as Rote Grütze, and Apfelkuchen
Sausages such as Pinkel (Lower Saxony's national sausage), Bregenwurst, Hannoversche Fleischwurst, Braunschweiger Mettwurst, Bierwurst, Weisswurst and Knappwurst
Sour milk cheeses such as Harzer, Gelbkäse and Bauernhandkäse
Heidschnuckbraten (roasted lamb) and Ente (duck)
My Favorite Recipe from Lower Saxony
Spargelsalat (Asparagus Salad)
Spring brings an abundance of white asparagus to the market. Usually eaten with a Hollandaise sauce, boiled potatoes, and sliced ham, this salad is a great alternative way to enjoy this treat. You'll find the recipe posted as Asparagus Salad.

---
More Recipes from Lower Saxony ...
---
Visit more of Germany's Regions  and States ...
Try some regional German food for your next dinner party! Spread your culture and enjoy learning about some other areas of German cooking.
Germany is divided into 16 federal states in Germany, each one unique in its history and cuisine.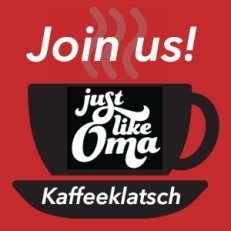 Let's travel to each one and see what's different.

Ready?
You'll need to join my Kaffeeklatsch to see more info, extra recipes, and special tips from me, Oma Gerhild!
---
Leave a comment about this recipe or ask a question?
Pop right over to my private Facebook group, the Kaffeeklatschers. You'll find thousands of German foodies, all eager to help and to talk about all things German, especially these yummy foods. 
I pop in all the time as well, to chat and to answer questions. 
Meet with us around Oma's table, pull up a chair, grab a coffee and a piece of Apfelstrudel, and enjoy the visit.
*  *  *  *  *
Thinking of starting your own Handmade Business?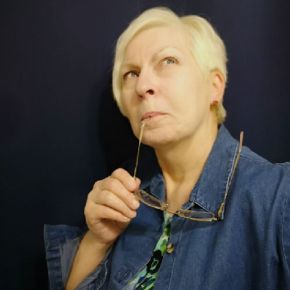 This Oma KNOWS you CAN do it.
How do I know?
Well, if I can do it, anyone can.
I've even figured out how I can help you.
I've teamed up with my own business coach, Renae Christine (yes, do google her!), to bring you this free masterclass. After you watch it, ask me any questions and I'll gladly answer them.
Don't hesitate. I'm not sure how long Renae will keep this free masterclass available.
PS:  Yes, Renae really is as amazing as all the reviews say.
PPS: Yes, the course is for handmade items, but I've used it successfully for my cookbooks. I know others are using her methods for services, direct sales, and even a local ice cream bar & grill that's constantly selling out. You've nothing to lose by taking a look ... and a whole bunch to gain.
*  *  *  *  *
Oma's Cookbooks (downloadable & print)
*  *  *  *  *
Want nutritional information for a recipe?
Copy and paste the ingredient list and the number of servings into Calorie Count. 
It will give you an approximate calculation.

Need help doing conversions
between cups and grams or any such thing?
Use this site to give you all the different conversions for the different types of ingredients. 
---
Words to the Wise
"Discipline your children, and they will give you peace of mind and will make your heart glad."
Proverbs 29:17  NLT