Quick and Easy Appetizer Recipes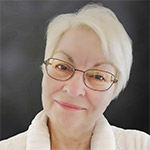 by: Gerhild Fulson  /  Cookbook Author, Blogger, German Oma!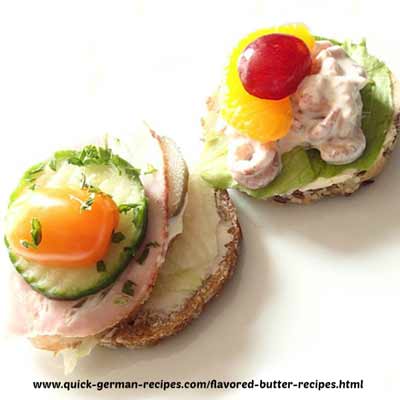 Here are quick and easy appetizer recipes that also work as easy snack recipes. Make these German treats for your next get-together, party, or late-night snacking.

Appetizers, aka Vorspeisen, meaning "before food") are great for parties or when having guests over for an evening. However, they also make great light lunches or suppers. 
Add a salad or some fresh bread to make a complete meal. Finish it off with a bowl of fruit salad, some cookies, or perhaps a pudding - very German!

---
Many of the ingredients for the best appetizer recipes can be kept on hand so that you are always ready to create these quick snacks.
If you keep a special place in your cupboard, fridge, and/or freezer for the items needed, you'll always be able to throw something together at the last minute.
Another tradition is to have a plate or two of cheese slices and a variety of cold cuts. Add some German rye bread, pumpernickel bread, and some fresh buns. Either buy these at your local bakery, or make them fresh. 

As easy as it is to put out a bowl of nuts or pretzels, serving these easy appetizers will show your guests that they are special. You can also incorporate these recipes for quick appetizers in your luncheon buffet - your party will be a hit. 

Quick and Easy Appetizer Recipes
Celebrate Oktoberfest right at home with these German recipes found right here in Oma's Oktoberfest e-Cookbook.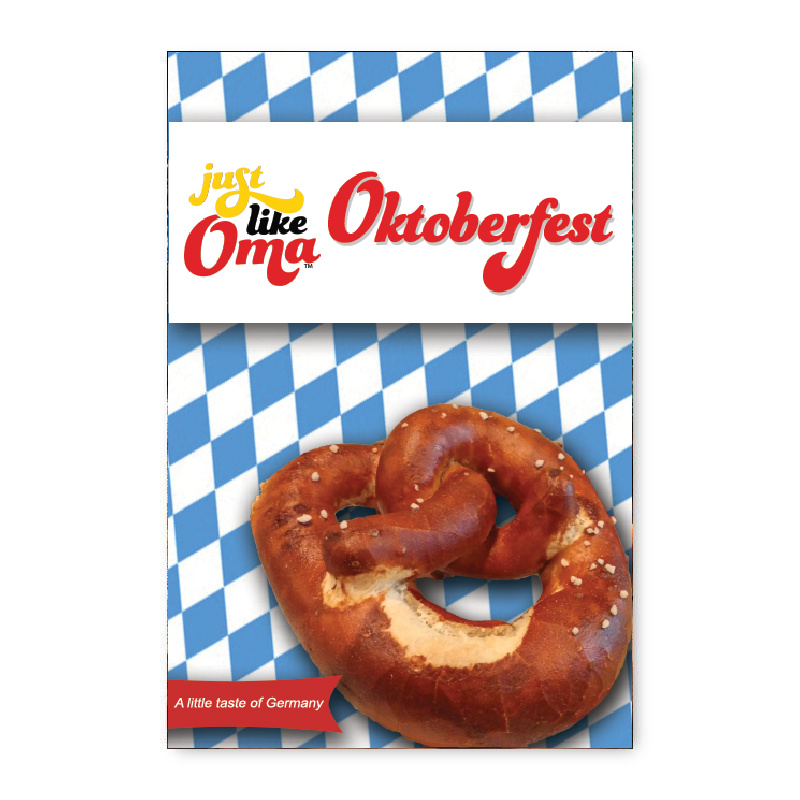 Take a peek at all Oma's eCookbooks. They make sharing your German heritage a delicious adventure!
More Appetizer Ideas
Platter of German meats and cheeses, served with a variety of German mustards, pickles and breads
Bite-sized meatballs with mustard 
Pickled eggs
Chunks of bratwurst with mustard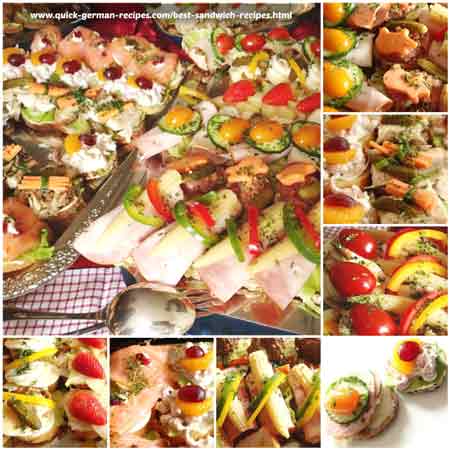 Leave a comment about this recipe or ask a question?

Pop right over to my private Facebook group, the Kaffeeklatschers. You'll find thousands of German foodies, all eager to help and to talk about all things German, especially these yummy foods. 
Meet with us around Oma's table, pull up a chair, grab a coffee and a piece of Apfelstrudel, and enjoy the visit.

Oma's Favorite Finds offer a range of Oma's favorite German-inspired must-have items that make cooking and entertaining more enjoyable, yummy, and efficient.

Indulge in Elegance: Small porcelain dessert bowls by Dowan for a pop of colour on your table and perfect for little desserts.

Discover the Easter traditions in Germany that will engage your senses and uplift your spirit. Ostern is a cultural celebration filled with delight, wonder, and yummy food.
*  *  *  *  *
Make every day a day filled with the WORD!
"People do not live by bread alone, but by every word that comes from the mouth of God."
Matthew 4:4 (NLT)