Regional Traditional German Food: Thuringia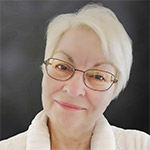 by: Gerhild Fulson  /  Cookbook Author, Blogger, German Oma!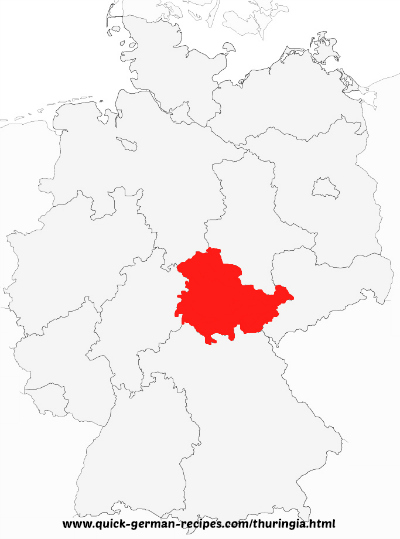 Guten Tag,
What do Luther, Goethe, Napoleon, Bach, Schiller, and Wagner have in common? Thuringia.
Located in the geographical center of Germany, the Free State of Thuringia (Thüringen) was once called a "patchwork of principalities" and helped shape not only German, but European, history.
Its central location made it a main hub of trade and commerce, giving the area a great diversity of customs and traditions.
With its abundance of forests and mountains, this "Green Heart of Germany" has one of the best known hiking routes in Europe.
The "Rennsteig Walk" is a 105-mile trail runs along the spine of the mountains.
The remaining half of this region is blessed with rich, fertile soil that provides for its flourishing agriculture.
Wheat, rape, sugar beets, barley, cauliflower, white cabbage, broad beans, onions, and cucumbers are among the most common crops. This shows itself in the favorite foods of the area.

Well known are its bratwurst sausages, dumplings, and cakes.
Even the onion is celebrated with its own festival in Weimar held on the second weekend in October. The famous Quiche Lorraine is rumored to have originated with the Weimar Onion Tart (the recipe taken by Napoleon's troops.)
The best invention of regional cuisine are Thüringer Klösse (aka Rohe Klösse, Hüts or Hebes). Passed down through the generations, this potato dumpling recipe varies from family to family.
Popular quote: "A Sunday without dumplings is no Sunday at all."
The dumpling is often regarded as the main dish and everything else, including the meat, just being mere accompaniments.
Thuringia's Favorite Foods
Potato Dumplings using varying amounts of raw and/or cooked potatoes and additions such as eggs, seminola, prunes, spices, or yeast. Known by names such as Thüringer, Fauleweiber (Lazy Wives'), Halbseidene (half­silk), and Hefe (yeast)
Onions in onion soup (Zwiebelsuppe) and onion tart (Zwiebelkuchen)
Cauliflower (Blumenkohl), kohlrabi (Kohlrabi), broccoli (Brokkoli), and red, white, and savoy cabbages (rot, weiß, und wirsing)
Game meats such as deer (Reh), wild mountain sheep (Wildscharf), boars (Wildschwein), hare (Hase), pheasant (Fasan), and duck (Ente)
Mushrooms (Pilze) cultivated and wild
Sausages (Wurst) such as spreadable dry­-cured pork & beef (Mettwurst) and a smooth pork & beef (Teewurst); hard­-cured salami and cervelat which are often smoked as well. The famous Thüringer Rostbratwurst is a scalded sausage and the liver (Leber) and blood (Blut or Rot) sausages are steamed
Cakes (Kuchen) are served at breakfast and morning coffee as well as a late night snack. Classics are crumb cakes (Streusel) and yeast cakes covered with a cream mixture, fruit, and custard.
Grab your copy of My Oma's Dumplings & Noodles e-Cookbook and make those traditional German treats for your family today!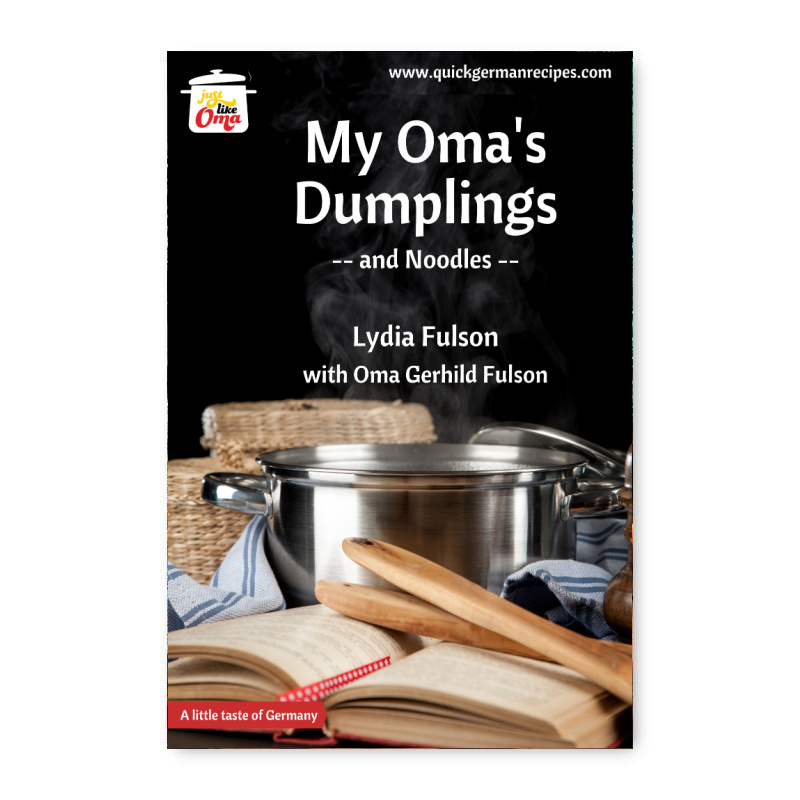 Take a peek at all Oma's eCookbooks. They make sharing your German heritage a delicious adventure!
My Favorite Thuringian Recipe
Thüringer Klösse

Here's the recipe that was handed down from my father's family – I spent many hours as a girl peeling and grating potatoes for our Sunday dinner.
These potato dumplings are made from grated raw potatoes, unlike the more popular German potato dumplings that are made from cooked potatoes.
Here's my recipe (and unhappy memories) for Thüringer Klösse. I think you'll love them as well!
---
More Recipes from Thüringen ...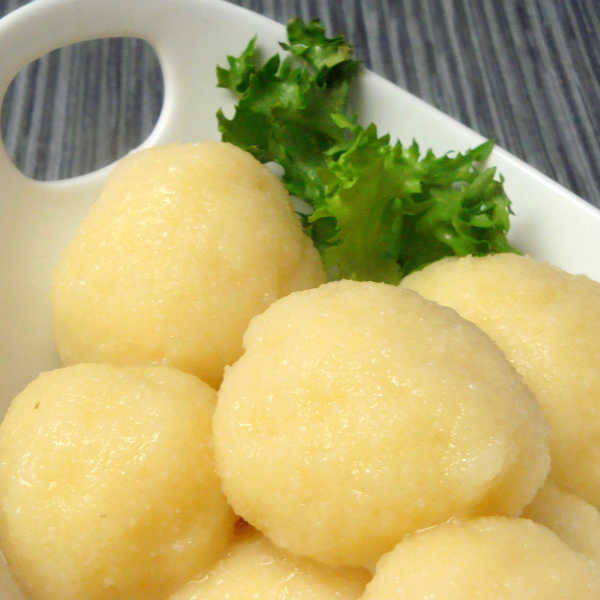 Dumplings from Cooked Potatoes
---
Visit more of Germany's Regions  and States ...
---
---
Leave a comment about this recipe or ask a question?

Pop right over to my private Facebook group, the Kaffeeklatschers. You'll find thousands of German foodies, all eager to help and to talk about all things German, especially these yummy foods. 
Meet with us around Oma's table, pull up a chair, grab a coffee and a piece of Apfelstrudel, and enjoy the visit.

This easy German Apple Strudel recipe is one of those German desserts that brings the traditional strudel taste to your table without all the work. Wunderbar!!

Make the perfect German Spaetzle with Oma's easy recipe! This traditional German egg noodle pairs perfectly with caramelized onions for a delicious meal.

Choose from Oma's cookbooks that are immediately downloadable & start cooking easy classic German foods tonight. Or get her newest paperback cookbook. LECKER!
*  *  *  *  *
Words to the Wise
"The bloodthirsty hate blameless people, but the upright seek to help them."
Proverbs 29:10 NLT