Hamburg ~ Regional Food ❤️
➤ by Oma Gerhild Fulson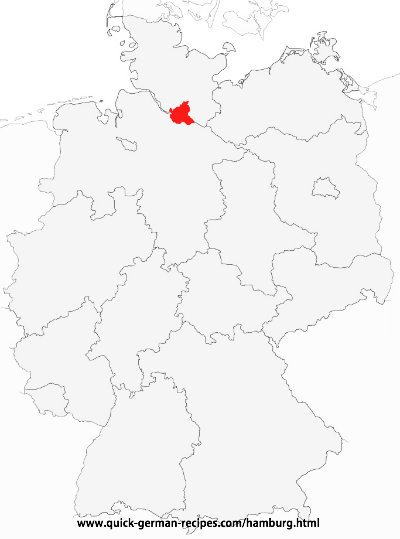 "When is a Hamburger a Hamburger?"

"When it's a hamburger made in Hamburg!"
The history of the hamburger (that common meat patty between two halves of a bun) is so difficult to establish. Just googling it will show you how contentious the argument is.
Does this popular American food really comes from Germany or not? The recorded history of goes back to Genghis Khan in the 12 century. Traditionalist will say that the original meat patty was first introduced at the end of the 19th century by a snack seller in Ohio who ran out of sausages to put in the bun.
It really doesn't matter to the Hamburgers (people from Hamburg), because their main cuisine is seafood. After all, the city is situated on Elbe River, which runs into the North Sea. It's is connected to the Baltic Sea by canal, has a lake in its center, and has more canals than Venice with over 2,000 bridges.
As well, it is an international harbor which has brought spices and foreign foods to this part of Germany for hundreds of years. This has greatly influenced the traditional foods available.
Hamburg's Favorite Foods
Aalsuppe (eel soup) originally meaning "all soup" made of everything except the kitchen sink. Eel was not part of it. However, because it sounded like "eelsoup" (Aolsuppe) in German, eel is often added, especially in restaurants, so that people won't complain that there's no eel in the "eelsoup".
Lobster (Hummer), red abalone (Meerohr), vongole clam (Muschel), shrimp (Krabben), caviar (Kaviar), oysters (Auster).
Dumplings (Klösschen) and croquettes (kroketten), especially with smoked meat, lobsters, or shrimps.
Fish, such as plaice (Scholle), smelts (Stint) and cured herring (Matjes).
Birnen, Bohnen und Speck (green beans cooked with pears and bacon) a type of stew.
Labskaus (Seaman's hash) mixture of corned beef and mashed potatoes.
Desserts such as butter shortcake (Buttermürbeteig), macaroons (Makronen), truffles (Trüffel), rice milk pudding with pears (Quetschmadam)
My Very Favorite Recipe from Hamburg
Bratkartoffeln 
This is the recipe I grew up with. My Mutti made this frequently for lunch and I carry on that tradition. I usually use leftover potatoes, but starting with raw ones works as well! You'll find the recipe for this dish as well as several variations right here. 

---
More Recipes from Hamburg ...
---
Visit more of Germany's Regions  and States ...
---
Leave a comment about this recipe or ask a question?
Pop right over to my private Facebook group, the Kaffeeklatschers. You'll find thousands of German foodies, all eager to help and to talk about all things German, especially these yummy foods. 
I pop in all the time as well, to chat and to answer questions. 
Meet with us around Oma's table, pull up a chair, grab a coffee and a piece of Apfelstrudel, and enjoy the visit.
*  *  *  *  *
Want nutritional information for a recipe?
Copy and paste the ingredient list and the number of servings into Calorie Count. 
It will give you an approximate calculation.

Need help doing conversions
between cups and grams or any such thing?
Use this site to give you all the different conversions for the different types of ingredients. 
---
---
This German sourdough whole grain no knead bread recipe is so delicious and so healthy. Learn this basic method and then alter it to suit your needs. Healthy never tasted this good!

Want a Rhubarb Cake recipe that tastes just like Oma's? Not too sweet, but wunderbar? Try my Rhubarb Streusel Cake that's super quick and easy to make.
---
Words to the Wise
"Every word of God proves true. He is a shield to all who come to Him for protection."
Proverbs 30:5  NLT