Hamburg ~ Regional Food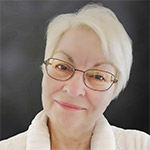 by: Gerhild Fulson  /  Cookbook Author, Blogger, German Oma!
"When is a Hamburger a Hamburger?"

"When it's a hamburger made in Hamburg!"
The history of the hamburger (that common meat patty between two halves of a bun) is so difficult to establish. Just googling it will show you how contentious the argument is.
Does this popular American food really comes from Germany or not? The recorded history of goes back to Genghis Khan in the 12 century. Traditionalist will say that the original meat patty was first introduced at the end of the 19th century by a snack seller in Ohio who ran out of sausages to put in the bun.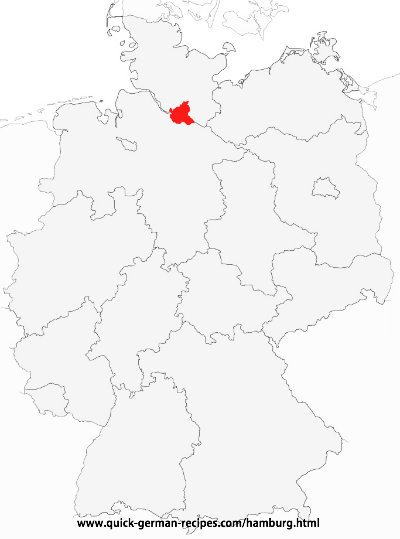 It really doesn't matter to the Hamburgers (people from Hamburg), because their main cuisine is seafood. After all, the city is situated on Elbe River, which runs into the North Sea. It's is connected to the Baltic Sea by canal, has a lake in its center, and has more canals than Venice with over 2,000 bridges.
As well, it is an international harbor which has brought spices and foreign foods to this part of Germany for hundreds of years. This has greatly influenced the traditional foods available.
There's something absolutely mouth-watering about having a German meat-and-potato dinner. Get Oma's revised collection of her favorites in German Meat Dishes.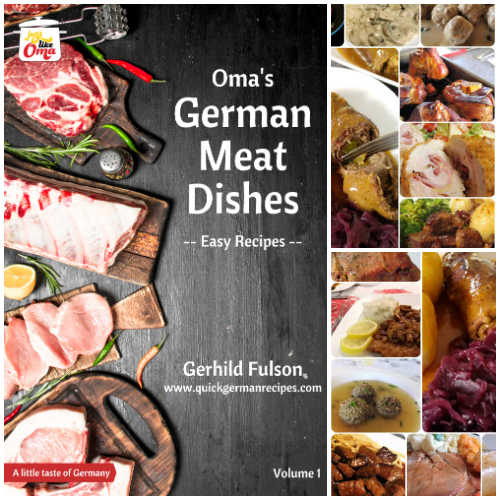 Take a peek at all Oma's eCookbooks. They make sharing your German heritage a delicious adventure!
Lydia's Facts
Learn a little bit about this wonderful region with me! I've done my research and would love to share it with you.
If you've done your homework on me then you know how much I LOVE to travel! It will always be on my bucket list to go to Germany with my dear Oma and visit these places I've researched about. To venture through its landscapes, to be mesmerized by the castles and architecture, and of course... to try all of the yummy regional foods. 
Wanting to brush up on your homework? Check out my page here, to learn more about me, Lydia, and how Germany and its outstanding regions, and foods have made their way into my life!
Now let's check out some of this region's most popular places and a little bit of history behind them...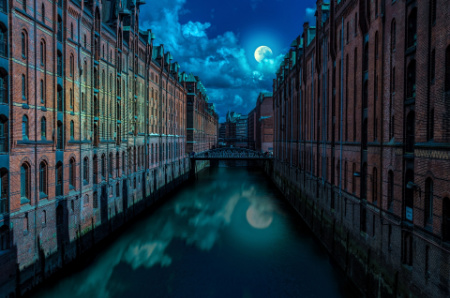 The 'Gateway to Germany'
In the beautiful Port of Hamburg, you'll come across the Hamburger Hafen, an outstretched tidal harbor, reaching 100 square kilometers! This harbor is known as the 'Gateway to Germany'.
Why you ask? For many fisherman, tradesmen, or visitors, this harbor was your ticket in! For several years during the 16th century, it was one of the only ports allowed to do sea-borne trade. It has been the main port for trading goods for centuries in Central Europe. Hamburg was the best place around to trade your goods and quickly exceeded all other ports with its convenience, and beauty of course.
This gorgeous harbor to this day is a bit more relaxed, and is now Hamburg's most visited tourist attraction! The popular place to visit on the harbor is the magnificent Speicherstadt. 
What is Speicherstadt? 
Only the world's largest warehouse district! Now declared a UNESCO World Heritage Site. This remarkable district is a long line of tall brick buildings that during the trading days, would be stored piled high with goods such as coffee beans, teas, fruits, and tobacco. 
A lovely trail has been built along the entire harbor so that tourists from all over the world can come and see this historic and culturally significant place. Don't forget to take pictures in front of the Water castle! (shown below)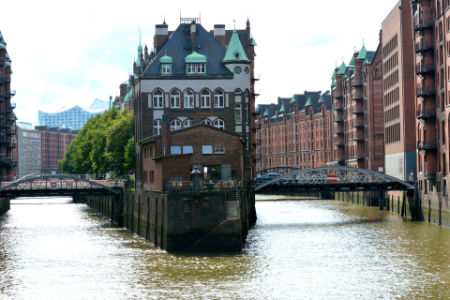 St. Michaels' Church
This one is the most popular of many churches in Hamburg, mostly due to its extravagance and the beautiful Baroque style it was built in. 
It is a breathtaking place to visit, not only for its artwork, architecture, and bold bronze statues but for the tower as well! That's right, the main attraction here is the 132-meter-high tower that you can climb up. Well, taking the elevator or stairs might be a bit easier than climbing ;) 
From the top of the tower, there is a viewing point where you can take some stunning photos of the ports and the region. Imagine watching the sunset at the top of a tower in the most famous church in all of Hamburg! Now that's a big one to cross off of my bucket list one day for sure!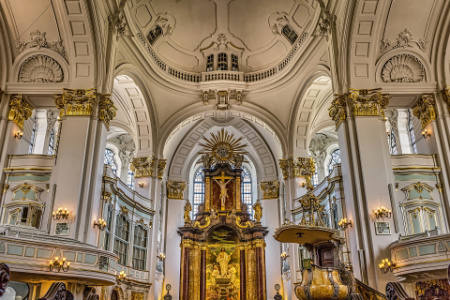 ---
Hamburg's Favorite Foods
Aalsuppe (eel soup) originally meaning "all soup" made of everything except the kitchen sink. Eel was not part of it. However, because it sounded like "eelsoup" (Aolsuppe) in German, eel is often added, especially in restaurants, so that people won't complain that there's no eel in the "eelsoup".
Lobster (Hummer), red abalone (Meerohr), vongole clam (Muschel), shrimp (Krabben), caviar (Kaviar), oysters (Auster).
Dumplings (Klösschen) and croquettes (kroketten), especially with smoked meat, lobsters, or shrimps.
Fish, such as plaice (Scholle), smelts (Stint) and cured herring (Matjes).
Birnen, Bohnen und Speck (green beans cooked with pears and bacon) a type of stew.
Labskaus (Seaman's hash) mixture of corned beef and mashed potatoes.
Desserts such as butter shortcake (Buttermürbeteig), macaroons (Makronen), truffles (Trüffel), rice milk pudding with pears (Quetschmadam)
My Very Favorite Recipe from Hamburg
Bratkartoffeln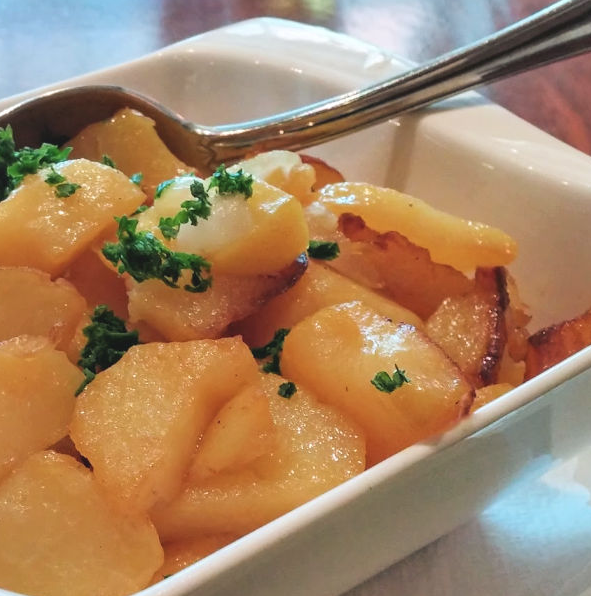 This is the recipe I grew up with. My Mutti made this frequently for lunch and I carry on that tradition. I usually use leftover potatoes, but starting with raw ones works as well! You'll find the recipe for this dish as well as several variations right here. 

---
More Recipes from Hamburg ...
---
Visit more of Germany's Regions  and States ...
---
Leave a comment about this recipe or ask a question?

Pop right over to my private Facebook group, the Kaffeeklatschers. You'll find thousands of German foodies, all eager to help and to talk about all things German, especially these yummy foods. 
Meet with us around Oma's table, pull up a chair, grab a coffee and a piece of Apfelstrudel, and enjoy the visit.

Oma's Favorite Finds offer a range of Oma's favorite German-inspired must-have items that make cooking and entertaining more enjoyable, yummy, and efficient.

Indulge in Elegance: Small porcelain dessert bowls by Dowan for a pop of colour on your table and perfect for little desserts.

Discover the Easter traditions in Germany that will engage your senses and uplift your spirit. Ostern is a cultural celebration filled with delight, wonder, and yummy food.
*  *  *  *  *
Words to the Wise
"Every word of God proves true. He is a shield to all who come to Him for protection."
Proverbs 30:5  NLT