Rhineland-Palatinate ~ Regional Food
➤ by Oma Gerhild Fulson
FTC Disclosure: Making a purchase via a link on the page? I may earn a small commission on the transaction - at no added cost to you. Thanks!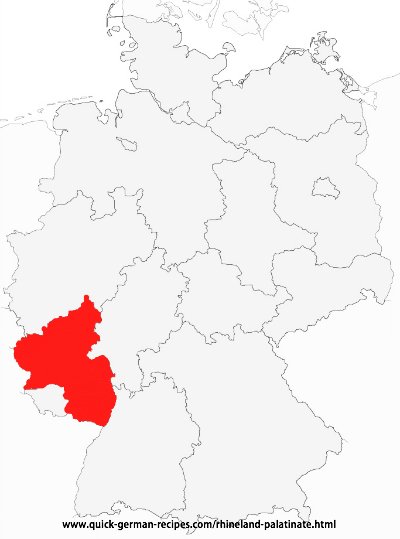 Better fine and fat and wobbly, than thin and

bony and all knobbly!

 
This proverb from the Rhineland-Palatinate region refers to its pigs.
And the pig is the star of the region's national dish, Saumagen" or, literally, "stuffed pig stomach". The well-cleaned pig's stomach is stuffed with a mixture of potatoes, lean pork, sausage meat, garlic, and onions. It is then seasoned with marjoram, nutmeg, salt, and pepper. Boiled, sliced, and fried, the slices are served with mashed potatoes and the ever popular sauerkraut.
Rhineland-Palatinate (Rhineland-Pfalz) is located in the southwestern part of Germany, bordering on Hessen, Saarland, BadenWürttemberg, and North Rhine Westphalia. The main rivers that transverse this state are the Rhine and the Mosel. Where they meet, lies one of the oldest German cities, Koblenz, in what is called the Deutsches Eck (German corner).
Rhineland-Palatinate is a land of castles and fortresses reminiscent of its 2,000-year history of various occupying forces. These each left an imprint on the culture of this state. For example, Germany's oldest town, Trier (originally Augusta Treverorum), dating back to 15 B.C., with its old Roman structures, is located here on the Mosel River. AND it was the Romans who brought wine-growing to this area.
Another old town is Mainz, the capital of Rhineland-Palatinate. Mainz is famous for its Meenzer Fassenacht carnival ("Karneval" or Fasching) that starts 52 days before Easter and lasts for one week, with the 7-km long parade taking place on Rosenmontag, the Monday before Ash Wednesday.
Visiting this area? The must-sees are Cochem Castle, a 1000-yearold castle on the Mosel and the Eltz Castle near Wierschem, especially for those interested in knights and medieval times. A cruise down the Rhine is also a must - there are castles at every bend in the river!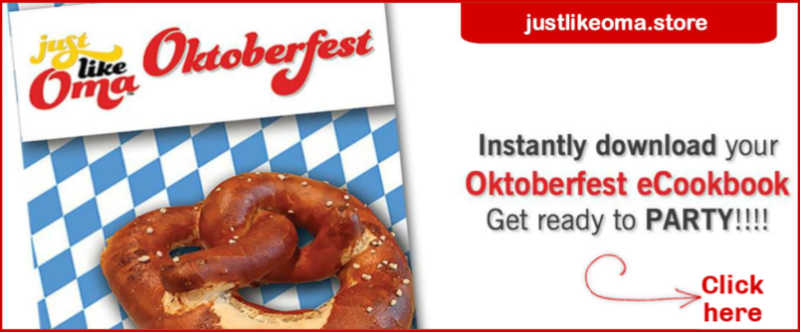 Rhineland-Palatinate's Favorite Foods
Anything cooked with wine, such as soups, fish, eel, pheasants, beef, ice creams, cakes, apples, waffles, etc.!
Potato (Kartoffeln). Originally called Grundbirne (ground pear), potatoes are used in Kartoffelgulasch (potato goulash), Kartoffelsuppe (potato soup), Kartoffelwurst (potato sausage), to name a few.
Pork (Schwein) in boiled pork, salted pork, pork sausages, etc.
Zwetschgen (plums) in Zwetschgenkuchen, plum cake baked with a yeast base and Zwetschgenknödel, little sugarplum dumplings.
Kastanien or Maronen (chestnuts) that find their way into desserts such as Kastaniencreme
Game such as hare, venison, or wild boar
My Favorite Recipe from Rhineland-Palatinate
Oma's Pflaumenstreusel vom Blech
This delectable sheet-pan Plum Streusel Cake was sent in by Isabelle Tonti and is so reminiscent of the wonderful plum cakes from this area. Do check it out here and be transported back to your Oma's kitchen!
---
A Few Recipes from Rhineland-Palatinate ...
---
---
Leave a comment about this recipe or ask a question?
Pop right over to my private Facebook group, the Kaffeeklatschers. You'll find thousands of German foodies, all eager to help and to talk about all things German, especially these yummy foods. 
I pop in all the time as well, to chat and to answer questions. 
Meet with us around Oma's table, pull up a chair, grab a coffee and a piece of Apfelstrudel, and enjoy the visit.
*  *  *  *  *
Thinking of starting your own Handmade Business?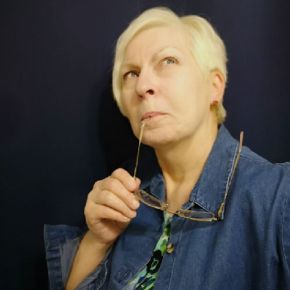 This Oma KNOWS you CAN do it.
How do I know?
Well, if I can do it, anyone can.
I've even figured out how I can help you.
I've teamed up with my own business coach, Renae Christine (yes, do google her!), to bring you this free workshop. After you watch it, ask me any questions and I'll gladly answer them.
Don't hesitate. I'm not sure how long Renae will keep this free workshop available.
PS:  Yes, Renae really is as amazing as all the reviews say.
PPS: Yes, the course is for handmade items, but I've used it successfully for my cookbooks. I know others are using her methods for services, direct sales, and even a local ice cream bar & grill that's constantly selling out. You've nothing to lose by taking a look ... and a whole bunch to gain.
*  *  *  *  *
Want nutritional information for a recipe?
Copy and paste the ingredient list and the number of servings into Calorie Count. 
It will give you an approximate calculation.

Need help doing conversions
between cups and grams or any such thing?
Use this site to give you all the different conversions for the different types of ingredients. 
---
---
These German cookie recipes in English are quick and simple recipes to delight your family and friends.

My homemade chicken rice soup recipe is one you're sure to make often. Why? 'Cause it's so easy and so good. Make a huge batch that'll feed a crowd. Or, just so you can enjoy leftovers.
---
Words to the Wise
"Discipline your children, and they will give your peace of mind and will make your heart glad."
Proverbs 29:17  NLT