Oma's Slow Cooker Recipes

➤ by Gerhild Fulson
➤ As an Amazon Associate, I earn from qualifying purchases.

Below, I've made a Sauerbraten Roast using my slow cooker. Makes the whole process of this long cooking meat so much easier.

Why include my best slow cooker recipes aka Langsamkocher Rezepte, on a website that's supposed to have quick recipes?  Well, nothing is much quicker that spending a few minutes in the kitchen in the morning.
Then, leave for a day at work or shopping, and then come home to a dinner that just takes a few more minutes to finish off.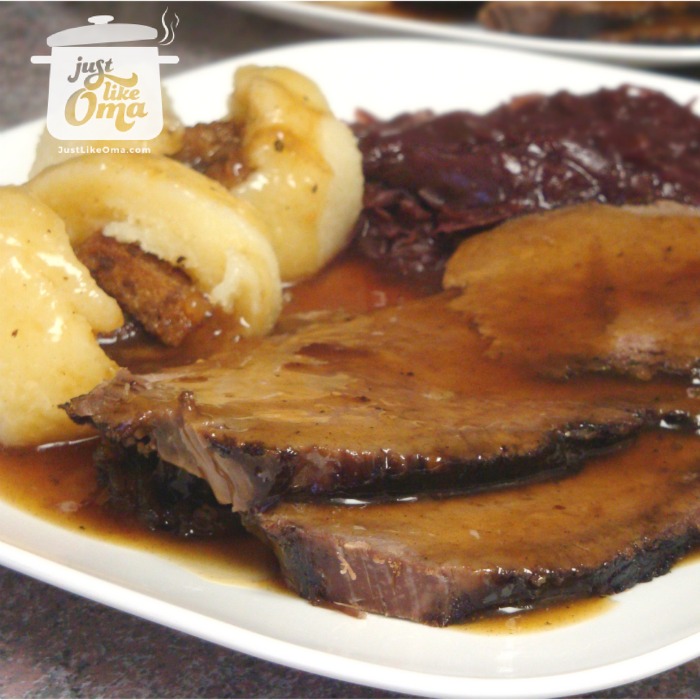 Buy some fresh bread on the way home, or make a quick salad. Dinner's ready.  As well, these recipes are often more economical. One can use less tender cuts of meat. Perfect way to use my new Cuisinart multi-cooker (slow cooker).

The slow cooker is also great for cooking soups - especially ones that use dried peas or beans. The green split pea soup is a good example. Throw everything in quickly in the morning, and it will be ready for you once you step in the door after a busy day at work.
Or, how about a pot roast for supper? Just put everything in the crockpot before you leave for the day; you can even get it ready the night before. Then, come home to the delicious homemade German pot roast dinner. It's one of the best crock pot recipes.
What's the difference between a slow cooker and a crock pot?
I had to check this one out myself. It appears that Crock-Pot is a U.S. trademark for a slow cooker. It's become a term that's used generically. In the U.K., the Slo-Cooker is the trademark for the same thing.

Slow Cooker Tips
When you are using your own regular recipes and adapting them for the slow cooker, only use about ¾ the amount of liquid, since no steam escapes.
If you are cooking meat and veggies in the cooker, make sure the veggies are under the meat. Potatoes, particularly, need to be pushed down, way below the surface of the liquid, or they will not cook properly.
Grab your copy of Oma's German Slow Cooker Recipes written in English just for you to enjoy: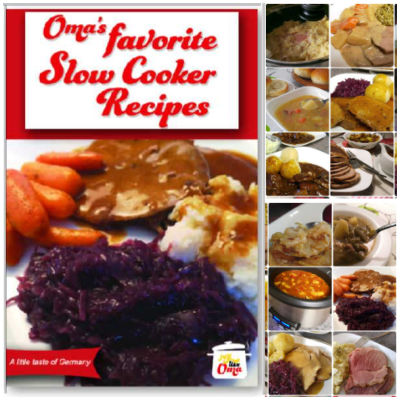 Take a peek at all Oma's eCookbooks. They make sharing your German heritage a delicious adventure!
Try Oma's Slow Cooker Recipes
Leave a comment about this recipe or ask a question?

Pop right over to my private Facebook group, the Kaffeeklatschers. You'll find thousands of German foodies, all eager to help and to talk about all things German, especially these yummy foods. 
Meet with us around Oma's table, pull up a chair, grab a coffee and a piece of Apfelstrudel, and enjoy the visit.

Wurstsalat ... a traditional meat salad from southern Germany. In the north, it's Fleischsalat. Both are wonderfully different and utterly delicious! Perfect party pairing.

Making rhubarb syrup has never been so easy, or so tasty. The best part- you get two in one. A syrup and a butter. Both equally as lecker as the other.

This cheesy green bean casserole recipe is a must have to add to your weeknight dinner menu. It's one of those easy side dish recipes that's really filling and can be made quickly!
*  *  *  *  *
Make every day a WISE day!
Only fools say in their hearts, "There is no God."
Psalm 53:1 (NLT)