Saarland ~ Regional Food ❤️
➤ by Oma Gerhild Fulson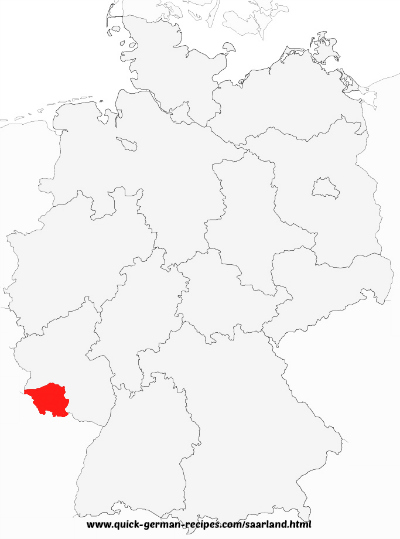 The southwestern state of Saarland, which borders France, Luxembourg, and the German Rhineland Palatinate, has been tossed back and forth between Germany and France throughout its long history.
In 1957, these 990 sq. mi. became the 10th Land of the Federal Republic of Germany.
Even though its recent history is with France, Saarland's culture goes back to the Gallo-Roman and Celtic times.
The following quote from saarland.de tourist website says it all.
"A region such as ours, where France, Luxembourg and Germany come together, is ideal for experiencing both national traditions and European culture hundreds of years old."
Here you can tour three countries in one day, going through beautiful river valleys, peaceful villages, forests, vineyards, and castles, reliving the past and, at the same time, experiencing the future.
Its economy is based on the conviction that "this country's riches do not lie under its soil, but in the heads of the people" and is in the forefront of the automotive and steel industries.
Need that "all's good with the world" feeling? Comfort food will do that. Get your copy of Oma's German favorites in her Comfort Foods e-Cookbook.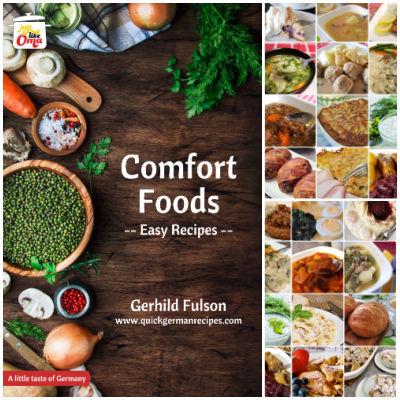 Take a peek at all Oma's eCookbooks. They make sharing your German heritage a delicious adventure!
The culinary experience of this region is German with a touch of French. It's gourmet and rustic. It uses the seasonal and fresh regional produce.
The main produce has been the potato and this finds its way into many meals in many forms from soups to waffles. The Lisdorfer Au is Saarland's main vegetable and fruit growing area providing its citizens all they need to make simple yet hearty meals.

Saarland's Favorite Foods
Potatoes prepared in many, many, many different ways!

Beets, carrots, cabbage, artichokes, peas, beans, Brussels sprouts, asparagus, onions
Strawberries, melons, berries, pears, plums, apples, rhubarb
Lyoner pork sausage named after the French city of Lyon
Goat, ham
"Schwenkbraten" (literally translated as "swing meat") ­ meat grilled on a special three­legged grill.
My Favorite Saarland Recipe
Oma's Arme Ritter (Poor Knights)
This looks like the typical French toast ­ and that's sort of what it is. Why the name? No idea. The resulting delicacy should be crispy on the outside and custardy on the inside.

Ingredients: 
½ lb loaf of French bread (stale is great!) 
2 eggs
⅛ tsp salt
2 tbsp sugar
1 tsp grated lemon zest (optional) 
1 cup milk (part cream if desired) 
3 - 4 tbsp butter
Instructions:
Preheat oven to 200°F.
Remove and discard the ends of French bread. Slice bread into ½-inch thick slices.
Mix eggs, salt, sugar, lemon zest, and milk in a bowl.
Dip bread slices, both sides, into egg mixture. 
Let bread slices sit for a few minutes on a wax-paper covered counter so the egg mixture will soak in. 
Meanwhile, heat butter in a saute pan or griddle. 
Fry bread, in batches, until golden brown on both sides (about 2 - 3 minutes per side)
Remove from pan and transfer to cookie sheet and keep in warm oven until rest of bread has been cooked.
Serve with fruit sauce, syrup, or sprinkled with powdered sugar or sugar and cinnamon.
Serves 4 - 6.

More Recipes from Saarland ...
---
---
---
Leave a comment about this recipe or ask a question?
Pop right over to my private Facebook group, the Kaffeeklatschers. You'll find thousands of German foodies, all eager to help and to talk about all things German, especially these yummy foods. 
I pop in all the time as well, to chat and to answer questions. 
Meet with us around Oma's table, pull up a chair, grab a coffee and a piece of Apfelstrudel, and enjoy the visit.
These roasted Brussels spouts with balsamic vinegar and maple syrup are so quick and easy to prepare, yet so delicious! This may just be your new favorite go-to recipe for roasted FROZEN Brussels spro…

Love German cabbage rolls? You'll absolutely love Oma's unstuffed cabbage roll casserole. Same great taste, but a LOT less work. No rice or tomatoes here. Just real German goodness.

THE German Krapfen or jelly donut recipe you'll need if you plan to make Berliner Pfannkuchen ~ that traditional treat for New Year's and throughout the year!
*  *  *  *  *
Words to the Wise
"Discipline your children, and they will give your peace of mind and will make your heart glad."
Proverbs 29:17  NLT