Saarland ~ Regional Food
➤ by Oma Gerhild Fulson
FTC Disclosure: Making a purchase via a link on the page? I may earn a small commission on the transaction - at no added cost to you. Thanks!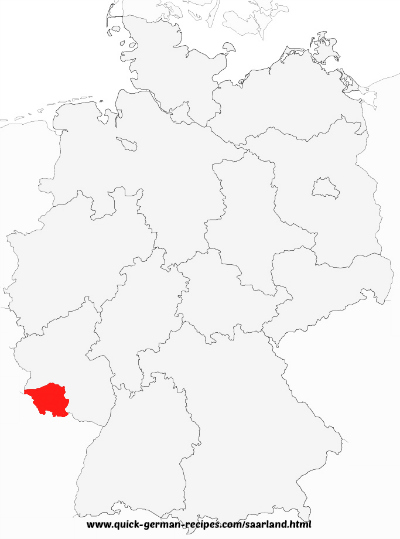 The southwestern state of Saarland, which borders France, Luxembourg, and the German Rhineland Palatinate, has been tossed back and forth between Germany and France throughout its long history.
In 1957, these 990 sq. mi. became the 10th Land of the Federal Republic of Germany.
Even though its recent history is with France, Saarland's culture goes back to the Gallo-Roman and Celtic times.
The following quote from saarland.de tourist website says it all.
"A region such as ours, where France, Luxembourg and Germany come together, is ideal for experiencing both national traditions and European culture hundreds of years old."
Here you can tour three countries in one day, going through beautiful river valleys, peaceful villages, forests, vineyards, and castles, reliving the past and, at the same time, experiencing the future.
Its economy is based on the conviction that "this country's riches do not lie under its soil, but in the heads of the people" and is in the forefront of the automotive and steel industries.

The culinary experience of this region is German with a touch of French. It's gourmet and rustic. It uses the seasonal and fresh regional produce. The main produce has been the potato and this finds its way into many meals in many forms from soups to waffles. The Lisdorfer Au is Saarland's main vegetable and fruit growing area providing its citizens all they need to make simple yet hearty meals.

Saarland's Favorite Foods
Potatoes prepared in many, many, many different ways!

Beets, carrots, cabbage, artichokes, peas, beans, Brussels sprouts, asparagus, onions
Strawberries, melons, berries, pears, plums, apples, rhubarb
Lyoner pork sausage named after the French city of Lyon
Goat, ham
"Schwenkbraten" (literally translated as "swing meat") ­ meat grilled on a special three­legged grill.
My Favorite Saarland Recipe
Oma's Arme Ritter (Poor Knights)
This looks like the typical French toast ­ and that's sort of what it is. Why the name? No idea. The resulting delicacy should be crispy on the outside and custardy on the inside.

Ingredients: 
½ lb loaf of French bread (stale is great!) 
2 eggs
⅛ tsp salt
2 Tbsp sugar
1 tsp grated lemon zest (optional) 
1 cup milk (part cream if desired) 
3 - ­ 4 Tbsp butter
Instructions:
Preheat oven to 200° F.
Remove and discard the ends of French bread. Slice bread into ½-inch thick slices.
Mix eggs, salt, sugar, lemon zest, and milk in a bowl.
Dip bread slices, both sides, into egg mixture. 
Let bread slices sit for a few minutes on a wax-­paper covered counter so the egg mixture will soak in. 
Meanwhile, heat butter in a saute pan or griddle. 
Fry bread, in batches, until golden brown on both sides (about 2 - ­3 minutes per side)
Remove from pan and transfer to cookie sheet and keep in warm oven until rest of bread has been cooked.
Serve with fruit sauce, syrup, or sprinkled with powdered sugar or sugar and cinnamon.
Serves 4 ­- 6.

---
More Recipes from Saarland ...
---
Visit more of Germany's Regions  and States ...
Try some regional German food for your next dinner party! Spread your culture and enjoy learning about some other areas of German cooking.
Germany is divided into 16 federal states in Germany, each one unique in its history and cuisine.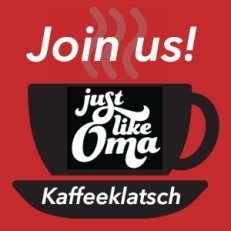 Let's travel to each one and see what's different.

Ready?
You'll need to join my Kaffeeklatsch to see more info, extra recipes, and special tips from me, Oma Gerhild!
---
---
Leave a comment about this recipe or ask a question?
Pop right over to my private Facebook group, the Kaffeeklatschers. You'll find thousands of German foodies, all eager to help and to talk about all things German, especially these yummy foods. 
I pop in all the time as well, to chat and to answer questions. 
Meet with us around Oma's table, pull up a chair, grab a coffee and a piece of Apfelstrudel, and enjoy the visit.
*  *  *  *  *
Thinking of starting your own Handmade Business?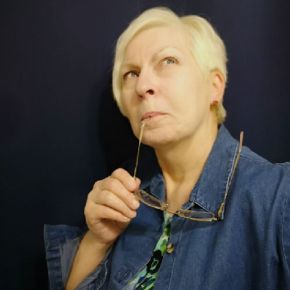 This Oma KNOWS you CAN do it.
How do I know?
Well, if I can do it, anyone can.
I've even figured out how I can help you.
I've teamed up with my own business coach, Renae Christine (yes, do google her!), to bring you this free masterclass. After you watch it, ask me any questions and I'll gladly answer them.
Don't hesitate. I'm not sure how long Renae will keep this free masterclass available.
PS:  Yes, Renae really is as amazing as all the reviews say.
PPS: Yes, the course is for handmade items, but I've used it successfully for my cookbooks. I know others are using her methods for services, direct sales, and even a local ice cream bar & grill that's constantly selling out. You've nothing to lose by taking a look ... and a whole bunch to gain.
*  *  *  *  *
Oma's Cookbooks (downloadable & print)
*  *  *  *  *
Want nutritional information for a recipe?
Copy and paste the ingredient list and the number of servings into Calorie Count. 
It will give you an approximate calculation.

Need help doing conversions
between cups and grams or any such thing?
Use this site to give you all the different conversions for the different types of ingredients. 
---
---
Try this slow cooker roast beef and you'll be amazed at how much this tastes like rouladen WITHOUT the work.

Learn how to cook pork hocks, anytime you want something traditionally German and wonderfully delicious! A hearty meal for any time of the year!
---
Words to the Wise
"Discipline your children, and they will give your peace of mind and will make your heart glad."
Proverbs 29:17  NLT