Regional Traditional German Food: Saarland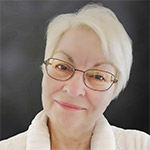 by: Gerhild Fulson  /  Cookbook Author, Blogger, German Oma!
The southwestern state of Saarland, which borders France, Luxembourg, and the German Rhineland Palatinate, has been tossed back and forth between Germany and France throughout its long history.
In 1957, these 990 sq. mi. became the 10th Land of the Federal Republic of Germany.
Even though its recent history is with France, Saarland's culture goes back to the Gallo-Roman and Celtic times.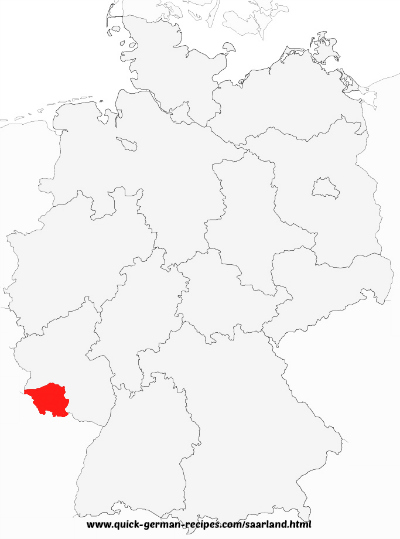 The following quote from saarland.de tourist website says it all.

"A region such as ours, where France, Luxembourg and Germany come together, is ideal for experiencing both national traditions and European culture hundreds of years old."
Here you can tour three countries in one day, going through beautiful river valleys, peaceful villages, forests, vineyards, and castles, reliving the past and, at the same time, experiencing the future.
Its economy is based on the conviction that "this country's riches do not lie under its soil, but in the heads of the people" and is in the forefront of the automotive and steel industries.
Need that "all's good with the world" feeling? Comfort food will do that. Get your copy of Oma's German favorites in her Comfort Foods e-Cookbook.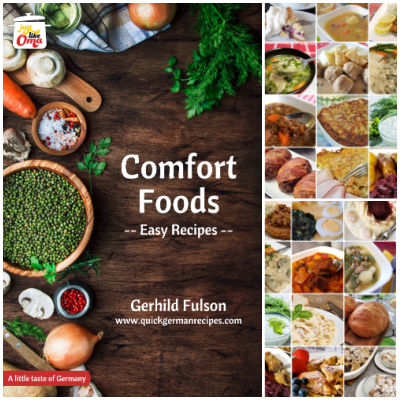 Take a peek at all Oma's eCookbooks. They make sharing your German heritage a delicious adventure!
The culinary experience of this region is German with a touch of French. It's gourmet and rustic. It uses the seasonal and fresh regional produce.
The main produce has been the potato and this finds its way into many meals in many forms from soups to waffles. The Lisdorfer Au is Saarland's main vegetable and fruit growing area providing its citizens all they need to make simple yet hearty meals.

Lydia's Facts... 

Learn a little bit about this wonderful region with me! I've done my research and would love to share it with you.

If you've done your homework on me then you know how much I LOVE to travel! It will always be on my bucket list to go to Germany with my dear Oma and visit these places I've researched about. To venture through its landscapes, to be mesmerized by the castles and architecture, and of course... to try all of the yummy regional foods. 
Wanting to brush up on your homework? Check out my page here, to learn more about me, Lydia, and how Germany and its outstanding regions, and foods have made their way into my life!
Now let's check out some of this region's most popular places and a little bit of history behind them...
Urban Art Biennial

Every two years in Saarland, you'll find this miraculous art exhibit, but it's not the type of art exhibit you'd be expecting... This display is located in the old UNESCO World Heritage Site, the Völklingen Ironworks! 
Did you know that the Ironworks in Völklingen is the ONLY one left that is still standing from the industrial era? Wow! This huge structure has now become the home to many concerts, tours, and of course, the great art exhibit!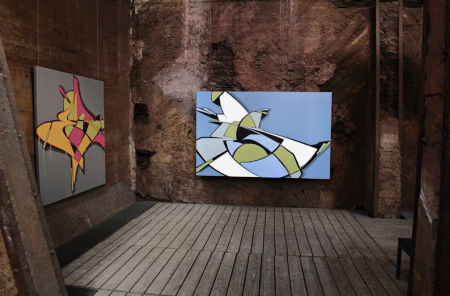 When most people think of "art exhibit", they think of sculptures, portraits, and such, well, in this gallery, it's all graffiti style! The exhibit is called 'The Urban Arts', referring to city life. So what better way to show off the graffiti art and street art of the city than to have its very own gallery! 

As compelling as graffiti art can be, it makes it ten times more interesting being posted up on the old walls of the old rustic ironworks. Every two years, street artists from all over Germany and the world can come and display their artwork. Since the exhibition first opened in 2011, it has grown twice the size! Becoming a popular spot for tourists and locals to come and get a glimpse of the wonders of street art while exploring the great Ironworks of Saarland!
Saarschleife

Saarschleife is one place you can't miss when visiting Saarland. Also known as the Great Bend in the Sarr, meaning the Sarr River, is considered to be the symbol of Saarland. 
Starting in Besseringen and ending in Mettlach, Saarschleife is a massively steep valley with a long bend of the river wrapping around it, and pictures surely don't do it justice. In 2016, a 75ft high treetop walk known as 'The Cloef' was built with an observation tower to look over and gaze upon its wonders. It also gives you the chance to take some pretty spectacular pictures! This walk is one of the most peaceful and serene walks you can take in Saarland. Its views are breathtaking and unforgettable. 
The Saarschleife is full of foresty mountains and important cultural sites that can be seen from the observation tower. Since Saarland was the home to many Celtic cultures, you can find lots of old ruins from those times on Saarschleife as well! When looking over the edge of the Cloef, you'll be able to spot them, including the famous Mettlach parish church. 

You can take a fairy boat to Saarschleife to venture through its many great trails, bike trails, and historic sights that are just dying to be explored by you! Or you can simply observe from up high, with a stunning birds-eye view!
Saarland's Favorite Foods
Potatoes prepared in many, many, many different ways!

Beets, carrots, cabbage, artichokes, peas, beans, Brussels sprouts, asparagus, onions
Strawberries, melons, berries, pears, plums, apples, rhubarb
Lyoner pork sausage named after the French city of Lyon
Goat, ham
"Schwenkbraten" (literally translated as "swing meat") ­ meat grilled on a special three­legged grill.
My Favorite Saarland Recipe
Oma's German French toast is a traditional Arme Ritter recipe that will remind you of sitting around Oma's table in Saarland. She would make these as a delicious way to use up stale bread. 

More Recipes from Saarland ...
---
---
---
Leave a comment about this recipe or ask a question?

Pop right over to my private Facebook group, the Kaffeeklatschers. You'll find thousands of German foodies, all eager to help and to talk about all things German, especially these yummy foods. 
Meet with us around Oma's table, pull up a chair, grab a coffee and a piece of Apfelstrudel, and enjoy the visit.

This easy German Apple Strudel recipe is one of those German desserts that brings the traditional strudel taste to your table without all the work. Wunderbar!!

Make the perfect German Spaetzle with Oma's easy recipe! This traditional German egg noodle pairs perfectly with caramelized onions for a delicious meal.

Choose from Oma's cookbooks that are immediately downloadable & start cooking easy classic German foods tonight. Or get her newest paperback cookbook. LECKER!
*  *  *  *  *
Words to the Wise
"Discipline your children, and they will give your peace of mind and will make your heart glad."
Proverbs 29:17  NLT