Mecklenburg-Vorpommern: Regional Food Made Just Like Oma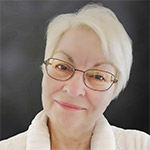 by: Gerhild Fulson  /  Cookbook Author, Blogger, German Oma!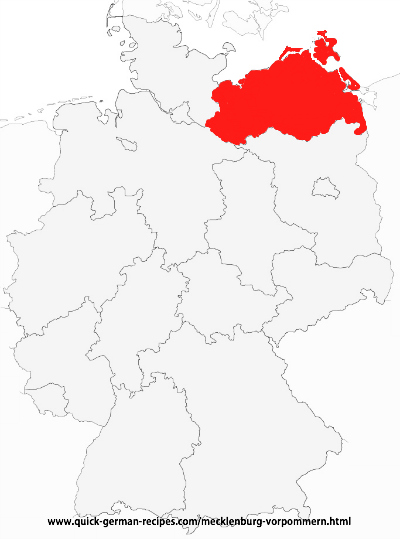 Land of Lakes
"America has Florida and Austria the Alps. Germany has Mecklenburg-Vorpommern." (quote from Welt am Sonntag)
Located in the middle of Europe, in the northeast corner of Germany lies Mecklenburg-Vorpommern, also known as Mecklenburg-West Pomerania.
Poland borders it on the east and the Baltic Sea provides a coast with 245 kilometers of bluffs on the north.
The largest German lake, Müritz See, is just one of the 2,036 lakes in this state. One fifth of Mecklenburg-Vorpommern is covered in forests.
Along with sandy dunes, steep cliffs, and fragrant meadows, the state is heavily farmed, especially with rapeseed, potatoes and other root crops, cabbage, and livestock such as cows, pigs, and sheep.
With the abundance of fresh and salty water, fish is often on the menu. Carp, eel, flounder, and trout are part of the daily catch. Because of this, sport fishermen are among the many, many tourists that visit Mecklenburg-Vorpommern making this the most popular tourist destination in Germany.
With islands, like Rügen with its chalk cliffs, water sports at, in, or on the lakes and Baltic Sea, castles to explore, festivals and exhibitions to visit, Mecklenburg Vorpommern is truly a tourist's paradise.
The traditional cuisine of this area is affected by what's caught and what's grown. Dishes with root crops abound. Fish is common. Beets are popular. Pork is king. Since part of this state once belonged to Sweden, many dishes have a sweet-sour flavor.
Want to know which recipes are Oma's favorites? Grab your copy of her very favorite recipes in Favorite German Recipes eCookbook.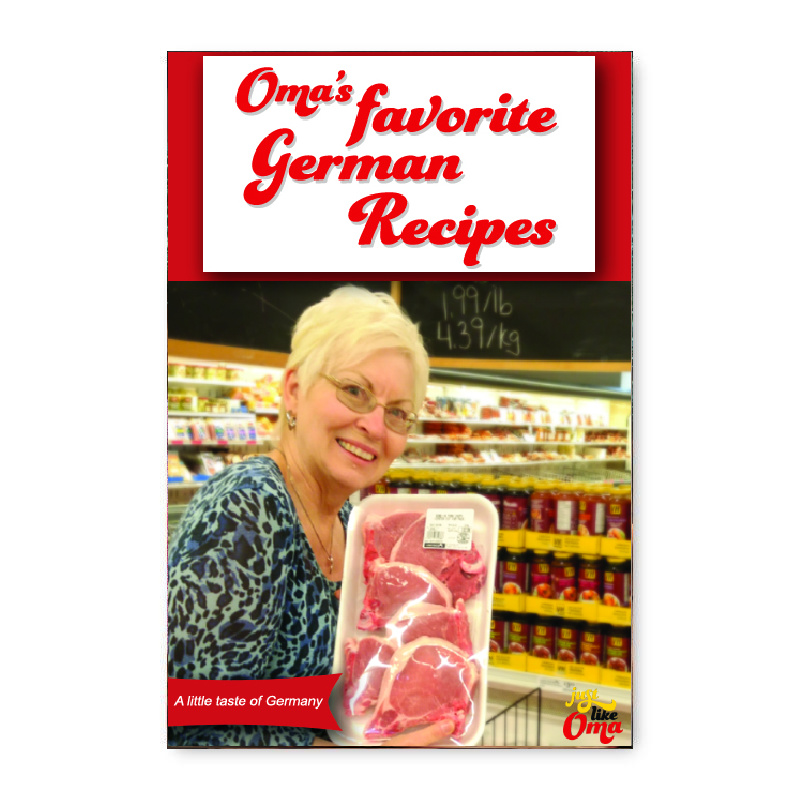 Take a peek at all Oma's eCookbooks. They make sharing your German heritage a delicious adventure!

Mecklenburg-Vorpommern Favorite Foods
Fish is popular, especially carp (Karpfen), eel (Aal), flounder (Flunder), pike (Hecht), bream (Brasse), roach (Rotauge), tench (Schleie), trout (Forelle), and salmonide (a type of German trout).
Cabbage (Kohl/Kraut)
Turnips (Rüben) and beets (Rote Rüben) used in salads, soups, and stews. The juices are used to make syrups and sweeteners.
Geese (Gänse) considered the best of poultry with apples, prunes, and bread stuffing.
Hotchpotch a meat, turnip, carrot, and cabbage
Eintopf ("onepot")

Tollatsch a sweet black pudding made with pig's blood, raisins, and sugar. Of Swedish origin, it is eaten sliced, fried, and sprinkled with sugar.
My Favorite Recipe from Mecklenburg-Vorpommern
Creamy Herring Salad
This Herring Salad recipe, aka Heringsalat, was one of Mutti's quick and easy dinner recipes that even we kids could make. My own kids love pickles, cream, and sweet and sour.  This herring recipe has it all. It's a traditional German food, especially for the Mecklenburg-Vorpommern area, that's so easy and fast. Click here for the recipe!
---
More Recipes from Mecklenburg-Vorpommern ...

---
Visit more of Germany's Regions  and States ...
---
Leave a comment about this recipe or ask a question?

Pop right over to my private Facebook group, the Kaffeeklatschers. You'll find thousands of German foodies, all eager to help and to talk about all things German, especially these yummy foods. 
Meet with us around Oma's table, pull up a chair, grab a coffee and a piece of Apfelstrudel, and enjoy the visit.

Make these Fächerkartoffeln aka Hasselback Potatoes with either regular or sweet potatoes. Make them extra crispy with cheese and breadcrumbs and you have a treat that's amazing!

Discover Oma's secret recipe for making crispy-skinned Bavarian Schweinshaxe (roasted pork knuckles). Authentic taste of Germany's traditional dish. Perfectly wunderbar.

German potato dumplings, aka Kartoffelklöße and Kartoffelknödel, invoke great memories of my Mutti's Sunday dinners. Using cooked potatoes, she created these scrumptious traditional dumplings!
*  *  *  *  *
Words to the Wise
"When people do not accept divine guidance, they run wild. But whoever obeys the law is joyful.
Proverbs 29:18  NLT