Regional Traditional German Food: Saxony Anhalt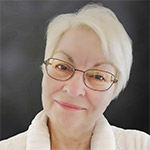 by: Gerhild Fulson  /  Cookbook Author, Blogger, German Oma!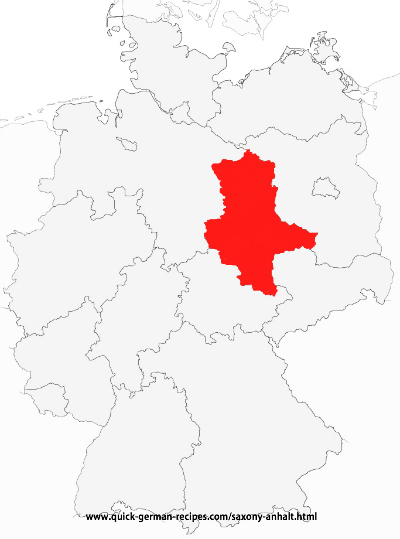 In the northeastern central part of Germany lies the federal state of Saxony-Anhalt, aka Sachsen-Anhalt. Only recently unified in 1990, this area of Germany has a long and interesting history. 
Magdeburg, in northern part, was one of the greatest Christian centers in the 10th century. Martin Luther nailed his 95 Theses to the church door in Wittenberg changing the Christian world forever.
As well, renown writers and musicians, such as Goethe, Heine, Bach, and Handel, were at home in this area of Germany.
The 3,000 km Deutsche Fachwerkstraße (German Timber-Frame Road) is a tourist route going through Saxony-Anhalt all the way to Lake Constance.
Along the route, you'll see traditional timber-framed houses as well as other impressive sights. One of those is this castle, Schloß Wernigerode, which was originally built in the 12th century.
This state is well known as an agricultural centre, with the Magdeburger Börde being the most fertile. Wheat, oats, barley, rye, and sugar beets are the most important crops.
Also grown throughout the state are onions, asparagus, apricots, and, of course, cabbage. The foods of this region is reflected by the agriculture, which includes dairy, pork, and lamb.
Klump, a yeast pastry laid over food and then baked, was so common that an old saying from Magdeburg was "Kale and Klump fill the farmer's belly." Now, potatoes are frequently used to replace the yeast pastry making this a German version of Shepherd's Pie. 
Need that "all's good with the world" feeling? Comfort food will do that. Get your copy of Oma's German favorites in her Comfort Foods e-Cookbook.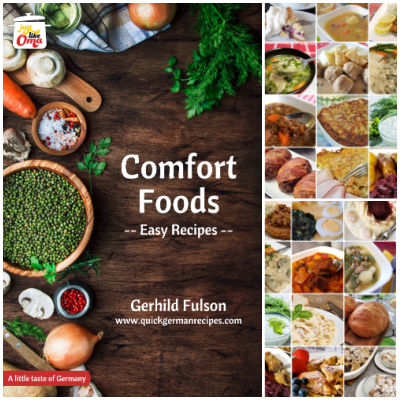 Take a peek at all Oma's eCookbooks. They make sharing your German heritage a delicious adventure!
Saxony Anhalt's Favorite Foods
Sauerkraut

, especially in combination with pork and peas in "Bötel, Lehm und Stroh" ("Wether, clay and straw" = "pork knuckle, sauerkraut, and pease pudding") 
Whitefish (Maräne) 
Wild game, such as venison, rabbit, and boar 
Tree Cake (Baumkuchen), which is baked in spiraling layers around a wooden roller, creating the characteristic year rings. Each 11-pound cake contains 40 eggs. ­The rest of the ingredients are a secret. You'll have to buy this one ready­-made. 
Cheese, especially Würchwitzer Spinnenkäse which is made by busy little mites (0.3 mm long) similar to dust mites that produce a ripe cheese in 3 months. 
Asparagus (Spargel), potatoes (Kartoffeln), pork
My Favorite Saxony Anhalt Recipe
Grünkohl Eintopf (Kale Casserole)

Kale, aka Grünkohl, features widely in dishes in this area, such as Klump, mentioned above.
I've several kale casseroles that I like to make. One's made in the oven and the other, on the stove. They are hearty and filling dishes that are reminiscent of dishes made in farm kitchens for centuries.
You'll find several other kale recipes, as well. Check them out here. 

---
More Recipes from Saxony Anhalt ...
---
Visit more of Germany's Regions  and States ...
---
---
Leave a comment about this recipe or ask a question?

Pop right over to my private Facebook group, the Kaffeeklatschers. You'll find thousands of German foodies, all eager to help and to talk about all things German, especially these yummy foods. 
Meet with us around Oma's table, pull up a chair, grab a coffee and a piece of Apfelstrudel, and enjoy the visit.

This easy German Apple Strudel recipe is one of those German desserts that brings the traditional strudel taste to your table without all the work. Wunderbar!!

Make the perfect German Spaetzle with Oma's easy recipe! This traditional German egg noodle pairs perfectly with caramelized onions for a delicious meal.

Choose from Oma's cookbooks that are immediately downloadable & start cooking easy classic German foods tonight. Or get her newest paperback cookbook. LECKER!
*  *  *  *  *
Words to the Wise
"When the wicked are in authority, sin flourishes, but the godly will live to see their downfall."
Proverbs 29:16  NLT