Saxony Anhalt ~ Regional Food
➤ by Oma Gerhild Fulson
FTC Disclosure: Making a purchase via a link on the page? I may earn a small commission on the transaction - at no added cost to you. Thanks!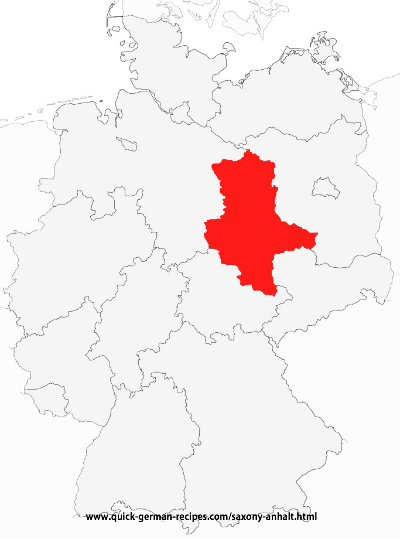 In the northeastern central part of Germany lies the federal state of Saxony­-Anhalt, aka Sachsen­-Anhalt. Only recently unified in 1990, this area of Germany has a long and interesting history. 
Magdeburg, in northern part, was one of the greatest Christian centers in the 10th century. Martin Luther nailed his 95 Theses to the church door in Wittenberg changing the Christian world forever. As well, renown writers and musicians, such as Goethe, Heine, Bach, and Handel, were at home in this area of Germany.
The 3,000 km Deutsche Fachwerkstraße (German Timber-Frame Road) is a tourist route going through Saxony-Anhalt all the way to Lake Constance. Along the route, you'll see traditional timber-framed houses as well as other impressive sights. One of those is this castle, Schloß Wernigerode, which was originally built in the 12th century.
This state is well known as an agricultural centre, with the Magdeburger Börde being the most fertile. Wheat, oats, barley, rye, and sugar beets are the most important crops. Also grown throughout the state are onions, asparagus, apricots, and, of course, cabbage. The foods of this region is reflected by the agriculture, which includes dairy, pork, and lamb.
Klump, a yeast pastry laid over food and then baked, was so common that an old saying from Magdeburg was "Kale and Klump fill the farmer's belly." Now, potatoes are frequently used to replace the yeast pastry making this a German version of Shepherd's Pie. 

Saxony Anhalt's Favorite Foods
Sauerkraut

, especially in combination with pork and peas in "Bötel, Lehm und Stroh" ("Wether, clay and straw" = "pork knuckle, sauerkraut, and pease pudding") 
Whitefish (Maräne) 
Wild game, such as venison, rabbit, and boar 
Tree Cake (Baumkuchen), which is baked in spiraling layers around a wooden roller, creating the characteristic year rings. Each 11-pound cake contains 40 eggs. ­The rest of the ingredients are a secret. You'll have to buy this one ready­-made. 
Cheese, especially Würchwitzer Spinnenkäse which is made by busy little mites (0.3 mm long) similar to dust mites that produce a ripe cheese in 3 months. 
Asparagus (Spargel), potatoes (Kartoffeln), pork
My Favorite Saxony Anhalt Recipe
Grünkohl Eintopf (Kale Casserole)

Kale, aka Grünkohl, features widely in dishes in this area, such as Klump, mentioned above.
I've several kale casseroles that I like to make. One's made in the oven and the other, on the stove. They are hearty and filling dishes that are reminiscent of dishes made in farm kitchens for centuries.
You'll find several other kale recipes, as well. Check them out here. 

---
More Recipes from Saxony Anhalt ...
---
Visit more of Germany's Regions  and States ...
Try some regional German food for your next dinner party! Spread your culture and enjoy learning about some other areas of German cooking.
Germany is divided into 16 federal states in Germany, each one unique in its history and cuisine.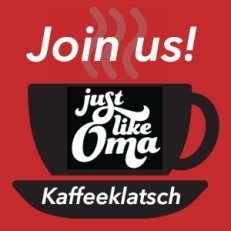 Let's travel to each one and see what's different.

Ready?
You'll need to join my Kaffeeklatsch to see more info, extra recipes, and special tips from me, Oma Gerhild!
---
---
Leave a comment about this recipe or ask a question?
Pop right over to my private Facebook group, the Kaffeeklatschers. You'll find thousands of German foodies, all eager to help and to talk about all things German, especially these yummy foods. 
I pop in all the time as well, to chat and to answer questions. 
Meet with us around Oma's table, pull up a chair, grab a coffee and a piece of Apfelstrudel, and enjoy the visit.
*  *  *  *  *
Thinking of starting your own Handmade Business?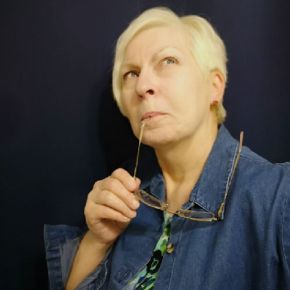 This Oma KNOWS you CAN do it.
How do I know?
Well, if I can do it, anyone can.
I've even figured out how I can help you.
I've teamed up with my own business coach, Renae Christine (yes, do google her!), to bring you this free masterclass. After you watch it, ask me any questions and I'll gladly answer them.
Don't hesitate. I'm not sure how long Renae will keep this free masterclass available.
PS:  Yes, Renae really is as amazing as all the reviews say.
PPS: Yes, the course is for handmade items, but I've used it successfully for my cookbooks. I know others are using her methods for services, direct sales, and even a local ice cream bar & grill that's constantly selling out. You've nothing to lose by taking a look ... and a whole bunch to gain.
*  *  *  *  *
Oma's Cookbooks (downloadable & print)
*  *  *  *  *
Want nutritional information for a recipe?
Copy and paste the ingredient list and the number of servings into Calorie Count. 
It will give you an approximate calculation.

Need help doing conversions
between cups and grams or any such thing?
Use this site to give you all the different conversions for the different types of ingredients. 
---
---
Try this slow cooker roast beef and you'll be amazed at how much this tastes like rouladen WITHOUT the work.

Learn how to cook pork hocks, anytime you want something traditionally German and wonderfully delicious! A hearty meal for any time of the year!
---
Words to the Wise
"When the wicked are in authority, sin flourishes, but the godly will live to see their downfall."
Proverbs 29:16  NLT