Dinner Menu Ideas
➤ by Oma Gerhild Fulson
FTC Disclosure: Making a purchase via a link on the page? I may earn a small commission on the transaction - at no added cost to you. Thanks!
These dinner menu ideas will make your German menu planning so much easier. Choose between a quick meal or a special company dinner.

---
Quick Dinner Ideas
In a hurry? Try these quick dinner menu ideas when time is limited:
Green Bean Soup Dinner
This easy German soup is my emergency dinner, because there are so many different variations I can make. Just changing the meat or the vegetables creates an entirely different meal.
I always keep the ingredients on hand, so dinner can be on the table in about 20 minutes. Making a large pot of soup also provides leftovers for the next day. A win-win situation.
And for dessert? Make this traditional frozen fruit dessert called Eis und Heiss -- a sauce made from frozen fruit and served hot over ice cream.
Green Bean Soup
---
Breaded Pork Chop Dinner
Breaded Pork Chops
German Schnitzel is so traditional. However, for my family of five to make the schnitzel was awkward because it was hard to cook that many "large" (flattened) chops.
Instead, our favorite were these breaded pork chops. With practice, this meal could be thrown together in about 30 minutes.
First make the chops and once they're cooking, get the potatoes cooking. Cut the scrubbed potatoes into chunks, cover with boiling water (put the kettle on earlier), add 1/2 tsp. salt, and bring to boil. Boil gently for about 15 - 20 minutes.
While that's all cooking, put frozen veggies into pot, barely cover with boiling water (from that kettle), and gently simmer about 4 - 6 minutes.
German dinner's ready! Enjoy!
| | |
| --- | --- |
| | Serve some fresh fruit for dessert |
---
Company Dinner Menu Ideas
Company's coming! What to make? Something special!
Here are some of the dinner menu ideas that I often use for guests. Sometimes, actually many times, these are also special meals for the family. Usually reserved for Sunday dinners and family get-togethers, these are delightful ways to share our German heritage.
These meals take a bit more planning, but I always try to find quicker and easier ways to make the traditional German recipes. Rouladen are an example. Only for very special will I make them.
However, Flatladen are a rouladen alternative. Same great taste, just more economical, quicker, and easier.
Rouladen Dinner
Beef Rouladen
This is the quintessential traditional German meal! So delicious and so special. Rouladen take time, so I often make them the night before I need them and just reheat them the next day.
This is usually served with potato dumplings and red cabbage as the side dish. Carrots make a nice extra side.
In Germany, desserts are often just puddings, ice cream, or fruit. However, when I serve a German-style dinner to guests, they seem to expect a German torte for dessert. And what's more traditional than German Black Forest Cake?
---
Flatladen Dinner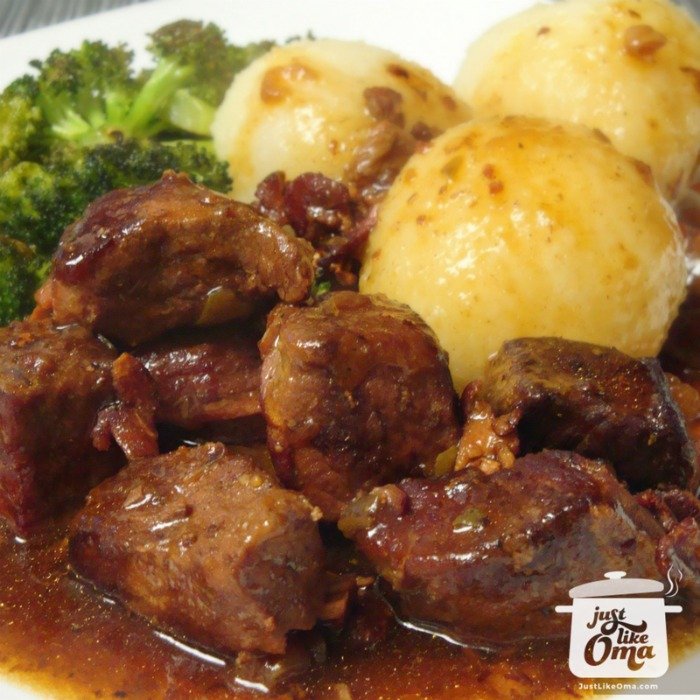 Beef Flatladen
Just as special, only quick and easy. Flatladen are my variation on Rouladen and have found their way to my weekday dinner menu ideas as well. Served with red cabbage (naturally), sometimes made with jarred red cabbage, and boiled potatoes.
Dessert? Well, an easy version of Black Forest Cake rounds out this quicker and easier German dinner.
Want a different side dish? Try Brussels sprouts.The easy recipe below makes this healthy vegetable a real treat.
This flatladen meal takes a lot less time to prepare than the rouladen meal above. Just as tasty? We think so.
*  *  *  *  *
Thinking of starting your own Handmade Business?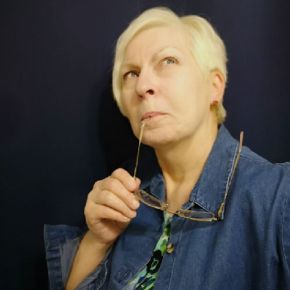 This Oma KNOWS you CAN do it.
How do I know?
Well, if I can do it, anyone can.
I've even figured out how I can help you.
I've teamed up with my own business coach, Renae Christine (yes, do google her!), to bring you this free masterclass. After you watch it, ask me any questions and I'll gladly answer them.
Don't hesitate. I'm not sure how long Renae will keep this free masterclass available.
PS:  Yes, Renae really is as amazing as all the reviews say.
PPS: Yes, the course is for handmade items, but I've used it successfully for my cookbooks. I know others are using her methods for services, direct sales, and even a local ice cream bar & grill that's constantly selling out. You've nothing to lose by taking a look ... and a whole bunch to gain.
*  *  *  *  *
Oma's Cookbooks (downloadable & print)
*  *  *  *  *
Want nutritional information for a recipe?
Copy and paste the ingredient list and the number of servings into Calorie Count. 
It will give you an approximate calculation.

Need help doing conversions
between cups and grams or any such thing?
Use this site to give you all the different conversions for the different types of ingredients. 
---
---
Words to the Wise
"Discretion is a life-giving fountain to those who posses it, but discipline is wasted on fools."
Proverbs 16:22 (NLT)