German Dinner Menu Ideas Made Just Like Oma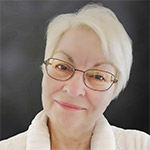 by: Gerhild Fulson  /  Cookbook Author, Blogger, German Oma!
These dinner menu ideas will make your German menu planning so much easier. Choose between a quick meal or a special company dinner.

---
Quick Dinner Ideas
In a hurry? Try these quick dinner menu ideas when time is limited:
Green Bean Soup Dinner
This easy German soup is my emergency dinner, because there are so many different variations I can make. Just changing the meat or the vegetables creates an entirely different meal.
I always keep the ingredients on hand, so dinner can be on the table in about 20 minutes. Making a large pot of soup also provides leftovers for the next day. A win-win situation.
And for dessert? Make this traditional frozen fruit dessert called Eis und Heiss -- a sauce made from frozen fruit and served hot over ice cream.
---
Breaded Pork Chop Dinner
German Schnitzel is so traditional. However, for my family of five to make the schnitzel was awkward because it was hard to cook that many "large" (flattened) chops.
Instead, our favorite were these breaded pork chops. With practice, this meal could be thrown together in about 30 minutes.
When it's time for dinner, get traditional with Oma's favorite combinations. Get her collection in Oma's German Dinners, which include salads, soups, entrees, and desserts!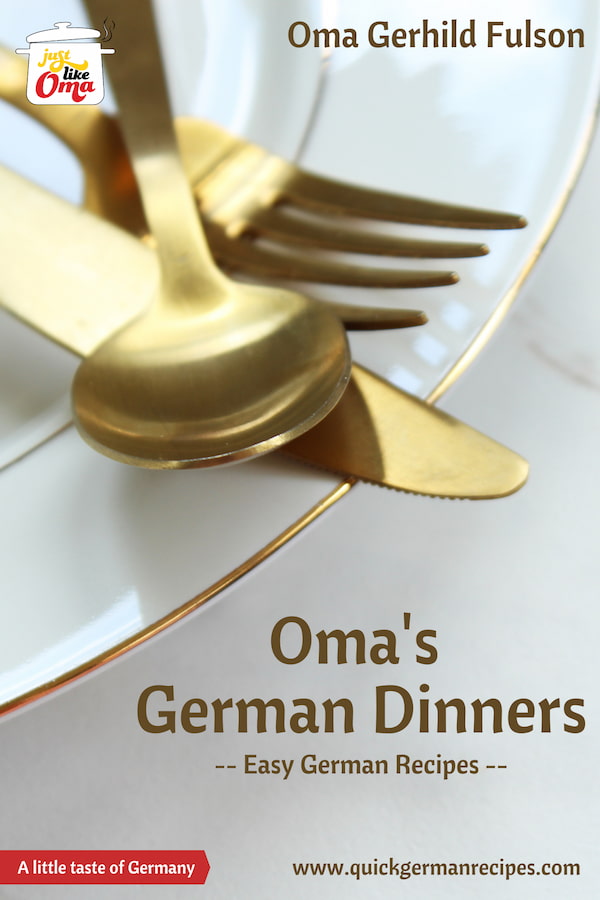 Take a peek at all Oma's eCookbooks. They make sharing your German heritage a delicious adventure!

First make the chops and once they're cooking, get the potatoes cooking. Cut the scrubbed potatoes into chunks, cover with boiling water (put the kettle on earlier), add 1/2 tsp. salt, and bring to boil. Boil gently for about 15 - 20 minutes.
While that's all cooking, put frozen veggies into pot, barely cover with boiling water (from that kettle), and gently simmer about 4 - 6 minutes.
German dinner's ready! Enjoy!
| | |
| --- | --- |
| | Serve some fresh fruit for dessert |
---
Company Dinner Menu Ideas
Company's coming! What to make? Something special!
Here are some of the dinner menu ideas that I often use for guests. Sometimes, actually many times, these are also special meals for the family. Usually reserved for Sunday dinners and family get-togethers, these are delightful ways to share our German heritage.
These meals take a bit more planning, but I always try to find quicker and easier ways to make the traditional German recipes. Rouladen are an example. Only for very special will I make them.
However, Flatladen are a rouladen alternative. Same great taste, just more economical, quicker, and easier.
Rouladen Dinner
This is the quintessential traditional German meal! So delicious and so special. Rouladen take time, so I often make them the night before I need them and just reheat them the next day.
This is usually served with potato dumplings and red cabbage as the side dish. Carrots make a nice extra side.
In Germany, desserts are often just puddings, ice cream, or fruit. However, when I serve a German-style dinner to guests, they seem to expect a German torte for dessert. And what's more traditional than German Black Forest Cake?
---
Flatladen Dinner
Just as special, only quick and easy. Flatladen are my variation on Rouladen and have found their way to my weekday dinner menu ideas as well. Served with red cabbage (naturally), sometimes made with jarred red cabbage, and boiled potatoes.
Dessert? Well, an easy version of Black Forest Cake rounds out this quicker and easier German dinner.
Want a different side dish? Try Brussels sprouts.The easy recipe below makes this healthy vegetable a real treat.
This flatladen meal takes a lot less time to prepare than the rouladen meal above. Just as tasty? We think so.
Leave a comment about this recipe or ask a question?

Pop right over to my private Facebook group, the Kaffeeklatschers. You'll find thousands of German foodies, all eager to help and to talk about all things German, especially these yummy foods. 
Meet with us around Oma's table, pull up a chair, grab a coffee and a piece of Apfelstrudel, and enjoy the visit.

Make the perfect German Spaetzle with Oma's easy recipe! This traditional German egg noodle pairs perfectly with caramelized onions for a delicious meal.

Discover the ultimate German schnitzel recipe with Oma's quick, easy, and delicious pork version - perfect for any occasion! Taste the authentic flavors of Germany today.

This easy German Apple Strudel recipe is one of those German desserts that brings the traditional strudel taste to your table without all the work. Wunderbar!!
*  *  *  *  *
Words to the Wise
"Discretion is a life-giving fountain to those who posses it, but discipline is wasted on fools."
Proverbs 16:22 (NLT)