German Sauerbraten Recipe
Yum
Here's the Sauerbraten recipe that comes from my Mutti's own handwritten cookbook. Her recipes are special to me. Full of wonderful memories, especially sitting in the dining room, enjoying these delicious feasts. This beef dinner is one of those. The meat is so tender and flavorful. And, it's so easy to make, especially using a slow cooker. It's a traditional German dinner and still is a favorite.
I love using my new Cuisinart Slow Cooker!
With a 24-hour timer and an automatic Keep Warm feature, I LOVE this!

---
For another version, try Jodie's German Sauerbraten Recipe that's posted below my Mutti's. 

German Sauerbraten Recipe
Ingredients:
4 lbs beef (chuck, rump, or round)
salt, pepper
1 cup red wine vinegar

1 cup red wine
4 bay leaves
2 onions, sliced
12 peppercorns
4 whole cloves
bacon fat, butter, or oil for browning
2 carrots, sliced
1 rib celery, sliced
2 tbsp corn starch
1 cup sour cream (optional)
Instructions:Hints:
Can be cooked

in SLOW COOKER. Will take about 7 - 8 hours on low. (Check your slow cookers' manual)

For a 'spicier' taste, remove meat from marinade the night before cooking and cover all sides thickly with mustard. Cover and continue the following day with above instructions.
Jodie's German Sauerbraten Recipe

Here's JoSele Swopes (Albuquerque, NM USA) recipe that she submitted to our 2012 Quick Christmas Contest. 
Ingredients:
1 c port wine 
1/2 c apple cider vinegar 
1/2 c red wine, dry burgundy 
2 md onions, yellow, medium sliced 
1 lg carrot, sliced 
1 md celery stalk sliced 
4 sprig(s) parsley 
1 md bay leaf 
2 clove allspice, whole 
4 clove cloves, whole 
1 Tbsp sea salt 
1 Tbsp pepper 
4 lb beef rump roast 
1/3 c canola oil 
8 Tbsp flour 
1 Tbsp sugar 
1/2 c ginger snaps (crushed) 
Instructions:
In a large plastic tub with a lid: Wipe meat with a damp cloth. Place the roast in bowl and prepare marinade to be poured into the same bowl. 
Prepare the first 10 ingredients mix together and pour over the meat. put lid on good and tight so no air can get to it. Place in a cool place and marinade for three days, turning the meat 2 to 3 times a day. 
On the third day, (day of the meal) remove the meat from the marinade and wipe it dry. Heat marinade in small pan. Heat dutch oven slowly, add cooking oil. Dredge the roast in the 2 Tbsp flour, salt and pepper mixture. Brown well, add in marinade, cover and simmer for 2 1/2 to 3 hours. 
Strain Marinade and skim the fat, measure 3 1/2 Cups of the marinade into a pan and heat. In a small jar measure 1/2 cup water, the rest of the flour and sugar, place lid and shake till there are no lumps, slowly pour into marinade stirring all the while, bring to a boil, add crushed ginger snaps to the marinade, bring back to a boil stirring constantly. 
Strain marinade through cheese cloth so that it is smooth. Pour over meat and simmer 20 minutes covered. Remove from heat slice roast, serve with potato dumpling use the gravy you made from the marinade over the meat and dumplings. Fantastic!
---
Sauerbraten is so easy to make, but it's not quick ... takes time to marinate and to cook. It just means that you need to do some planning to allow several days for the marinating to take place. But, it's SO good and SO worth the time.
Sauerbraten Tips ...

The results are worth the time. The marinating time is anywhere from three to five days. During this time, all you need to do is turn the meat once or twice in the marinade.
Once you're ready to cook the meat, you have a choice of doing it on the stove top or in the slow cooker.
Personally, I like using the slow cooker since it's something I can leave on the counter and go shopping. You still need to go through the browning of the meat. Then just put the vegetables and broth (or water) in the slow cooker, along with the meat.
JoSele Swopes of Albuquerque, NM sent in the above recipe for our 2012 Quick Christmas Recipe Contest.
Although not the winner of the contest, this sauerbraten recipe is still a winner in our eyes :)
More Beef Recipes
---
More German recipes ...
---
*  *  *  *  *

Want nutritional information for a recipe? Copy and paste the ingredient list and the number of servings into Calorie Count. It will give you an approximate calculation.
---
---
---
Get your FREE poster ... Herbs & Spices in the German Kitchen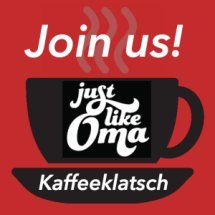 by Subscribing to my FREE Newsletter ...

Just like Oma ~  Kaffeeklatsch*
*Kaffeeklatsch: /ˈkafeːˌklatsh / (noun) an informal gathering for coffee and chatting
Experience Germany: food, people, country, & RECIPES!

---
---
---
German Recipes

›
Meats
› Sauerbraten
Words to the Wise
"Wisdom is enshrined in an understanding heart; wisdom is not found among fools."
Proverbs 14:33 (NLT)