Mutti's German Meatballs

Yum
Mutti's German meatballs, aka Königsberger Klopse mit Hollandische Sosse, were just a bit different! Even though this is a very, very traditional German comfort food, and very, very easy to make, Mutti's version spoiled me. That's why it's the only way I'll make them as well. Well, I did play around with it a bit to make it more traditional, but it's still so similar.
I'll give you both versions. Mutti's is first and then mine. Mutti's is a real quick German recipe!

---
1. Mutti's German Meatballs
"Königsberger Klopse mit Hollandische Sosse"
Ingredients:
about 1 - 1 1/2 lbs cooked, frozen meatballs 
2 cups water
1 tsp Vegeta Seasoning or 1/2 tsp salt
freshly ground pepper
1 bay leaf
3 tbsp butter
2 tbsp flour
1 tsp prepared mustard
1 egg yolk
3 tbsp capers (optional)
Instructions:
Put frozen meatballs into pot, add water, Vegeta, freshly ground pepper, and bay leaf.
Bring to boil, lower heat, cover, and simmer for about 15 - 20 minutes. Meatballs should be hot inside.
Drain meatballs, reserving liquid. Cover meatballs to keep hot.
Melt butter in fry pan. Add flour and stir well. (Do not brown flour)
Add reserved liquid, stirring well. Cook, stirring constantly, until thickened.
Remove from heat. Add some of the sauce into the egg yolk (in a small bowl). Stir and return to sauce in fry pan. Simmer about 2 minutes, adding a bit of water if necessary if too thick.
Add capers and mustard. Season with salt and pepper.
Return meatballs to sauce, stir.
Serve with boiled potatoes and salad.
Hints:
For a richer sauce, when adding reserved liquid to butter/flour mixture, only add 1 cup of liquid. Also add 1 cup of either 10% or 18% cream. If finished sauce is too thick, use remaining reserved liquid to thin rather than water.
2. My German Meatballs
"Königsberger Klopse mit Hollandische Sosse"
Ingredients for Meatballs:
1 lb. lean ground beef
1 lb. lean ground pork
2 eggs
1 small onion, finely diced
1/2 cup breadcrumbs
1 1/2 tsp salt
1/2 tsp pepper
Instructions for Meatballs:
In a large bowl, gently mix all ingredients.
Shape into golf-ball sized meatballs. Makes about 24.
Ingredients for "Königsberger Klopse mit Hollandische Sosse":
2 lbs uncooked meatballs
6 cups chicken stock (or use water and bouillon cubes)
1 bay leaf
1/2 tsp black peppercorns
4 tbsp flour
3 tbsp cider vinegar
1 tbsp lemon juice
2 tbsp capers (optional)
1 cup sour cream (optional)
salt and pepper
Instructions:
Bring stock to boil. Add bay leaf and peppercorns.
Gently add uncooked meatballs and lower heat to a simmer. Gently simmer for about 15 minutes or until meatballs are cooked through.
Remove meatballs to a bowl and cover to keep warm.
Discard bay leaf from stock.
Return sauce (stock) to simmer. Mix flour with a bit of cold water to make a slurry and add to sauce, stirring until thickened (about 5 minutes.)
Stir in cider vinegar and lemon juice.
Add capers. 
Remove from heat and add sour cream (if using) and season with salt and pepper.
Return meatballs to sauce and return to heat if needed (do not bring to boil if you added sour cream.)
Serves 4.
---
The classic recipe ...
Königsberger Klopse mit Hollandische Sosse is a real classic German dish. 
Normally this recipe uses equal parts beef, pork, and veal.
Anchovy paste or sardines is also included in the meat mixture. Mutti and I both omit this. In fact, I have trouble imagining that in here, but some people always include it.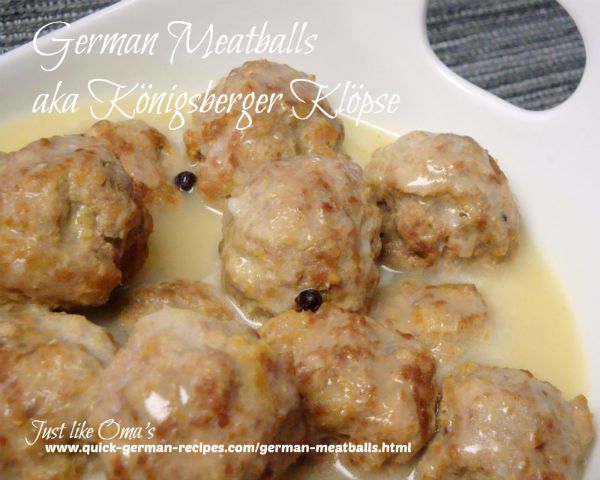 The recipes above may not be the Hollandaise sauce that you're used to, but it's the way my Mutti taught it to me. And, we LOVE it!
Mutti also didn't include the capers in the sauce, so I rarely put them in. Since I like quick, I usually use my own cooked frozen meatballs (check out my recipe on "how to make meatballs") or I buy them already cooked and frozen.
Along with my very non-German spaghetti and meatballs, I think this is one of my best meatball recipe.
I do like to use my own frozen meatballs when making this, as it makes this dish go so fast. Served over boiled potatoes, it brings back wonderful memories of Mutti's kitchen :)
More German Beef Recipes
---
More German recipes ...
---
*  *  *  *  *

Want nutritional information for a recipe? Copy and paste the ingredient list and the number of servings into Calorie Count. It will give you an approximate calculation.
---
---
---
Get your FREE poster ... Herbs & Spices in the German Kitchen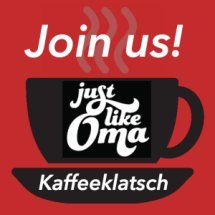 by Subscribing to my FREE Newsletter ...

Just like Oma ~  Kaffeeklatsch*
*Kaffeeklatsch: /ˈkafeːˌklatsh / (noun) an informal gathering for coffee and chatting
Experience Germany: food, people, country, & RECIPES!

---
---
---
German Recipes

›
Meats
› German Meatballs
Words to the Wise
"How much better to get wisdom than gold, and good judgment than silver."
Proverbs 16:16 (NLT)