Oma's Caramel Apple Galette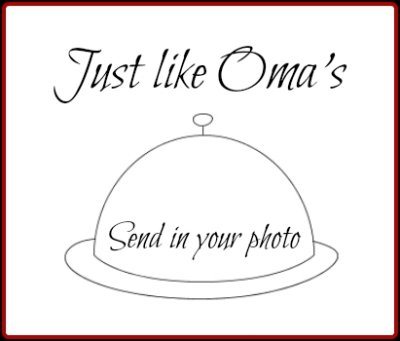 This Caramel Apple Galette is such a quick and delicious dessert. 
Using frozen puff pastry makes this so easy. 
German? Not at all. (It does taste like Apple Strudel.)
But it is quick and delicious.
That's how it finds its way onto Oma's Quickies Page. A page of goodies that aren't necessarily German, but ones that I enjoy.
I used the recipe given on the box of President's Choice Butter Puff Pastry as my starting point. Then I altered it after discovering my daughter-in-love, Sylvie, loved caramel.
I needed a dessert for her birthday, and this Caramel Apple "pie" was it. It became Karamell-Apfel Blätterteig! German? NO. Delicious? YES!
---
Oma's Caramel Apple Galette
Ingredients:
1/2 lb frozen puff pastry, thawed (1 sheet)
2 tbsp butter, melted
8 unwrapped caramels
1 tbsp granulated sugar
1 tbsp lemon juice
1/2 tsp cinnamon
2 large apples, peeled and thinly sliced
1 egg
1 tsp granulated sugar
Instructions:
Preheat oven 375° F.
Line cookie sheet with baking parchment paper.
Roll puff pastry out into a 10" square and put on cookie sheet.
Cut the caramels into quarters.
Mix together the melted butter, 1 tbsp sugar, lemon juice, and cinnamon. Add apple slices and mix gently.
Pile the apple filling in the center of the puff pastry leaving 2" around the edge free. Sprinkle apples with the caramel pieces.
Pull up the outside edge of the pastry, over the outer edge of the apples, leaving the center part uncovered, folding the pastry as needed (See video).
Beat the egg. Brush it on the pastry. Sprinkle with 1 tsp. sugar.
Bake 25 - 30 minutes, until the apples are soft and the pastry is golden.
Serve warm or cold. Serves 4-6.
HInts:
If you wish, you can omit the caramels.
Topping the galette with sliced almonds would be really nice.
---
How to make this galette ...
If you've got some apples and are looking for recipes with apples, try this one. I think you'll agree with my family that this dessert is "tops!"

"Galette" is a French term for a flat, round, or free-form tart.
Instead of the usual pie crust, the filling, and then a topping of pie crust, the pastry is rolled out, the filling put in, and the edge is just folded over the outside part of the tart.
I've made this before using a regular pie crust, but using frozen puff pastry that's been thawed is super easy and the resulting galette is DELICIOUS!
That's what makes this such an easy apple caramel pie recipe.
Easy dough. 
Easy shaping.
Easily among the best easy apple recipes!
---
German Cakes with Fruit
---
More German Recipes ...
---
*  *  *  *  *

Want nutritional information for a recipe? Copy and paste the ingredient list and the number of servings into Calorie Count. It will give you an approximate calculation.
---
---
---
Get your FREE poster ... Herbs & Spices in the German Kitchen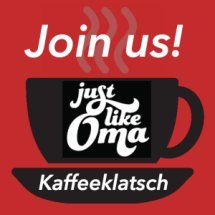 by Subscribing to my FREE Newsletter ...

Just like Oma ~  Kaffeeklatsch*
*Kaffeeklatsch: /ˈkafeːˌklatsh / (noun) an informal gathering for coffee and chatting
Experience Germany: food, people, country, & RECIPES!

---
---
---
German Recipes

›
Oma's Quickies
› Caramel Apple Galette
Words to the Wise
"There are 'friends' who destroy each other, but a real friend stickes closer than a brother."
Proverbs 18:24 (NLT)