Mutti's Herring Salad Recipe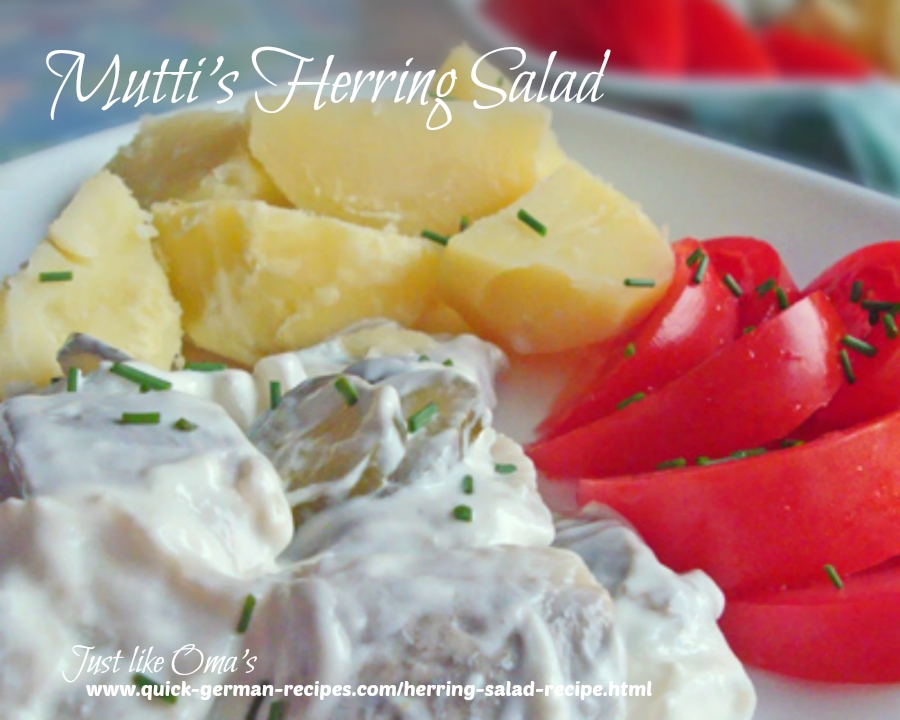 Yum
This Herring Salad recipe, aka Heringsalat, is one of Mutti's quick and easy dinner recipes that even we kids could make. My own kids love pickles, cream, and sweet and sour.  This herring recipe has it all. It's a traditional German food that's so easy and fast.
If you're looking for quick German appetizer recipes, just follow the recipe below for the herring salad. Serve it with crackers or crusty bread.

---
Mutti's German Herring Salad Recipe
Ingredients:
1 jar (about 500 ml) herring, drained (see hints below)

1/2 cup sour cream

3 - 4 dill pickles, sliced (optional)

fresh dill (optional)

Instructions:
Herring should be in bite-sized pieces

Stir in the sour cream. Add more if needed

Add the dill pickle slices and stir

Serve immediately or refrigerate until needed

Serves 2 - 3

Hints
Add some sliced pickled beets for color

I use "Herring Fillets in Wine Marinade"

Use low fat sour cream or plain yogurt
Sprinkle with fresh dill
---
Herring Salad Tips
Use pickled herring that you get in jars. Drain well, keeping the onions with the herring.
Mix with the sour cream, add pickles if you wish, and that's it.
Remember to always keep a jar of pickled herring in the fridge for those really busy days when you need a quick dinner idea or as part of your quick and easy appetizer recipes. 
Fast, easy, delicious, and very traditional, why not try it for supper tonight!
Quick Dinner Idea ...
If you want to turn this into a quick lunch or dinner, then serve it with potatoes. For our family that's all it takes. Herring salad and potatoes -- that's all.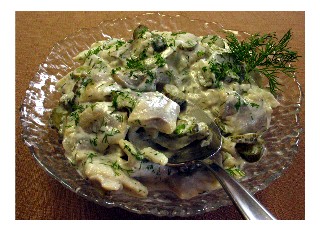 Especially useful after a day at work and shopping and in need of something delicious and quick.

First I'd put the potatoes on to boil.
Even faster, though, I'd do them in the microwave. Using new potatoes was best.
While they were cooking, the salad would be started and finished. A super supper ready in almost no time at all. 
---
More Salad Recipes
---
More German recipes ...
---
*  *  *  *  *

Want nutritional information for a recipe? Copy and paste the ingredient list and the number of servings into Calorie Count. It will give you an approximate calculation.
---
---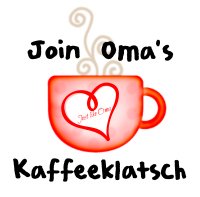 Get your FREE chart ...
"Herbs & Spices in the German Kitchen" 
by Subscribing to my FREE Newsletter ...
*Kaffeeklatsch: /ˈkafeːˌklatsh / (noun) an informal gathering for coffee and chatting
Experience Germany: food, people, country, & RECIPES!

---
---
---
German Recipes

›
Fish Recipes
› Herring Salad
German Recipes

›
Salads
› Herring Salad
Words to the Wise
"From a wise mind comes wise speech; the words of the wise are persuasive."
Proverbs 16:23 (NLT)