Hazelnut Torte Recipe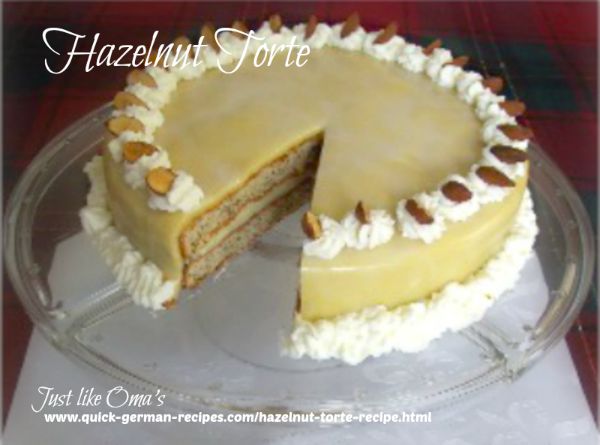 Yum
 This Hazelnut Torte Recipe was my Mutti's favorite. Special, yet very easy to make. We all loved it, especially when it had marzipan frosting. Then "special" became "extra special." It has no butter, no oil, and very little flour. The resulting cake is very light, yet very delicious. The main ingredient? Hazelnuts.
This torte can be filled with whipped cream or just iced with chocolate and served with whipped cream. Now, that's quick and easy! Haselnusstorte ... make it your special cake as well. Wunderbar!

---
German Hazelnut Torte Recipe
Ingredients:
Cake
5 eggs, separated
1/2 cup granulated sugar
1 cup ground hazelnuts
3 tbsp flour, all-purpose
1/4 tsp almond flavoring
Filling
2 tbsp cornstarch
2 tbsp granulated sugar
2/3 cup milk
2 egg yolks
1 tsp vanilla flavoring
Frosting
7 oz almond paste
1 cup icing sugar, sifted
3 - 5 tbsp lemon juice
nuts and/or whipped cream to decorate
Instructions:
Cake
Preheat oven to 375° F.
Grease 8-inch springform pan. (If not available, use 2 8-inch cake pans and grease and flour them.)
Beat egg yolks and sugar in large mixer bowl until pale and creamy.
Fold in hazelnuts, flour, and almond flavoring.
Beat egg whites until stiff and fold into egg yolk mixture.
Spread batter gently in prepared pan(s).
Bake springform pan about 40 minutes, (bake 2 8-inch cake pans about 20 minutes), or until wooden pick inserted in center comes out clean. Cool thoroughly, even overnight, on rack.
Filling
Blend cornstarch, sugar, a little milk and egg yolks. Bring remaining milk to boil. Stir hot milk and vanilla into cornstarch mixture.
Return to heat and bring back to boil. Cook a few seconds, stirring constantly, until thickened.
Cool, stirring frequently.
To Assemble Cake:
If springform was used, cut cake into 2 layers. (If used 8-inch cake pans, use both layers.)
Spread 1 layer with filling.
Top with second layer.
Knead almond paste to soften. On a surface sprinkled with icing sugar, roll out almond paste to a round large enough to cover top and sides of cake (about 14-inch diameter)
Press onto cake.
Blend icing sugar with enough lemon juice to give a coating consistency.
Spread over cake and decorate as shown.
Hints:
To decorate with whipped cream as shown, 1/2 cup whipping cream plus 2 tsp. icing sugar were whipped and piped onto cake.
Use roasted almonds or walnuts to decorate.
---
More tips ...
To make it extra special for Christmas or birthdays, fill with the "custard" filling and cover with marzipan as shown in the photos. "Heavenly!"
If you do plan to fill it, let it cool thoroughly - even overnight. This could just become your best cake recipe as well!
This Hazelnut Cake recipe was one Mutti often made for guests. Easy German recipes were among her specially noted recipes in her own handwritten cookbook. She was a busy lady, but took extra care to have everything extra special when company came.
Because nuts were expensive, Mutti would often buy them in the shell in bulk.
Then, my sisters and I would sit there for what seemed like hours and shell them.
Mutti would grind them in her coffee grinder. This German hazelnut cake was the stunning result.
Some More German Cakes
---
More German Recipes ...
---
*  *  *  *  *

Want nutritional information for a recipe? Copy and paste the ingredient list and the number of servings into Calorie Count. It will give you an approximate calculation.
---
---
---
Get your FREE poster ... Herbs & Spices in the German Kitchen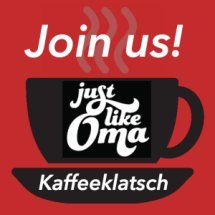 by Subscribing to my FREE Newsletter ...

Just like Oma ~  Kaffeeklatsch*
*Kaffeeklatsch: /ˈkafeːˌklatsh / (noun) an informal gathering for coffee and chatting
Experience Germany: food, people, country, & RECIPES!

---
---
---
German Recipes

›
Cake Recipes
› Hazelnut Cake
Words to the Wise
"The fears of the wicked will be fulfilled; the hopes of the godly will be granted."
Proverbs 10:24 (NLT)