Oma's Fried Mushroom Recipe

Yum
This fried mushroom recipe, aka Champignons mit Sahnesosse, is one of the quick vegetarian recipes that's also a great German side dish for a traditional German meal. For this recipe, you can used canned mushrooms, but fresh ones taste so much better. Use about 1 pound for 2 people because mushrooms lose so much moisture during frying that they really shrink in volume.
Loosing moisture during cooking is OK. It means that the flavour is concentrated! This method is a great way for cooking mushrooms. It's easy and so delicious.

Oma's Fried Mushroom Recipe with Cream Sauce
Ingredients:
2 lb mushrooms, cleaned
about 2 Tbsp butter/oil
⅓ cup cream
salt, pepper, fresh parsley
Instructions:
Cut mushrooms either in quarters or slice them.
Melt butter over medium heat in frying pan. Add mushrooms and fry gently for about 10 minutes, until tender.
Add cream, increase heat, and cook until reduced to a creamy sauce.
Season with salt and pepper.
Sprinkle with chopped parsley.
Serves 4.

... add some onions for this ...
Want a darker gravy with an absolutely wonderful taste?
Use the above recipe, but first, peel and slice a LARGE onion (or several smaller ones) and slowly caramelize in butter/oil. This can take about 5 - 10 minutes. Remove from pan and continue with the recipe. Return the onions to the pan just before you add the cream. You may need (or want) to add more cream to the sauce. Season and enjoy!
Preparing Mushrooms ...
Be careful when you are cleaning the mushrooms. Do not let them soak in water. They are like sponges! They'll absorb the water. If you absolutely must use water, then do so in a colander with running water. The best way to clean the mushrooms is to use a brush. You can buy a special mushroom brush to make this easier.
As with many traditional German vegetable dishes, cream is used to make the sauce. You can omit this if you really want to, but it's such a treat to include it.
In the above photo, I'm serving the fried mushrooms with meatloaf and fried onions. That together with mashed potatoes and red cabbage make it a meal fit for royalty!
More Mushroom Recipes
---
---
---
*  *  *  *  *
Want nutritional information for a recipe? Copy and paste the ingredient list and the number of servings into Calorie Count. It will give you an approximate calculation.

---
---
Get your FREE poster ... Herbs & Spices in the German Kitchen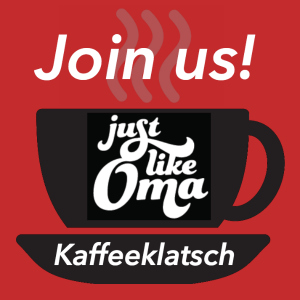 by Subscribing to my FREE Newsletter ...

Just like Oma ~  Kaffeeklatsch*
*Kaffeeklatsch: /ˈkafeːˌklatsh / (noun) an informal gathering for coffee and chatting
Experience Germany: food, people, country, & RECIPES!

---
---
---
Words to the Wise
"A proverb in the mouth of a fool is like a thorny branch brandished by a drunk."
Proverbs 26:9 (NLT)