Super Easy German Oatmeal Cookie Recipe – Oma's Haferflockenplätzchen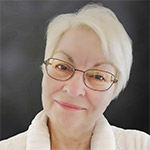 by: Gerhild Fulson  /  Cookbook Author, Blogger, German Oma!

This post may contain affiliate links, which means I'll receive a commission if you purchase through my links, at no extra cost to you. Please read full disclosure for more information.
Here's my simple Oatmeal Cookie recipe, aka Haferflockenplätzchen, that's quick to make and can easily be altered to your tastes. It really is one of the BEST Oatmeal Cookie recipe around.
As well, it's one of those easy recipes for kids to make. You just melt the butter and let them add and mix everything else. There's no mixer involved. Just get out your big bowl and big wooden spoon and let them go to it!
That's why it's such this simple oatmeal cookie recipe to include on my Quick German Recipes site!

Try adding chocolate chips, or raisins, or nuts, or M&M's. This easy oatmeal cookie recipe is such a versatile recipe and is great to have when you need some easy dessert ideas.
This used to be the recipe my Mutti would ask me to make on Saturdays, especially in the winter. The kitchen would smell so nice and the warmth from the oven made the house so cozy. The reward? Delicious oatmeal cookies for our afternoon tea.
A bit of this and a bit of that ...
Here's coffee and cookies (our 3 pm Kaffeekatsch) being served on our deck ... that's for my hubby and me!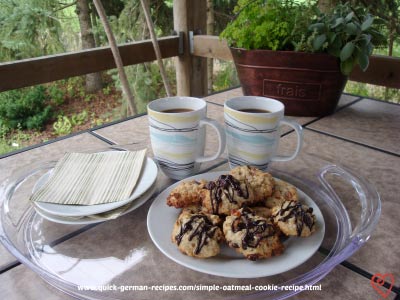 I loved changing what I added to the basic mix. Often it was just chocolate chips, but raisins were often on my list as well.
Let your kids (AND HUBBY) decide what to add. They can even separate the dough into a several batches and add different things to each batch. Even some cocoa would be interesting. Change the flavoring from vanilla to almond to rum and again - a different cookie.
To finish it off, you can drizzle some glaze on top ... that's some chocolate glaze on those cookies for hubby and me!
---
Get ready for Christmas! Grab your copy of Oma's collection of her favorites in Christmas Cookies e-Cookbook.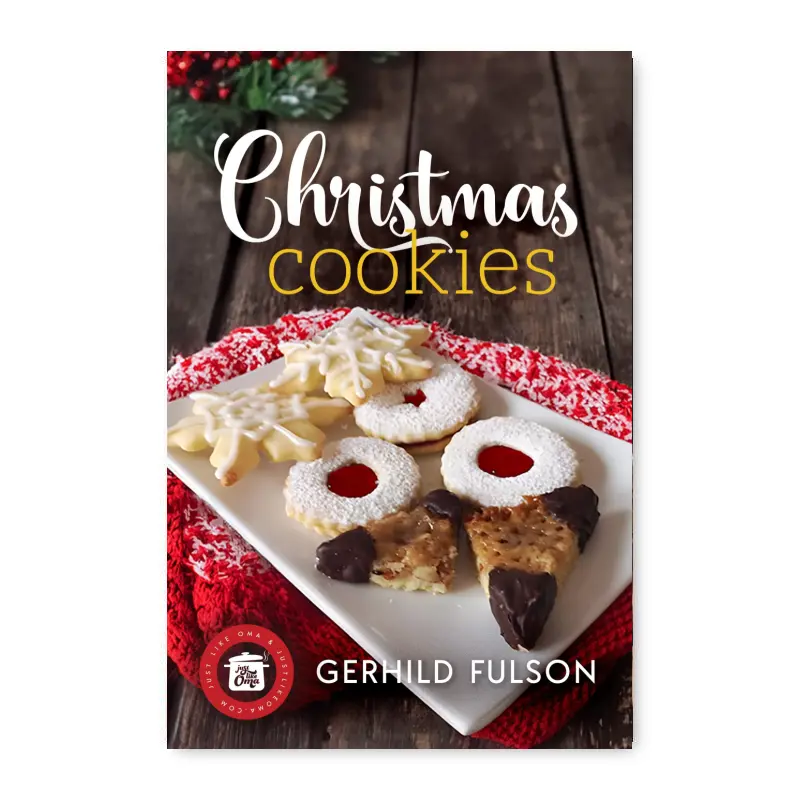 Take a peek at all Oma's eCookbooks. They make sharing your German heritage a delicious adventure!
Oma says:
You're probably looking at this recipe and thinking about all that butter. Well, it makes these cookies taste WUNDERBAR! 
I used to try to make these cookies healthier. I'd use whole wheat flour ... works good too. I'd use carob chips instead of chocolate chips. Good too. I'd try some sugar substitutes. Good too.
Now, though, I'm back to making them the way I did as a child. They are so good in the original traditional recipe ... we just limit the number we eat ... and enjoy!
---
Ready to make these oatmeal cookies?
Is the recipe below locked? Here's why.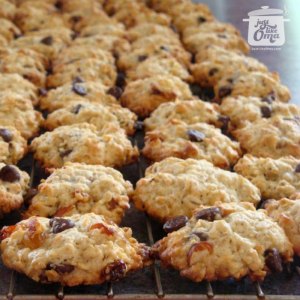 Super Easy German Oatmeal Cookie Recipe – Oma's Haferflockenplätzchen

Here's my simple Oatmeal Cookie recipe, aka Haferflockenplätzchen, that's quick to make and can easily be altered to your tastes. Your kids will love helping you decide what to add to make them extra special.

Prep Time


25 minutes


Bake Time


15 minutes


Total Time

40 minutes

Servings:

Makes about 70 - 80 cookies 
Ingredients:
1¾ cups butter, melted
5 cups old fashioned oats
2 cups granulated sugar
2 cups flour
4 teaspoons baking powder
4 large eggs
1 teaspoon flavoring (vanilla or almond, etc)
1 cup chocolate chips, nuts, raisins, etc.
Instructions:
Preheat oven to 375°F.
Put oats into large mixing bowl. Add melted butter and stir.
Add sugar and mix.
Mix baking powder and flour together and blend into oat mixture.
Mix flavoring and eggs together and blend into oat mixture.
Add chips and/or nuts/raisins and mix.
Drop by teaspoonfuls onto parchment paper lined or greased cookie sheets.
Bake about 15 minutes or until golden.
*  *  *  *  *

Unless otherwise noted recipe, images and content © Just like Oma | www.quick-german-recipes.com

Leave a comment about this recipe or ask a question?

Pop right over to my private Facebook group, the Kaffeeklatschers. You'll find thousands of German foodies, all eager to help and to talk about all things German, especially these yummy foods. 
Meet with us around Oma's table, pull up a chair, grab a coffee and a piece of Apfelstrudel, and enjoy the visit.

Cooking just like Oma, making those German meals, is actually quite easy. Let me, Oma Gerhild, help you with my step-by-step methods to re-create those yummy meals you remember from your Oma.

If you're looking for tasty, traditional, and easy German cake recipes (in English) to try, then you've come to the right place! Check out these lecker treats!

Discover the ultimate German schnitzel recipe with Oma's quick and easy method - perfect for any occasion! Taste the authentic flavors of Germany today.
*  *  *  *  *
PIN to SAVE this recipe to your Pinterest board!
And let's be friends on Pinterest!
---
Simple Oatmeal Cookie Recipe made Just like Oma


By
Oma Gerhild Fulson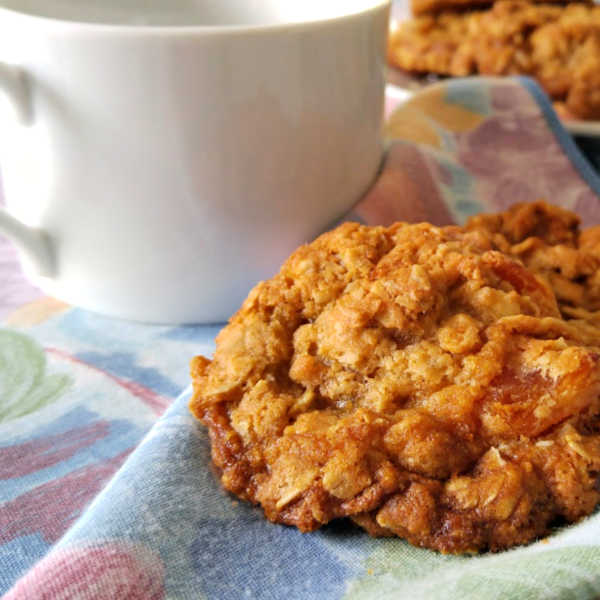 Here's a simple Oatmeal Cookie recipe that's quick to make and can easily be altered to your tastes. It really is the BEST Oatmeal Cookie recipe and your kids get to help!

Ingredients:
butter,
oats,
sugar,
flour,
baking powder,
eggs,
vanilla flavoring,
chocolate nuts, etc,
For the full recipe, scroll up ...
Make every day a day of TRIUMPH!
". . . but even greater is God's wonderful grace and His gift of righteousness, for all who receive it will live in triumph over sin and death through this one man, Jesus Christ."
Romans 5:17 (NLT)