Mutti's Räderkuchen ❤️

➤ by Oma Gerhild Fulson
FTC Disclosure: As an Amazon Associate, I earn from qualifying purchases.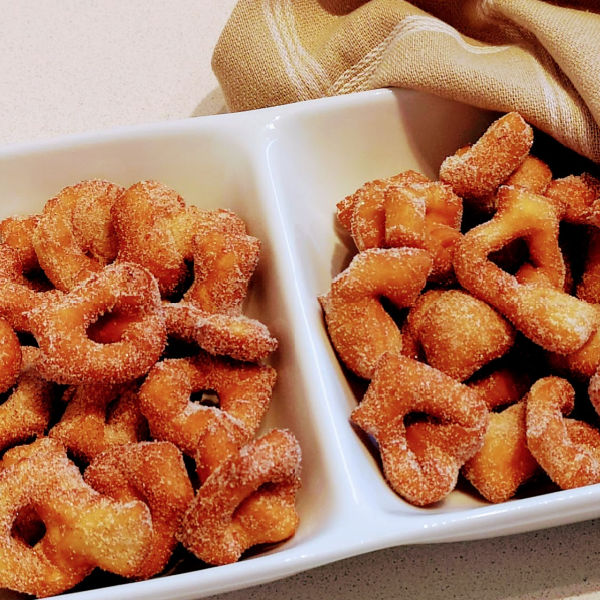 Räderkuchen, aka wheel cakes or bowties, were one of my Mutti's favorite emergency recipes. She made these especially when unexpected company dropped in. They were so quick and easy for her to make. The ingredients were always in her pantry.
Now, they fit perfectly in my quick German recipes category.
Quick, deep fried, and covered in cinnamon-sugar, these were a little taste of heaven. 
Like homemade doughnuts. Absolutely WUNDERBAR!
When I was helping Mutti, I'd often sneak an unbaked one (or two or three) before Mutti would deep-fry them. I'd be given the job to help her make them by cutting and shaping them. Somehow, an unbaked cookie always found its way into my mouth!
Now, my granddaughters are keeping up that tradition! After all, who can resist homemade doughnuts, especially when they look so cute! Try these next time you bake.
Räderkuchen Tips ...
Deep-fry only a couple at a time. Once they start to get a little golden-brown on the edges, turn them over with the use of a fork.
Once golden-brown on both sides, remove with a slotted spoon and drain on paper towelling.
Then, quickly roll in sugar or a cinnamon-sugar mix.
If you look at the picture above, you'll see the strips, about 1 inch wide and cut into 3 inch pieces. Then cut a slit into the strip in the top part of the strip and pull the bottom through the slit.
Even though Räderkuchen taste best still warm, they store well. They were often what I'd bring to school when I needed to bring a treat and forgot to tell Mutti until the last moment.
My Mutti could make these in minutes. The dough really comes together quickly. The only tricky part is figuring out how to create the "bowtie" shapes.
They were always a hit with my friends who came to enjoy these traditional German recipes that Mutti made.
Oma says,

These delectable little treats are called many things: Wheel Cakes, Bowties, Umgedrehte Hosen, Durchgeschlupfte Hosen, Pig's Ears, ... and, of course, Räderkuchen.

Perhaps more names are out there. Do send them in. I'd love to include all the interesting ways these yummies are named. 
Mutti's Räderkuchen ❤️

Ingredients:
2 tbsp butter
3 tbsp granulated sugar
3 eggs
3 tbsp milk
2 cups flour, all-purpose
2 tsp baking powder
1½ cups lard for frying
sugar, cinnamon, powdered sugar as desired
Instructions:
Using a mixer, mix first 6 ingredients together to make dough.
Roll dough out, about ⅜-inch thick, using extra flour as needed to keep the dough from sticking.
Cut into strips, about 1 inches wide and 3 inches long.
About ½-inch from one end of the strip, cut a 1 inch long slot. Pull the long end of the strip through the slot to form a type of curled shape.
Heat lard in a deep pot. When bubbles are formed at the end of a dry wooden spoon when it is inserted into the fat, it is ready to cook the cakes.
Gently put one layer of cakes into the hot fat and cook until golden brown. (turn them when you see that the edge is golden).
Remove cakes, put onto a paper-towel covered plate to drain the fat. While still hot, roll in plain sugar.
Hints:
If desired, mix some cinnamon with some sugar and roll cakes in this.
You can also roll in powdered sugar.

Leave a comment about this recipe or ask a question?
Pop right over to my private Facebook group, the Kaffeeklatschers. You'll find thousands of German foodies, all eager to help and to talk about all things German, especially these yummy foods. 
I pop in all the time as well, to chat and to answer questions. 
Meet with us around Oma's table, pull up a chair, grab a coffee and a piece of Apfelstrudel, and enjoy the visit.
*  *  *  *  *
Want nutritional information for a recipe?
Copy and paste the ingredient list and the number of servings into Calorie Count. 
It will give you an approximate calculation.

Need help doing conversions
between cups and grams or any such thing?
Use this site to give you all the different conversions for the different types of ingredients. 
---
PIN this ... for quick and easy access to recipe when searching for the perfect dessert to serve unexpected company
Make every day a day of REJOICING!
"Always be full of joy in the Lord. I say it again -- rejoice!"
 Philippians 4:4 NLT
---
❤️ Mutti's Räderkuchen (deep-fried pastries) made Just like Oma


By
Oma Gerhild Fulson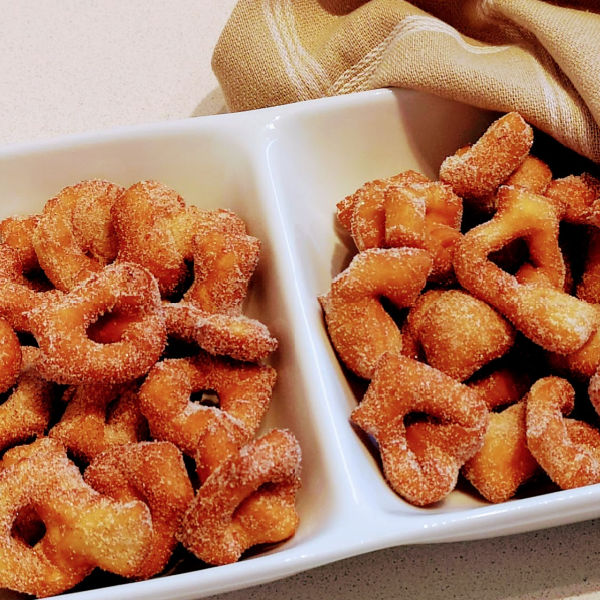 Räderkuchen were my Mutti's emergency dessert, especially when unexpected company dropped in. Deep fried and covered in cinnamon-sugar, these were a little taste of heaven.

Ingredients:
flour,
sugar,
eggs,
lard,
For the full recipe, scroll up ...