Pork and Sauerkraut Recipes
Yum
Pork and sauerkraut recipes, aka Schweinefleisch und Sauerkraut. These two go together in so many different ways. So totally German! First, you'll find the recipe for this 'false' Kasseler with sauerkraut. And, it uses a slow cooker! Below that, you'll find links to various combinations of these that are sure to please your "German" taste buds. Wunderbar!
My recipe for this 'false' Kassler uses a smoked pork loin recipe (or peameal bacon recipe). It tastes so similar to Kasseler, you'll use it as an alternative inexpensive meal. My hubby says it even tastes better.
---
Slowcooker Peameal Bacon and Sauerkraut
Ingredients:
Use 1 1/2 lb. peameal bacon roast or a smoked pork loin roast.

Use 4 potatoes, preferably Yukon Gold because they are firmer and don't fall apart as easily.

Use one 28 oz. can Sauerkraut, drained.

Liquid - 1 cup of either apple juice, orange juice, or water.
Instructions:
Put Peameal Bacon Roast and Sauerkraut in slow cooker (crock pot).
Add peeled potato quarters to the slow cooker, making sure the potatoes are pushed well to the bottom. Potatoes need to be in liquid to cook properly. Even though there is not enough liquid in the cooker to start, there will be once it cooks for a few hours.
Pour in about 1 cup of apple juice, orange juice, or water.
Cook, covered on low to medium, for about 6 hours. Check your slow cooker instructions for approx. times.
Remove potatoes, meat, and sauerkraut. Keep warm.
Put cooking liquid into saucepan, bring to boil, and thicken with 1 - 2 tbsp cornstarch dissolved in some cold water. Use as sauce for the meal.
Serves 4.
---
Perhaps you like Kasseler, but it's so difficult to find outside of Germany. Unless you're blessed with a German deli close by, you'll need to use an alternative. Above is my favorite one.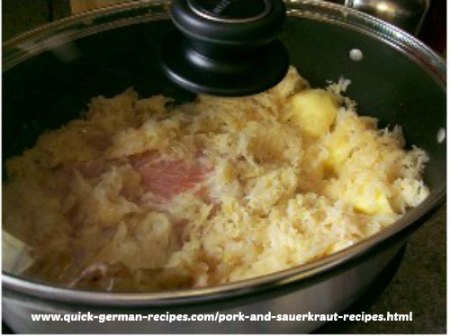 The above recipe is so nice because it uses a slow cooker.
This is one of my most loved kitchen appliances. 
It makes for quick and easy preparation of absolutely delicious meals.
Here, the peameal bacon roast and sauerkraut as simmering and will be enjoyed in a couple of hours!
What I find amazing is that this almost tastes like Kasseler. That's why it's my "false Kasseler" dinner. Hubby finds it so delicious as well.
---
Other Pork and Sauerkraut Recipes ...
---
More German Pork Recipes
---
---
*  *  *  *  *

Want nutritional information for a recipe? Copy and paste the ingredient list and the number of servings into Calorie Count. It will give you an approximate calculation.
---
---
Get your FREE poster ... Herbs & Spices in the German Kitchen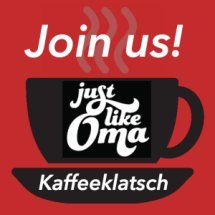 by Subscribing to my FREE Newsletter ...

Just like Oma ~  Kaffeeklatsch*
*Kaffeeklatsch: /ˈkafeːˌklatsh / (noun) an informal gathering for coffee and chatting
Experience Germany: food, people, country, & RECIPES!

---
---
Top of Pork and Sauerkraut Recipes
German Recipes

›
Meat Recipes
› Peameal Bacon and Sauerkraut
Words to the Wise
"An offended friend is harder to win back than a fortified city. Arguments separate friends like a gate locked with bars."
Proverbs 18:19 (NLT)