Oma's Frozen Fruit Dessert ~ Heiss und Eis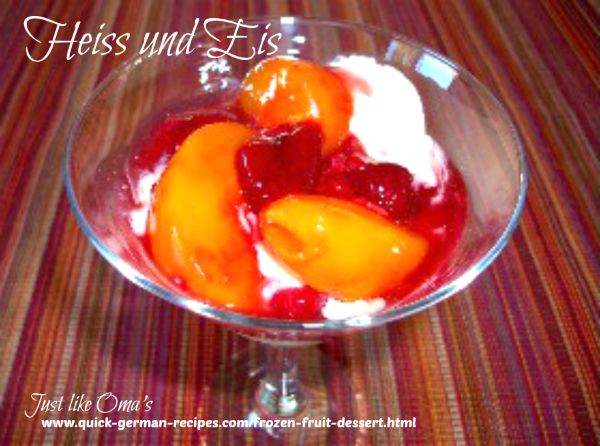 Yum
This frozen fruit dessert, aka Heiss und Eis, is such an easy and quick treat to make. It's a favorite among the easy, quick dessert recipes. If you have frozen fruit and ice cream in the freezer, you can make this treat in a matter of minutes. 
Traditionally, Heiss und Eis is made with red fruits such as strawberries, raspberries, blackberries, cherries, individually or in combination.
Oma's Frozen Fruit Dessert: Eis und Heiss
Ingredients:
2 cups frozen fruit

2 cups juice, see above

1 Tbsp corn starch

Ice cream - flavor of your choice - enough for 4 servings
Instructions:
Put frozen fruit into saucepan. Cover with juice.

Bring to simmer. Simmer until fruit is thawed and hot. Occasionally stir gently.

Mix cornstarch with a little water. Slowly stir just enough into simmering fruit until it is the proper consistency - like a sauce.

Add a little lemon juice and/or sugar if needed.

Serve hot over ice cream. Serves 4.
Hints:
In the picture above, instead of a totally frozen fruit dessert, I used a 28 oz can of sliced peaches with its juice, ⅓ can frozen peach concentrate (to increase peach flavor), 1 cup frozen raspberries and 1 Tbsp lime juice. Delicious and pretty. 
The leftovers, served the next day, were totally red. The peaches had taken on the red color. So, for color contrast, make just before serving. The leftovers, heated in the microwave, tasted just as good, though.

Looking for German ingredients and more? Take a look ...
**
More Hints for this Dessert ...
Quantities for this fruit dessert do not have to be exact. Adjust as you wish. That's what makes this one of those easy dessert ideas that doesn't really need a cookbook. Scoop ice cream into serving dishes. Pour hot fruit sauce over top. Enjoy!
A strong flavored juice is preferable. Choose one that will complement the fruit. If the resulting sauce needs a bit more flavor, add some lemon juice and sweeten with sugar.
Personally, a really good quality vanilla ice cream is best. To me, that's actually quite something, because I really don't like vanilla ice cream. Give me a chocolate ice cream any day. But for this "frozen fruit" dessert, vanilla's best.
However, when using strawberries, nothing beats chocolate ice cream! I'm sure you'll come up with your own favourite combinations as well.
Heiss und Eis (pronounced 'hice and ice'), meaning Hot and Ice, is the actual German name for this treat.
I never knew it's name as I was growing up.
For us it was just "ice cream and fruit sauce." Usually, the sauce is served hot over the ice cream. However, if you wish, you can let the sauce cool.
More German Desserts
---
---
---
*  *  *  *  *
Want nutritional information for a recipe? Copy and paste the ingredient list and the number of servings into Calorie Count. It will give you an approximate calculation.

---
---
Get your FREE poster ... Herbs & Spices in the German Kitchen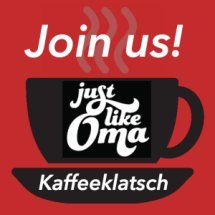 by Subscribing to my FREE Newsletter ...

Just like Oma ~  Kaffeeklatsch*
*Kaffeeklatsch: /ˈkafeːˌklatsh / (noun) an informal gathering for coffee and chatting
Experience Germany: food, people, country, & RECIPES!

---
---
Words to the Wise
"Enthusiasm without knowledge is no good; haste makes mistakes."
Proverbs 19:1 (NLT)