Palacinke
by Melania Orasch
(Hamilton, Ontario)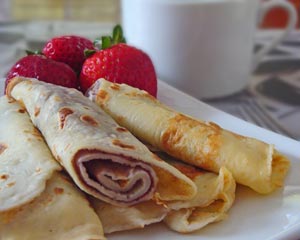 Palachinkes with strawberries
Palachinkes are also known as crepe suzettes. When I was growing up this was one of my Dad's favourite foods. In our tradition this recipe is used mostly as a dessert or snack.

The recipe does not require many ingredients, so it is affordable and enjoyable. Palachinke is known mostly in Eastern Europe and Europe central, such as Germany, Austria, and France.

There are many ways in which one can enjoy this recipe. For example, you can fill it with fruit, jams, cinnamon and sugar, sprinkle with icing sugar or whipped cream. Or, for a savory option, cheese and asparagus with a cream sauce.




1 cup milk

2 eggs

½ cup water

1 tsp salt

1 cup flour

1 pkg vanilla sugar

Mix all ingredients together in bowl. Use a Teflon coated pan. Put a few drops of oil in skillet and coat bottom. Pour enough batter in pan so when the pan is tipped back and forth the bottom is covered with a thin coat. Cook for a few minutes until bottom is cooked, then flip over. Cook a little more and it is done. Continue until all the Palacinkes are cooked. Spread with your favourite filling and enjoy.
=======
Thank you, Melania, for sharing this recipe.
If anyone can't buy the vanilla sugar, you can make your own. Check out the "How To" section under the "Helps" tab.
I like that you gave many options for filling these. The way I've had them is with jam and also with a cinnamon and sugar filling. I can only imagine what these would taste like filled with some fresh fruit, a bit of whipped cream, rolled, and then served with a dusting of icing sugar and a big dollop of whipped cream on the side. Heavenly!
What's really great is that they don't have to be eaten warm. Even cold they make a great snack.
Seeing these rolled crepes (Palachinkes) remind me of the pancake soups my Mutti made. We would have this the day after we had pancakes, if there were any left overs, that is. It was usually just a hot beef broth into which Mutti would add the thinly sliced pancakes. She would first roll the pancake and then slice it. They were almost like noodles this way. Of course, these would be pancakes that had been made without sugar.
Thanks for the memories, Melania, and for sharing your recipe.
Blessings,
Gerhild