How to make Pasta Sauce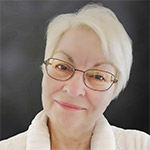 by: Gerhild Fulson  /  Cookbook Author, Blogger, German Oma!
Learn how to make pasta sauce ... the easy and quick way! Here's my son's super simple method to make an absolutely delicious quick pasta sauce.
And, in case you haven't read about his culinary adventures, do check out the links below. But before that, here's his latest email to me with this very unusual way to make a tuna and pasta dinner with a most interesting method.
Rich's email: How to make Pasta Sauce
While I haven't really played around with various combinations of the few substitutions I've made, it's proven to be a fairly versatile quick 'n easy sauce recipe.
And it's become Cat's favourite pasta meal of mine taking less time to make than for the water to boil and pasta to be ready.
The last selling point is the use of raw garlic (and chilli, if it's not hot enough). Have had issues making sauces before where the garlic gets lost in the flavours and usually, spend more time and effort trying to get rid of the tinned tomato taste than anything else.
For all the health benefits associated with chilli and garlic, it's definitely at its peak when raw.
I made a spicy tuna pasta from scratch in less than fifteen minutes. Given the ingredients, quite probably the healthiest quick lunch going.
Basically, chuck everything (minus the tuna) from the photo above into a container for a hand mixer. Blitz. Then gently warm through on the hob (stove) till the pasta is done. Add the tuna to the pasta and sauce.
Let sit for a minute or two to heat through and there you go. 
Tin of peeled plum tomatoes - Easier to control the liquidity of the sauce compared to chopped tomatoes as the latter tends to come out a bit more watery - then it becomes a battle of flour thickening and extra hassle.
Garlic - I use 4 - 5 decent-sized cloves, would normally use 3 - 4 if making for someone else but can't recommend enough trying to push the limit of how much garlic you can handle. It's one of the nicer spicy heats I've tried over the years.
Chili - Just in case the garlic doesn't make it hot enough :)
Herbs - Of your preference, in this case I used oregano. 1 - 2 heaped tsp.
Worcestershire sauce - 1 - 2 tbs.
Stock cube/pot - This is where I haven't really established what's best. Typically, I use a beef stock cube/pot when making a tomato sauce. Adds a nice richness to it. When that hasn't been available, and rather oddly, lamb & chicken seem to work just as well. They also tend to compliment the tuna a bit more. But would imagine a vegetable cube would work fine as well.
With this, once you've emptied the tinned tomatoes to the mixing container, add just under an inch of boiling water to the tin and swash it around to collect the remaining tomatoes from inside the tin as well as breaking down the stock.
I would personally prefer to use a stock pot as it's easier to break down, but the cubes seem to work just as well even if they haven't completely dissolved. 
Tschüss, 
Rich
---
I must say, I don't know where Rich came up with this method, but it certainly sounds like it belongs in my file for quick supper ideas.
I may tone down the garlic a bit (for my hubby) ... and play with the herbs as well.

As explained on Rich's Meals, his emails home describe the culinary adventures he is having in duplicating foods, mainly German, that he grew up with.
There's something absolutely mouth-watering about having a German meat-and-potato dinner. Get Oma's revised collection of her favorites in German Meat Dishes.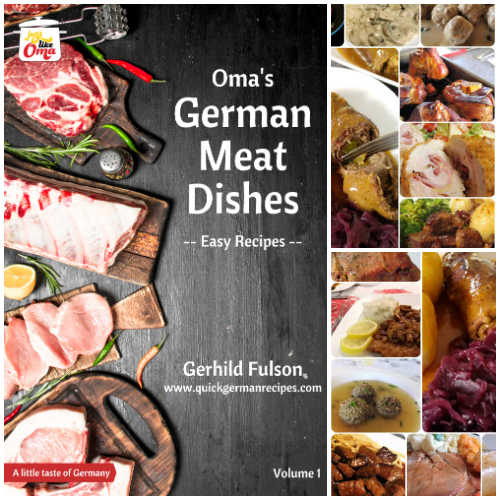 Take a peek at all Oma's eCookbooks. They make sharing your German heritage a delicious adventure!
Leave a comment about this recipe or ask a question?

Pop right over to my private Facebook group, the Kaffeeklatschers. You'll find thousands of German foodies, all eager to help and to talk about all things German, especially these yummy foods. 
Meet with us around Oma's table, pull up a chair, grab a coffee and a piece of Apfelstrudel, and enjoy the visit.

Make these Fächerkartoffeln aka Hasselback Potatoes with either regular or sweet potatoes. Make them extra crispy with cheese and breadcrumbs and you have a treat that's amazing!

Discover Oma's secret recipe for making crispy-skinned Bavarian Schweinshaxe (roasted pork knuckles). Authentic taste of Germany's traditional dish. Perfectly wunderbar.

German potato dumplings, aka Kartoffelklöße and Kartoffelknödel, invoke great memories of my Mutti's Sunday dinners. Using cooked potatoes, she created these scrumptious traditional dumplings!
*  *  *  *  *
---
How to make Pasta Sauce Just like Oma


By
Oma Gerhild Fulson
Learn how to make pasta sauce ... the easy and quick way! Here's my son's super simple method to make an absolutely delicious sauce. Yummy!

Ingredients:
plum tomatoes,
chili,
garlic,
herbs,
For the full recipe, scroll up ...
Words to the Wise
A prudent person foresees danger and takes precautions. The simpleton goes blindly on and suffers the consequences."
Proverbs 27:12 (NLT)