German Flours vs American Flours

(and 2 Kaffeeklatsch Recipes!)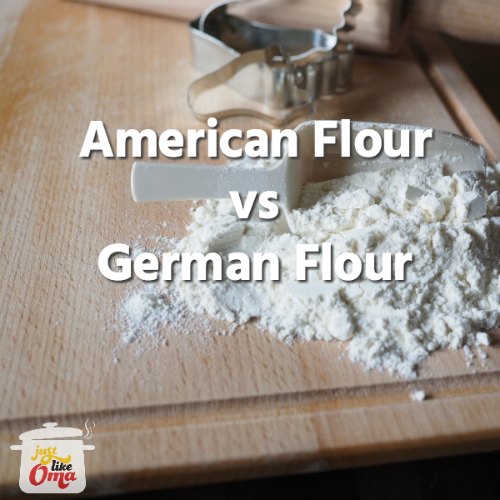 Your recipe calls for German flours and you don't live in Germany? What can you do? Check out this post from blogger Kathy Gallo and you can still enjoy a Kaffeeklatsch, just like Oma!  ( I added some of my own notes near the bottom! )

The Classic Kaffeeklatsch
In Germany and Austria, coffee has been enjoyed for generations, as has the opportunity to gossip that goes with it – so much so that the German term Kaffeeklatsch has even crossed over into the English language.
Cakes and pastries are as much a part of the Kaffeeklatsch tradition as the coffee and chat, but if you don't live in Germany, which flours should you use for the most authentic results? 
Here we look at the nearest American equivalents to German flours – and give you two delicious Kaffeeklatsch recipes to try them with.
When it's time for Christmas, baking is at the forefront of preparations. Get Oma's collection of her favorites in Christmas Baking eCookbook.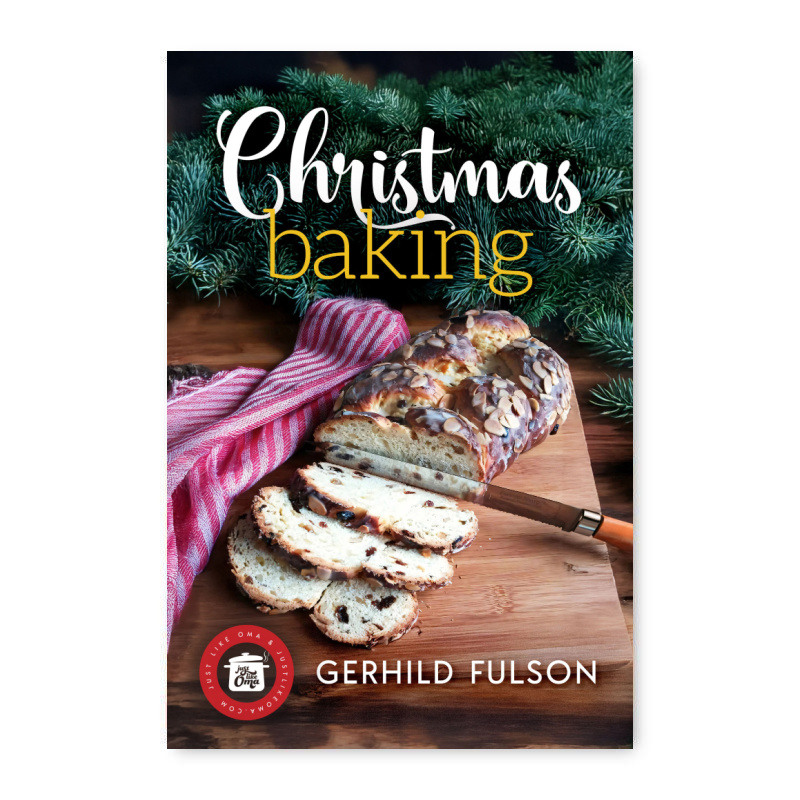 Take a peek at all Oma's eCookbooks. They make sharing your German heritage a delicious adventure!

Which flours are equivalent to the ones in Germany?
Flour in Germany is labeled by type and given a corresponding number whereas flour outside of Germany, for example in the US, is labelled with a name.
Coupled with this is the fact that North American flours come from slightly different varieties of wheat than those in Europe, meaning that even the closest approximation is still not exactly the same flour. This means American flours are only an equivalent and not exactly the same.
However, if you don't want to resort to using flour imported from Germany – or simply can't find it – the nearest equivalents still make good substitutes. Here is the list of the North American flours that can be used in place of their German counterparts.
Two Classic Recipes
This is an easy recipe for a simple but delicious accompaniment to your coffee. Use German type 550 flour or all-purpose flour if you can't find it.

1.  Kathy's Raisin Bread
This is an easy recipe for a simple but delicious accompaniment to your coffee. Use German type 550 flour or all-purpose flour if you can't find it.

Ingredients
1 pack dry yeast
¼ cup warm water
¾ cup boiling water
¼ cup sugar
1 teaspoon salt
¼ cup butter or margarine
½ cup raisins
3¼ cups sifted German type 550 flour/all-purpose flour
1 tablespoon cinnamon
1 egg, beaten
1 cup uncooked oats
Instructions
Use the warm water to dissolve the yeast.
Add the sugar, salt, butter and raisins to a bowl and pour in the boiling water. Mix together and leave to cool.
Sift the cinnamon into one cup of flour and mix into the bowl with the raisins.
Add the yeast mix, egg and oats and stir.
Continue to stir while adding more flour until you end up with a soft dough. Turn out onto a surface dusted with flour and knead for about ten minutes.
Once the kneading is done, roll into a ball and place in a greased bowl. Cover and leave in a warm place for about an hour. The ball of dough will double in size so make sure the bowl is large enough to accommodate this.
Remove the dough and punch down. Cover and leave to rest for a further ten minutes.
Divide the dough into two pieces and roll out into two long sausages. Coil the sausages of dough into a greased round baking pan. Cover and leave to rest again.
Once the dough has risen to about twice its size, it is ready to bake. Place in an oven preheated to 350 and leave to bake for 20 minutes.
Dust with icing sugar and serve. Additionally, you can drizzle with your favorite syrup for extra sweetness.
2.  Kathy's Apple Strudel
This is one of the most traditional of all Viennese desserts and goes perfectly with good conversation and good coffee. Use German 550 flour or all-purpose flour if you can't find it.

Ingredients
For the dough:
¼ cup butter (unsalted)
1½ cups German 550 flour/all-purpose flour
Pinch salt
⅓ cup warm water
For the filling:
4 apples (medium)
½ cup granulated sugar
⅓ cup raisins
1 tbsp fresh lemon juice
1 tsp ground cinnamon
¼ cup almonds (finely chopped)
1 tsp vanilla extract
2 tbsp rum
To finish:
6 tbsp melted butter (unsalted)
¼ cup breadcrumbs
Instructions
Combine the ingredients for the dough in a bowl and mix together. Once mixed together, turn out onto a surface dusted with flour and knead for a few minutes until it forms an elastic dough.
Place the dough ball in a greased bowl, cover and leave somewhere warm for about half an hour.
Mix the raisins with rum and leave to soak for half an hour. Afterwards, discard the rum.
Peel the apples and remove the cores. Cut into 1" pieces (they should look similar to fries but about a quarter of the size!).
Put the apple pieces into a bowl with the lemon juice, cinnamon, sugar, raisins, chopped almonds and vanilla extract. Stir together.
Place the dough ball on a counter lightly sprinkled with flour and roll it out very flat. When it is rolled flat, stretch it out even more until you can almost see through it. Try to aim for a rectangle of about 18"x12". Brush half the melted butter over the top.
Leaving about an inch border all around, cover the flattened dough with the breadcrumbs. After this, spoon on the apple mixture – but avoid pouring in the liquid.
Fold the top and bottom part of the dough from the long side of the rectangle over the apple mix then carefully roll up the strudel from the narrow end.
Place the strudel on a greased baking sheet with the seam underneath. Brush with some more melted butter and place in an oven preheated to 350°F. Bake for 50 minutes.
Keep an eye on it so it doesn't burn and continue to brush with melted butter every 15 minutes or so.
Remove from the oven and leave to cool. Dust with icing sugar and serve warm.
Enjoy your baking!
There are so many other Kaffeeklatsch recipes to try, and by using the correct flour equivalent, you should be able to produce a very authentic version, even if you can't find the original flour from Germany. Enjoy your baking – and your Kaffeeklatsch too!

Thanks, Kathy, for sharing the flour info and your recipes!
Kathy Gallo is a dedicated coffee lover with a soft spot for all things German. The only thing she loves more than coffee is coffee with good company and something sweet to go with it. She also enjoys writing about her coffee-related experiences to share with as many people as possible.

Oma's Notes:
Talking with a German baker who now lives in Canada, he usually alters his German recipes by only using 450 g flour instead of 500 g. He finds that usually works better here. In other words, for every 4 cups of flour, he removes a bit less than 1/2 cup. 
And, if you're wanting to have cake flour and only have all-purpose at home, mix together 1¾ cups all-purpose flour and ¼ cup cornstarch to give you 2 cups of cake flour. 
---
Leave a comment about this recipe or ask a question?

Pop right over to my private Facebook group, the Kaffeeklatschers. You'll find thousands of German foodies, all eager to help and to talk about all things German, especially these yummy foods. 
Meet with us around Oma's table, pull up a chair, grab a coffee and a piece of Apfelstrudel, and enjoy the visit.

Cooking just like Oma, making those German meals, is actually quite easy. Let me, Oma Gerhild, help you with my step-by-step methods to re-create those yummy meals you remember from your Oma.

If you're looking for tasty, traditional, and easy German cake recipes (in English) to try, then you've come to the right place! Check out these lecker treats!

Discover the ultimate German schnitzel recipe with Oma's quick and easy method - perfect for any occasion! Taste the authentic flavors of Germany today.
*  *  *  *  *
Words to the Wise
"Wisdom will multiply your days and add years to your life."
Proverbs 9:11 (NLT)