Dominosteine made Just like Oma❤️
➤ by Oma Gerhild Fulson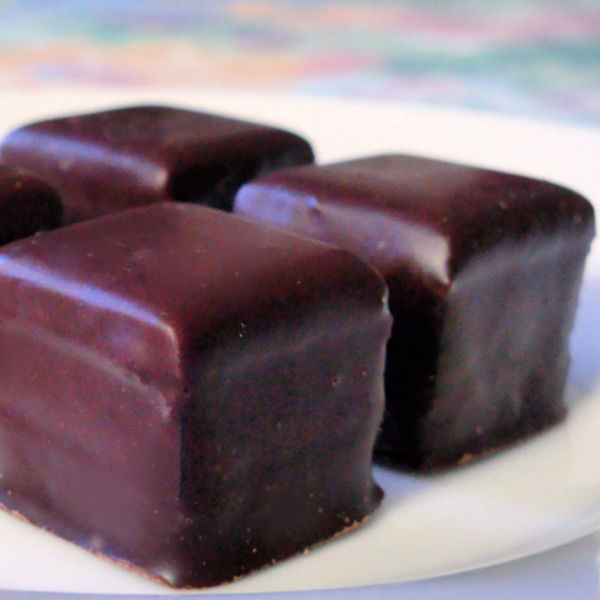 Dominosteine, aka domino stones, is that ONE treat I always bought as soon as the Christmas goodies were available at our local German deli. 
BUT, they are quite expensive. AND, I really, really like them. So, this year, I'm making them instead, and that's thanks to Flora, one of our readers, who requested a recipe for this.
Making Dominosteine is a fairly long process. Certainly not one of the quick German Christmas cookie recipes. But, if you really want Domino "stones", and can't buy any, and love to bake, then try these.

This recipe is my updated version taken from my really old, falling-apart Das neue große Kochbuch. It has so many pages missing, but it's out of print, so I can't replace it. (edited: I was finally able to find a used one at a German book re-seller ... talk about shipping charges sending it to Canada! But it was worth it ... it's my favorite cookbook!)
This is a German gingerbread-type cookie. It's often called a "layered gingerbread" because the traditional "cookie" has three layers that are covered in chocolate. 

Helpful Hints:
If your cookie sheet is too big, use a crunched "roll" of aluminum foil to shorten the sheet.
To make it easier to cut the cake, cut the cake into 4 sections first. Then it will be easier to cut these smaller sections in half horizontally.
Dominosteine Origins
They are actually a fairly "new" German tradition. These little treats were the "inexpensive" pralines created by Herbert Wendler in 1936 in Dresden to add to his more expensive pralines.
This cheaper chocolate included a lebkuchen (gingerbread) layer, a sour cherry or apricot jelly layer, and a marzipan layer. These little squares were then coated with chocolate.
Now, however, they are so in demand that they are among the pricier Christmas treats one can buy.
Now, though, thanks to Flora, this will end up becoming one of my German Christmas traditions because it brings that wonderful gingerbread fragrance throughout the house.
---
READ this FIRST ...
I received a wonderful tip from one of our Kaffeklatschers (from our private Facebook Group ... do join up to be part of the fun!) ...
Karin Vallo says:
The trick is to freeze the cake part, after you cut the layer and spread the jam, Marzipan and jam again. Leave at room temp for 30 minutes, cut into the little squares and freeze overnight. Hand dip in melted chocolate, only remove 12 at a time from freezer.

---
Dominosteine made Just like Oma❤️
Ingredients:
1 cup honey
⅓ cup granulated sugar
7 tbsp butter
3 cups flour, all-purpose
1 tsp Lebkuchen spice or pumpkin pie spice
3 tbsp cocoa
3 tsp baking powder
2 eggs
2 tbsp rum
¼ lb marzipan
⅓ cup powdered sugar
1 tbsp rosewater or 1 tsp almond extract
about 1 cup apricot jelly or orange marmalade
3½ ounces chocolate (dark or milk)
1 cup powdered sugar
4 - 5 tbsp milk or water
1 tbsp butter
Instructions:
Preheat oven to 360°F. Grease rimmed cookie sheet (about 14" x 17")
Heat honey, sugar, and butter in a saucepan until sugar and butter are melted, stirring constantly. Let cool.
Mix flour, spice, cocoa, and baking powder together and set aside.
In a large mixing bowl, beat together the eggs with the rum. Add the cooled honey mixture. and mix. Slowly add in flour mixture and mix until smooth.
Spread dough onto cookie sheet, approximately ½-inch thick. Smooth top.
Bake for 20 - 30 minutes, or until wooden toothpick inserted in center of cake comes out clean.
Let cool.
Assembly:
Knead marzipan with ⅓ cup powdered sugar and rosewater or almond extract. If too soft, add a bit more powdered sugar.
Roll out marzipan mixture between two layers of plastic wrap until it is the size of the cake.
Cut the cake horizontally to make two layers.
Brush bottom layer with jelly or marmalade.
Cover with marzipan.
Brush jelly or marmalade over marzipan layer.
Cover with top cake layer.
Cut into 1-inch (approx.) squares.
In a double-boiler, melt chocolate and mix with 1 cup powdered sugar, water or milk, and butter.
Dip "Dominosteine" in chocolate and let set on cookie rack until chocolate has hardened.
These dominos taste best after sitting several days in a well sealed container.

Want nutritional information? Copy and paste the above ingredient list and the number of servings into Calorie Count for an approximate calculation.
Need help doing conversions between cups and grams, etc.? Use this site to give you all the different conversions for the different types of ingredients. 
Leave a comment about this recipe or ask a question?
Pop right over to my private Facebook group, the Kaffeeklatschers. You'll find thousands of German foodies, all eager to help and to talk about all things German, especially these yummy foods. 
I pop in all the time as well, to chat and to answer questions. 
Meet with us around Oma's table, pull up a chair, grab a coffee and a piece of Apfelstrudel, and enjoy the visit.
*  *  *  *  *
Want nutritional information for a recipe?
Copy and paste the ingredient list and the number of servings into Calorie Count. 
It will give you an approximate calculation.

Need help doing conversions
between cups and grams or any such thing?
Use this site to give you all the different conversions for the different types of ingredients. 
---
PIN this ...
---
This German sourdough whole grain no knead bread recipe is so delicious and so healthy. Learn this basic method and then alter it to suit your needs. Healthy never tasted this good!

Want a Rhubarb Cake recipe that tastes just like Oma's? Not too sweet, but wunderbar? Try my Rhubarb Streusel Cake that's super quick and easy to make.
---
Words to the Wise
"Better to have little, with fear for the Lord, than to have great treasure and inner turmoil."
Proverbs 15:16 (NLT)