Storifyme Review for Web Stories: Pricing, Details, Alternatives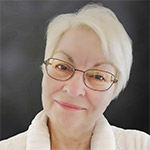 by: Gerhild Fulson  /  Cookbook Author, Blogger, German Oma!
Disclosure:  I only recommend products I use myself & all opinions expressed here are mine. This post contains affiliate links that at no additional cost to you, I may earn a small commission. Read full privacy policy here.

This is NOT a normal Storifyme review.
This review is based from my point of view as a recipe blogger. Since I do not use WordPress as my blog platform, I was looking for an easy and inexpensive way to create Google Web Stories (formerly known as AMP Stories) on the open web WITHOUT the Google Web Stories WordPress plugin.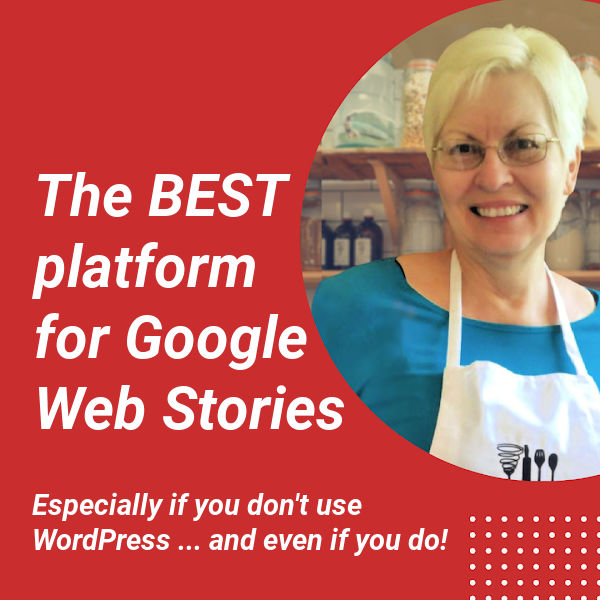 Although web stories have been a major marketing topic these past few years, there's little written for the average blogger that's not using WordPress. During my research, I actually found that there were many WordPress bloggers who were also looking for alternatives to that plugin.
What are Google Web Stories?

"Web Stories are a visually rich, full-screen content format for the web, which allow you to tap or swipe through stories. To consume content, you can tap or swipe through Web Stories.

Google supports Web Stories, so you might find them across Google Search and Discover."
from support.google.com
I stumbled upon Storifyme in trying out many web stories tools (builders, apps & platforms) for several weeks. 

And I'm so glad I did. Not only is the platform intuitive and easy to use, its chat support is amazing! All my questions were answered, in as much detail as I needed to understand the process. For me, that is so important.
Yes, I'm sort of techie, but foremost, I'm just an Oma (that's German for grandmother) sharing my recipes. That's where my strengths lie. I needed easy. I needed something that I understood. I needed something that worked.
Alternatives to Storify
me
As I researched Google's list of story builders (https://stories.google/tools/) and others, I realized that pricing was a major issue. Although some platforms were advertised as having a free plan, once I finally created a web story, I needed to upgrade to a paid plan in order to actually publish it! And some of those costs were prohibitive for a 'regular' blogger.
The prices ranged from $39US/month to $24,000US/month!!!!!! Yes, that high amount would be for major businesses doing all sorts of other related stuff. Those platforms were really not set up for small businesses, busy business owners, and non-techie bloggers, such as me.
I went through numerous sites, trying some out. One platform that appeared reasonable was Makestories. It was touted as being free (which I later realized meant 'free trial'). I spent days navigating it, trying out the online graphic design editor, and watching hours of tutorials. When I finally had my first story created and hit the "publish" button, I came to this screen: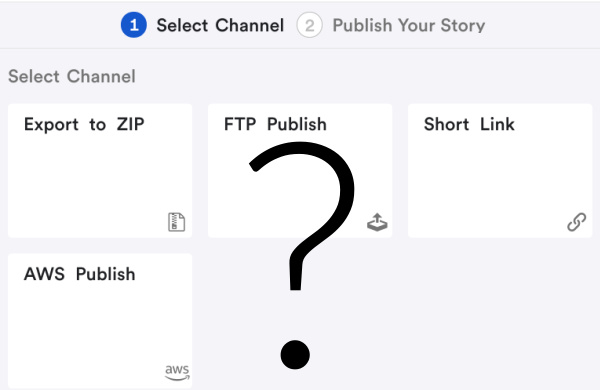 I was at a loss. This wasn't intuitive for me. I didn't want a zip file to download and those other three didn't apply either. I just wanted to publish a Google Web Story that would show up on Google search results in such a way as to gain free organic traffic to my site.
Makestories requires a paid plan to publish, and although $39US/month is reasonable, I couldn't easily figure out how to get it to publish to my non-WordPress site without setting up a custom domain or a subdomain, something I didn't want to do.
Although the site has hours of helpful tutorial videos, publishing on a non-WP site is one area that wasn't addressed. Since most bloggers use WordPress, that's the platform that was explained. If you're a WordPress blogger, this may be a great platform for you. It does have some interesting features.
However, I spent several exhausting days trying to get this to work for me and ended giving up (something I don't easily do).
And then, I stumbled upon Storify
me
It took me all of just 4 hours, from the first log-in until I had the first of my first visual stories published with that familiar tappable format!!! And it was free! Yes, there actually is a FREE plan. A free plan forever! And that's when I KNEW I had to write a Storifyme review!
The free plan enabled me to see that the process worked! 
I was able to easily add a coded widget to my non-WordPress site (I use SBI - Solo Build It! which is an amazing online business builder). The widget pulls my stories from Storifyme and shows up on a new page on my website that I created just to hold my stories. I discovered it was important for Google to have those stories' links on one's own site and that widget IS part of the free plan.
I was able to check my story on Google's AMP Test - Is your Web Story valid? and it passed with flying colors.
I was able to, with a single click, post it to Facebook. Social networks were something I hadn't even considered before. Now I have a tool to easily create social media stories at the same time as Google web stories. A win-win for a busy blogger.
Seeing it was so successful, I quickly subscribed to the Basic plan. It's only $29.95US/ month! It's the least expensive and best software for me to create interactive stories! There are two more advanced plans, but for me the Basic plan is all I need, at least at the present. It removed the Storifyme logo from the story and added some extra features.

My Storify
me
 Review Pros:
Publishes without needing WordPress!!!!!!!!
Easy-to-install widgets (even on non-WordPress sites!)
Drag and drop, no coding needed
Easy to set up branding
Interactive elements
Call to Action buttons
QR codes
StorifyMe analytics to measure performance 
Free design templates
Integration of various social media channels 
My Storifyme Review Cons:

I'm unable, as yet, to get a sitemap created for these stories. At present, they still reside at StorifyMe, and show up when they are posted on social media. However, when clicked, they go directly to my site.
---
I am so thankful that I stumbled upon Storifyme! It allows me to create relevant contextual content to provide an immersive experience for my readers in different ways.
It doesn't take a lot of time to learn and no special knowledge is needed to use the awesome editor to create an interactive format for the stories. But, if one doesn't understand something, there's great support always available.
BTW, for now, Google Web Stories only show up in the United States, Brazil and India. Since I live in Canada, I don't see them at all. That makes it difficult to see other stories for ideas on what looks good and what works.
However if you do a Google search for "web stories" along with your keyword, you should find stories that people have embedded on their sites. Since most of my traffic comes from the States via mobile devices, using Google Web Stories is an important tool to boost sales and traffic with the vertical format providing an immersive mobile-first experience.

➤ Sign up today & create Google Web Stories without needing WordPress!
(Even if you use WordPress, try this one out! It has awesome features that the Google Web Stories plugin doesn't have.)
If you're not sure if Storifyme is a good fit for you, just sign up for the free plan like I did at first (no credit card needed). You can even try out the Basic plan for 7 days for free. So, no worries.
Drop me a line if you have any questions about this.

---
PS: The actual traffic results from my Google Web Stories won't be available for some time. I just started implementing them and don't have enough data to show their viability. Results from having Google Web Stories differs per website. Some have had dramatic traffic increases. Others not so much. 
It's time for the rest of us non-WordPress users to try out this new concept - it has definite monetizing potential using a completely fresh approach.
The purpose for my Storifyme review is not to gauge the success of Google Web Stories, but actually be able to create them in order to see what impact they have on my own traffic. Without Storifyme, this wouldn't be possible.

*  *  *  *  *