Smellysdeli bread (Artisan Style no Kneading)
Smellysdeli bread (Artisan Style no Kneading)
by Brian Smeltzer (smellysdeli.com)
(Vancouver, Canada)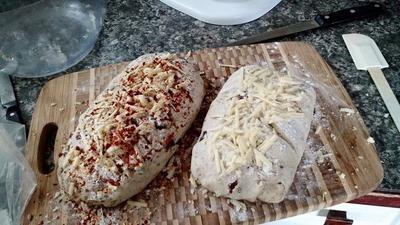 Ingredients:




5.5 cups flour

1 cup rye flour

1/4 cup garlic powder,

handful of u/s sunflower seeds,

handful of caraway seeds,

1 cup dry cranberries (opt)

16g dry active yeast

3 cups Luke warm water

1 Tbl. salt

2 cups white x-old white shredded Cheddar cheese

Instructions:


Combine flours garlic powder seeds cranberries in mixing bowl at low speed till well mixed


Place yeast salt and water in separate bowl wait a few minutes


Add to flour mixture


Add 1 cup of cheese to mix and blend


Rise in warm spot for two hours.


Separate into two round loaves let rise for 30 mins.


Sprinkle more cheese on top chili flakes optional. (Gives a nice kick for us)


Bake at 450' 30 mins along with a small pan of water on the bottom of the stove.

Join in and write your own page! It's easy to do. How? Simply click here to return to Your Best Recipe.
Leave a comment about this recipe or ask a question?

Pop right over to my private Facebook group, the Kaffeeklatschers. You'll find thousands of German foodies, all eager to help and to talk about all things German, especially these yummy foods. 
Meet with us around Oma's table, pull up a chair, grab a coffee and a piece of Apfelstrudel, and enjoy the visit.

Oma's Butterkuchen, aka Zuckerkuchen, is a traditional German Butter Cake (or Sugar Cake) that's often served for afternoon coffee. Loved by all, easy to make and so delicious to eat!

Learn how to make this German cheesecake recipe and this includes an easy recipe for making quark ... at home! Tastes just like you're back in Germany in Oma's kitchen!

Frankfurter Kranz, aka Frankfurt Crown Cake or German Crown Cake, is a ring-shaped, three-layered cake filled with red jam and delicious German buttercream.
*  *  *  *  *
Words to the Wise
"When people do not accept divine guidance, they run wild. But whoever obeys the law is joyful."
Proverbs 29:18 (NLT)