Apfel-Kirschkuchen (Apple Cherry Cake)
by Heidi Pizarro
(Erie, Pa)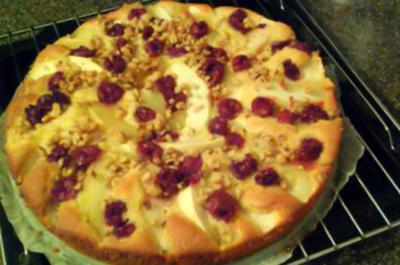 Mein Mann und Ich vermissen die Deutsche Bäcker, so er sagte zu mir, "warum backst du eigentlich nicht mehr?" Denn als wir in Germany lebten backte ich sehr oft und das war der Grund das ich an meine altes backen dachte und diese Kuchen Mischung in einer Idee erfand !


Hier ist das Rezept!
Teig: 2 Eier trennen. Eiweiß mit 100 gr Butter und 125 gr Zucker und 1 pack. Vanillezucker schaumig schlagen. Das Eigelb und 175 gr Mehl, 3/4 Packung Backpulver unterschlagen und dann in eine runde Kuchenform füllen. Ich habe die mit Backpapier ausgelegt!
4 gr Äpfel geschält und etwas in Zuckerwasser gedünstet so dass sie etwas weicher waren, dann abseihen und eine Tasse Kirschen (Schattenmorellen) aus dem Glas abseihen und auf dem Teig auslegen, 1/2 Tasse geraspelte Walnüsse darüber gestreut! Dann 25 -35 min auf 420℉ gebacken.
Erstes Bild als er aus dem Ofen kam, etwas abkühlen lassen dann, zweites Bild mit Puderzucker fertig gemacht! Gutes gelingen an alle!
Convention Backofen 420℉= 215℃
**************
Thanks, Heidi .... I'm going to translate here:
My husband and I miss the German bakers, so he asked me why I don't bake anymore. When we lived in Germany, I baked very frequently and so I thought about my old baking and this creation is the result!
For the dough:
Separate 2 eggs. Beat the egg whites with 100 g (7 Tbsp) butter and 125 g (10 Tbsp) sugar and 1 package vanilla sugar until foamy. Then beat in the egg yolks, 175 g (1 cup + 6 Tbsp) flour, and 3/4 package baking powder. Pour into a parchment paper lined round cake form.
Peel 4 large apples and (cut into slices?) gently simmer in a bit of sugar water until slightly soft. Drain and add together with one cup of drained cherries (jarred Schattenmorellen) and place on the dough. Sprinkle with 1/2 cup chopped walnuts. Bake at 420℉ for 25 - 35 minutes.
The first photo is right as it came out of the oven. Let cool, and the second photo shows powdered sugar sprinkled on top.
I wish you all success!
~ Oma Gerhild <3